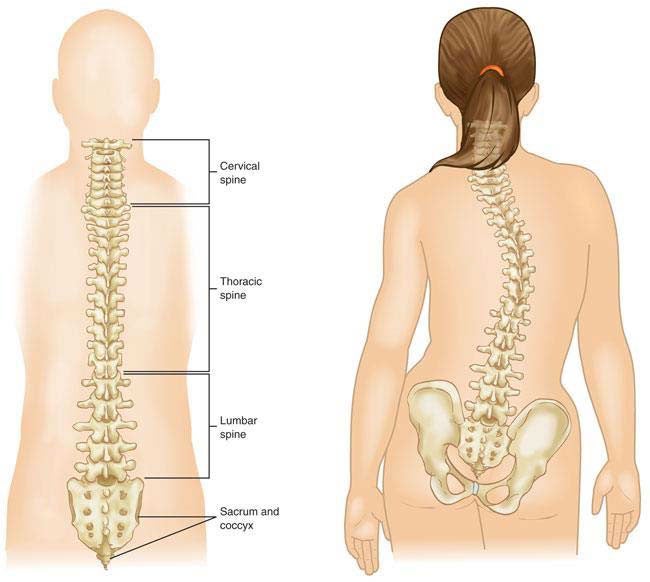 Scoliosis is a condition that causes the spine to curve sideways. There are several different types of scoliosis that affect children and adolescents. The most common type is "idiopathic," which means the exact cause is not known.
Most cases of idiopathic scoliosis occur between age 10 and the time a child is fully grown. Scoliosis is not usually painful—small curves often go unnoticed by children and their parents, and are first detected during a school screening or at a regular check-up with their pediatrician.
In many cases, scoliosis curves are small and do not require treatment. Children with larger curves may need to wear a brace or have surgery to restore normal posture.
What is scoliosis?
Scoliosis causes the bones of the spine to twist or rotate so that instead of a straight line down the middle of the back, the spine looks more like the letter "C" or "S." Scoliosis curves most commonly occur in the upper and middle back (thoracic spine). They can also develop in the lower back, and occasionally, will occur in both the upper and lower parts of the spine.
Idiopathic scoliosis curves vary in size, and mild curves are more common than larger curves. If a child is still growing, a scoliosis curve can worsen rapidly during a growth spurt.
Although it can develop in toddlers and young children, idiopathic scoliosis most often begins during puberty. Both boys and girls can be affected, however, girls are more likely to develop larger curves that require medical care.
Other less common types of scoliosis include:
Congenital scoliosis. Problems in the spine sometimes develop before a baby is born. Babies with congenital scoliosis may have spinal bones that are not fully formed or are fused together.
Neuromuscular scoliosis. Medical conditions that affect the nerves and muscles, such as muscular dystrophy or cerebral palsy, can lead to scoliosis. These types of neuromuscular conditions can cause imbalance and weakness in the muscles that support the spine.
What causes scoliosis?
Although doctors do not know the exact cause of idiopathic scoliosis, they do know that it is not related to specific behaviors or activities — like carrying a heavy backpack or having poor posture.
Research shows that in some cases genetics plays a role in the development of scoliosis. Approximately 30% of patients with adolescent idiopathic scoliosis have a family history of the condition.
What are the symptoms associated with scoliosis?
Small curves often go unnoticed until a child hits a growth spurt during puberty and there are more obvious signs, such as:
Tilted, uneven shoulders, with one shoulder blade protruding more than the other
Prominence of the ribs on one side
Uneven waistline
One hip higher than the other
If your pediatrician suspects scoliosis, he or she may refer you to a pediatric orthopedic surgeon or a spinal deformity surgeon for a full evaluation and treatment plan.