In the Heart of the Opioid Crisis, 8th Graders Rally for Safe School Grounds
"Addiction is a disease, not a crime." These were the words on a hand-made sign from a student at Orchard Gardens K-8 Pilot School.
By Jessica Lyons | Dec. 28, 2017
"Addiction is a disease, not a crime."  These were the words on a hand-made sign from a student at Orchard Gardens K-8 Pilot School.
A group of young teens from the school recently lined the road chanting "safe students, safe schools" during a demonstration about how the opioid epidemic is impacting their school.  Students and school officials report a rise in the number of discarded needles found near or on school grounds and are working to create a safer school and neighborhood.
As a civics project for their 8th grade history class, students invited city officials as well as a Boston Medical Center expert in addiction. While the issues at hand center on their safety, as they report a rise in the number of discarded needles on and near school grounds, they wanted to learn about the disease from a provider who treats patients with addiction. 
As a result of those meetings, students put together a list of suggestions for Boston Public Schools and city officials to consider that would help create a safer campus. Included on the list is placing black needle-safe barrels around the school, parking lot, and city park near the campus, having clean-up crews and the Mobile Sharps Team do regular sweeps of the grounds, and creating a task force to evaluate the risk at other BPS schools.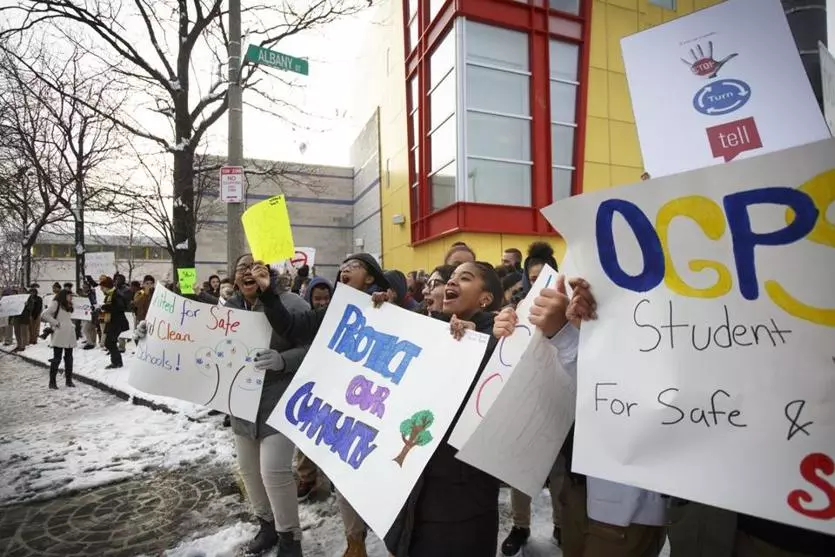 Photo credit: Dina Rudick/Boston Globe Staff
The students came up with their suggestions after meeting with officials involved in the crisis, including members of the Boston Police Department, as well as Payel Roy, MD, a physician who specializes in addiction treatment at BMC. Roy showed them a video produced by CNN about the opioid crisis here in Boston that included first person accounts from people with opioid use disorder. She then spoke about addiction treatment and emphasized the stigma surrounding the disease, citing BMC's "Words Matter" pledge.
"I told them if there is one thing I want you to walk away with today, it's that addiction is a disease, not a crime," she said. "I think it's incredible that these young people are getting engaged with such an important issue, and it's clear from their messaging that they understand how damaging the stigma of addiction can be."
After the rally, student leaders presented their suggestions to school district officials and local leaders. They shared their experiences seeing needles on school grounds, and without placing blame on people with substance use disorders, asked their school and city to do more. One student said he wants this project to be a legacy for his graduating class, so younger students can be safer in years to come. Another hopes their suggestions can be a model for other schools affected by the opioid crisis.
 All of the officials at the meeting, including Boston City Councilor Annissa Essaibi-George and state Representative Byron Rushing, applauded students for their civic engagement and discussed possible next steps.
The school has already begun to address the needle issue by handing out brochures to students on the danger of discarded needles, telling them to stop, turn, walk away, and tell an adult if they see one. Students and school faculty say the next step is creating a needle-free campus. Now, with the ear of local leaders and media attention during the rally, their project has the potential to become a reality.
As part of moving forward with this project, Mr. Turner, the teacher whose class led this effort, thinks continued addiction education is important for students at Orchard Gardens. Principal Megan Webb was blown away by the level of knowledge Mr. Turner's class had about addiction after just a short talk with Dr. Roy, and they hope to expand that in the coming year.
As Dr. Roy has shown, BMC addiction experts can be an important resource to those affected by the opioid crisis in our community. Our addiction services emphasize safe needle disposal and promote the use of clean needles, two important steps in minimizing the harmful effects of opioid use disorder. Continued work on this issue will not only protect those struggling with addiction, but people you wouldn't necessarily expect, like grade school students.
Contact: Jessica Lyons 617-638-6838, Jessica.Lyons@bmc.org
Return to BMC News