Newly Pregnant?  Be sure to schedule your first appointment before 12 weeks! 
Q&A about the first appointment with OBGYN Medical Director, Sarah Crane, MD
---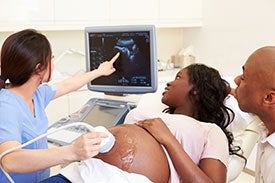 Your monthly menstrual cycle is late and those two pink lines appeared on your home pregnancy test with the telltale sign that can only mean one thing - you are pregnant! This is an exciting and important time. You'll need to make some important choices for you and your growing baby. In addition to choosing baby names and nursery paint colors, you'll also need to stop drinking alcohol, take daily prenatal vitamins, and book your first prenatal appointment before you reach the 12-week mark.
This first appointment is a special one and an important one. Your OB or midwife will evaluate you and your growing baby to ensure you are both as healthy as possible during your pregnancy.  Dr. Sarah Crane provides some helpful information about the significance of your first prenatal visit.
When should I make my first prenatal appointment?
Congratulations! When your pregnancy test reveals that you are pregnant. You should call your OBGYN provider right away to schedule your first prenatal appointment. This appointment will be scheduled sometime between weeks 8 and 12.
What should I expect at my first prenatal appointment?
Your first prenatal appointment will most likely be the longest one, as it is one of the most comprehensive of all of the visits. Your provider will check your overall health and you can expect the following:
A general check-up – your provider will check your heart, lungs, blood pressure, weight, height, and do a pelvic exam
Your baby's due date will be determined
You'll tell your doctor about your health history
Information so you can best take care of yourself and your growing baby and learn about what to expect during different stages of your pregnancy will be shared with you.
Various tests will be done which may include:

Urine tests
Blood tests
Genetic test – this is used to determine if you're a carrier for common genetic conditions like sickle cell disease or cystic fibrosis
STD tests
Pap smear
Why is it so important to attend the first appointment during weeks 8-12?
Attending your first prenatal appointment is important for a number of reasons. This is the first time that your provider will get to know you and your health status. If there are any health concerns or problems that they need to know about, it's best to know them early on so that your provider may help you to treat or manage your condition.
How can I schedule a prenatal appointment at BMC?
If you recently found out that you are pregnant, call 617.414.2000 to make a prenatal appointment today! Visit BMC.org/OBGYN for more information about services available to you.