The Clinical Diabetes Program at BMC aims to improve the health and quality of life for people with diabetes through disease management, education, support, advocacy, and research.
The program has been recognized by the American Diabetes Association (ADA) since 1993. The ADA endorses the National Standards for Diabetes Self-Management Education to promote quality education for people with diabetes.
Living with diabetes can be very challenging. The outstanding interdisciplinary team share a commitment to helping you live life to the fullest. The team includes highly experienced diabetes specialists, nurse practitioners, certified diabetes educators (including nurses, pharmacists, and dietitians), and other specialists skilled in treating the complex needs of diabetes patients. The coordinated care approach keeps the focus on the patient and allows for personalization of medication, monitoring, lifestyle changes, and nutrition education. Adults with type 1 diabetes or type 2 diabetes that is newly diagnosed, difficult to manage, or in need of long-term monitoring and follow-up, will receive comprehensive care at BMC.
Diabetes Education
Our program is designed to help patients -- and their primary care provider -- understand their conditions related to diabetes through education, medication, monitoring, nutrition and exercise recommendations. These behaviors can be hard to start, but research has shown that even small changes can lead to helpful improvements. Our team offers comprehensive diabetes care in including nutrition, podiatry, ophthalmology, cardiology, and dental services.
The education program aims to enhance diabetes self-care knowledge and skills, support behavioral change, promote general health, and reduce the risk of complications associated with diabetes. This can include individual visits with endocrinologists, nurse practitioners, registered nurses, pharmacists and dietitians. Patients can also find support by participating in the Conversation Maps program. Patients may just be seen in the group, individually, or in both settings.
Get involved in the Conversation Maps program to learn more about diabetes and how to manage it. Courses are often paired with a cooking demonstration and tasting.
Diabetes Technology
Inpatient Adult Diabetes Service
Clinical research has identified hyperglycemia (high blood glucose or blood sugar) as a factor that increases length of stay, hospital complications, and even inpatient mortality. The inpatient program is designed to meet current national standards for glycemic control in hospitalized patients, for those with known diabetes, and those with newly identified hyperglycemia. The team can initiate insulin therapy in the hospital if appropriate, teaching all the necessary skills for independent management. The team of endocrinologists and nurse practitioners follow patients throughout their stay. The goal of the program is to improve the transition from inpatient care to outpatient care while designing an individualized regimen.
Diabetes and Pregnancy
Patients with diabetes during pregnancy will be supported through close management during pregnancy and immediately after delivery, to reduce the risk of complications to the mother and baby. This special program is led by obstetricians and is designed for mothers who develop diabetes during pregnancy (a condition called gestational diabetes) and those women who have diabetes before they become pregnant. The visits may involve seeing an endocrinologist, dietitian, or both. Medications, meal plans and exercises will be personalized to best fit the patient's lifestyle and blood sugar patterns.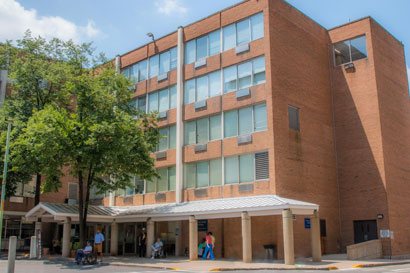 Address
732 Harrison Avenue
Boston, MA 02118
Preston Family Building
2nd Floor
Hours
Monday-Friday - 7:30 AM - 5:30 PM