The Clinical Research Network (CRN) of BMC partners with Vital CxNs to achieve our shared goal of empowering community members with knowledge and resources to make informed decisions about their health care. Last month, BMC's Chief of Family Medicine, Dr. Stephen Wilson, joined Vital CxNs' "Community Convos" series to talk about men's health.

Vital CxNs was formed in December 2020 in direct response to the COVID-19 pandemic, which demanded community-centered, coordinated action. The organization takes a grassroots approach to facilitating collaboration, enhancing efficiencies, and discovering synergies amongst existing resources and stakeholders, with the goal of tackling the city's persistent and pervasive health inequities and improving Boston's community health ecosystem.
Community Convos, an initiative from Vital CxNs, is a series of town hall-style conversations that convene community members, clinicians, advocates, and thought leaders to discuss health-related topics. In these spaces, everyone is an expert and is encouraged to share their insights and lived experiences. This community engagement provides an opportunity for health care professionals to develop relationships with community members, build trust in the health care system, and improve community health outcomes.
The men's health conversation in March focused on reproductive health, making healthy habits, and building community and safe spaces. Stephen Wilson MD, MPH, brought a primary care perspective to the conversation. "It is important that all men talk with their family doctor about prostate health and cancer screening," shared Dr. Wilson. "This is especially true for Black men, who have a higher risk of dying from prostate cancer. This increased risk of dying is mostly because Black men are more likely to have their cancer diagnosed at a later stage. So, talk to your doctor to see if and when screening is right for you."
After the event, Vital CxNs received feedback that the conversation inspired many who attended to be more intentional about caring for themselves. They have also been asked to host another event on this topic so that people can invite their family and friends.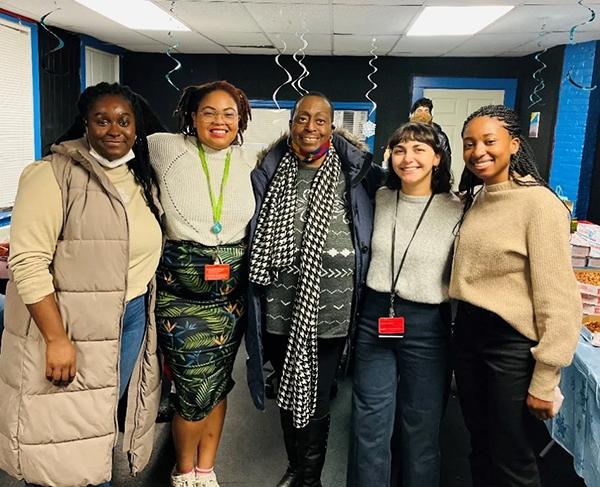 Ameina Moseley of VitalCxNs, Keyla Kelly, Hope White of MA-CEAL-Community Engagement Alliance, Shannon Timlin and Nike Asupoto of CRN.
Partnering with important organizations like Vital CxNS is just one way the Clinical Research Network and Research Operations is making an impact in our communities!
If you are a physician, researcher, or study coordinator interested in learning more about community engagement efforts, please contact the CRN's Community Engagement & Recruitment Specialist at Shannon.Timlin@bmc.org. Or for general information email: CRN@bmc.org