Practice of the Future Update: Preparing for Pilot Launch

Model Development
In partnership with pediatrics primary care and our families, the Center for the Urban Child and Healthy Family at Boston Medical Center is building a new care model—the Pediatric Practice of the Future—that will ensure all children are healthy and ready to learn, with adequate supports to thrive, by five years old. Over the last year, the Center has provided updates on the development of this new model of care using a Human Centered Design (HCD) process. This work has been divided into two phases: ethnographic exploration of families' health priorities and co-creation of the new model, both involving BMC families and members of the pediatric practice. 
Following the co-creation process, the Center has been building out a model of pediatric primary care that supports whole family development (see framework model in Figure 1). 
Figure 1. Conceptual Framework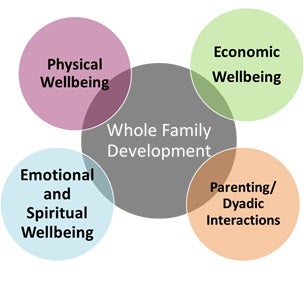 This framework for supporting whole family development is based on families' conceptualization of wellness, with attention to factors that influence well-being. In order to realize this framework, there must also be attention to the underlying processes and structures influencing how care is organized. These include: 
Care and services that are streamlined
Care content and delivery customizable, yet offered systematically
Technology leveraged for health promotion and communication, coordination with community-based organizations
Impact of structural racism and economic oppression acknowledged and incorporated into care practices
Intentional and systematic approach to workforce development that empowers employees to operate at the highest level of their skillset 
New services and offerings within the Practice of the Future will focus on economic well-being, family-driven goal setting, pre-visit planning and flexibility to offer clinical support in a range of locations including at BMC, over teleconference and in the community. Additionally, the Center is excited to embark on a partnership with the Boston Public Health Commission to launch a tailored training curricula on: Trauma Informed Care & Resilience; Racial Justice & Health Equity; and Stress & Vicarious Trauma.
Launching the Pilot
Beginning in January 2020, the Center will deploy an innovation team to pilot the new model in the primary care pediatric clinic. This innovation team will include a pediatrician, an infant mental health social worker, a community wellness advocate, a nurse and a medical assistant. The Pediatric Practice of the Future will enroll 50 families with infants, with a focus on families living in Dorchester, Mattapan and Roxbury. The goals of the pilot are to: 
Test a model to address whole family development; 
Collect data, iterate and refine components; 
In partnership with Boston Medical Center Health Plan (BMCHP), explore alternative payment models in pediatrics; and
Scale elements that are working to the larger pediatric practice.