"The greatest predictor of a child's health should not be his or her zip code."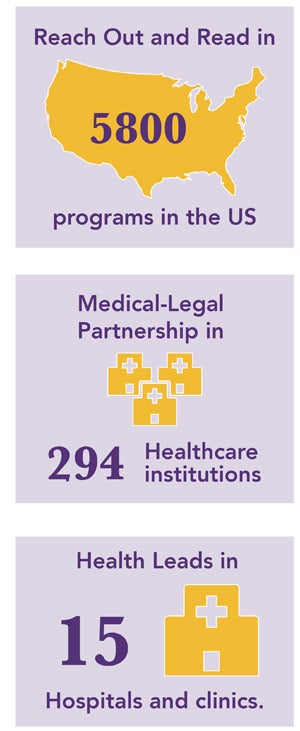 BMC Pediatrics in particular is home to some of the world's most important and widely disseminated care innovations including Reach Out and Read, Medical-Legal Partnership and Health Leads. That is why BMC is uniquely positioned to be on the forefront of designing and implementing new models of care that meet the complex health and social needs of urban children and their families.Boston Medical Center (BMC) has a long and successful history of caring for the city's most vulnerable patients. In a city that is the epicenter for training and delivery of world-class innovative health care, BMC is the largest safety net hospital in New England. As such, BMC has long recognized that an individual's economic status, education level, access to good schools, secure housing, food, and so much more can impact health. That's why for more than 100 years, whether caring for newborns, children, or adults, the hospital's clinical teams have focused not only on the medical needs of each patient, but also on the social needs.
Through the Center for the Urban Child and Healthy Family, we are revolutionizing the model of care for pediatric patients and their families, standing at the epicenter of clinical care, research, and the community.
Our goal is to:
Innovate care delivery for vulnerable children and their families by developing and validating novel, community-oriented approaches to pediatric care; implementing these innovative approaches into our daily care of families; and disseminating them locally and nationally. The Center will bridge the "know-do" evidence gap in child health, advance knowledge in pediatric care delivery, and transform practice.
We will do this by:
Removing siloes and forming unique partnerships with early childhood providers and schools to comprehensively promote families' wellness.
Assessing and responding to social determinants of health (such as poverty and food insecurity) through partnerships with community agencies.
Assessing parental factors that negatively impact child health and designing systems within pediatrics to address these challenges.
Caring for physical and behavioral health issues within children's medical home.
Promoting collaboration between subspecialists and primary care providers to streamline chronic disease management.
Ensuring well-planned transitions to adult care for adolescents with chronic conditions.