Pediatric Family Advisory Board is Active in Community Events
The Pediatric Family Advisory Board (FAB) was launched in 2017 with the goal of fostering parent, child and professional partnerships to better meet the needs of families receiving care at Boston Medical Center. Catalyzed by the success of the 2017 Healthy Holidays Fair, the 11 member board continues to seek opportunities to engage with the larger BMC community. This fall, the Family Advisory Board actively participated in two events to spread the word about their work and promote health and wellness amongst families at BMC and the Boston community.
Spearheaded by Nursing Director Tami Chase, the Department of Pediatrics hosted the fall Wellness Day in late September to administer flu shots and provide patients and families with education and resources to promote a healthy, safe and successful school year. At this event, members of the FAB staffed a table to teach families about healthy snack options they could pack for lunch. They also used this opportunity to educate families about the board and recruit potential future members.
The FAB works closely with the Center to provide advice on the design of the Pediatric Practice of the Future. Therefore, the FAB also used this event to ask parents how BMC could better support them in raising their children to be healthy and ready to learn. There was an overwhelming response from families citing they are very happy with their care at BMC. The Center also received useful insights about how to improve their experience at the hospital. Families suggested more "knowledge of available resources" and "housing and transportation" as two areas BMC could offer additional supports.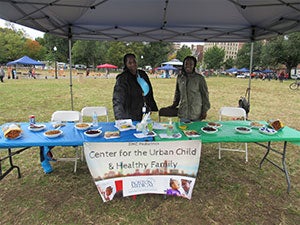 On October 20, the FAB was invited to host a table at the Peace of Mind Family Festival. This city-wide event, hosted by Children's Services of Roxbury, is an annual multicultural celebration of community unity and family resilience bringing together people in a variety of social service organizations. The event was attended by thousands of families from across Greater Boston.