Cardiac Rehabilitation and Prevention Program
The Cardiac Rehabilitation and Prevention Program offers a wide range of services for people who have, or are at risk for developing, heart disease. Patients who have recently had a heart attack, coronary artery disease, valve repair/replacement, coronary artery bypass graft surgery, coronary angioplasty, stent or heart transplant may all benefit from cardiac rehabilitation at Boston Medical Center. The overall goal for all patients is to increase physical endurance, muscular strength, improve mood, and importantly, reduce future risk of heart disease.
BMC's comprehensive program is certified by the American Association of Cardiovascular and Pulmonary Rehabilitation and provides the highest quality of care available, from exercise programs to smoking cessation strategies and cholesterol management.
Patients may join the program soon after an event. For questions regarding eligibility, call Carol McNally at 617.638.8720.
About the Program
The Program consists of two to three 1-hour exercise sessions per week for approximately twelve weeks. Sessions include exercise, nutrition counseling and education. Each program is tailored to meet a patient's individual needs. We provide each patient with:
Initial assessment by a cardiologist
Exercise testing (stress test)
Supervised exercise training
Personal nutrition evaluation and weight management
Cholesterol screening and management
Tobacco treatment counseling
Risk-factor modification and education
Periodic reports to referring physicians
A three-month transition program is available to interested participants who wish to extend their time in cardiac rehabilitation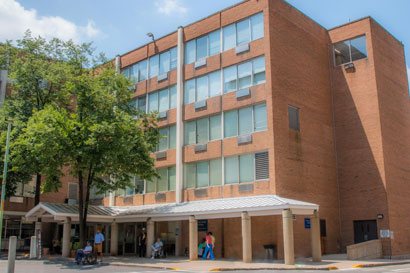 Address
732 Harrison Avenue
Boston, MA 02118
Preston Family Building 3rd & 4th Floor
Hours
Monday-Friday 8:00 AM - 5:00 PM