New England has a distinct beauty during each season. This is one of the reasons why many find this region of the United States endearing. The beauty of our spring, summer, fall, and winter make New England a true all-year-round destination. 
Spring
Spring in Boston can be many things. From spring skiing, to enjoying the blooming gardens, there are plenty of activities and places to explore:
Play golf at the surrounding golf courses in Boston.
Visit the Boston National Historical Park or other national parks and greeneries a little further outside of Boston.
Get your "Irish on," as Boston is home to the region's largest St. Patrick's Day parade, held annually in South Boston.
You may also want to check out the Vermont Maple Festival which happens in St. Albans in April.
On a beautiful day you could visit Boston's Public Garden, which has over 80 species of plants, the Lagoon, monuments, fountains, and the swan boats that were created and operated over 100 years ago bye the Paget family.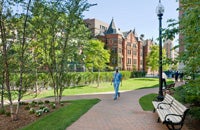 Summer
Boston in the summer is great! With the temperatures reaching about an average of around 80 degrees Fahrenheit in June and July, there are plenty of opportunities for you to get out and enjoy the sun and do exciting activities around Boston. Some of these activities include:
Attend concerts at indoor and outdoor venues.
Go whale watching or other summer cruises.
Go to nearby beaches, lakes, or ponds, where you can lay out and relax, or go kayaking or paddling.
Go to various sporting events.
Check out a variety of different festivals and special events that occur throughout the summer.
Fall
You'll fall in love with Boston in the fall. It is the time of the year where the foliage starts to change colors, which fills the city and the New England region with bright colors of red, yellow, and orange. In addition to the beautiful leaving turning, you'll want to check out the amazing things going on in and around the city, including:  
Haunted tours for those who love a fright! Especially in historic Salem, MA. 
Visit special exhibits at Museum of Fine Arts.
Go on brewery tours.
Rent a bike and explore the city.
Check out special events and festivals that occur throughout the city. 
Winter
During the winter in Boston, it can get quite cold and blanketed in snow. However, that does not have to stop you from checking out the awesome things that still go on! Some of these include:
Going to an indoor sporting event, like the Boston Celtics (NBA) or the Boston Bruins (NHL).
Go ice skating on the Boston Common Frog Pong.
Go skiing, snow tubing, or snowshoeing at near by locations.
Visit the Skywalk Observatory to catch some beautiful views of the city. 
Boston is a cosmopolitan city of contrasts: neat rows of red brick town houses and some of the nation's most revered landmark buildings stand side by side with high-tech towers. More than 70 universities and colleges make Boston their home and their influence is felt throughout the area. These institutions have extensive libraries, museums, and special events. The Boston Symphony Orchestra, the Boston Pops and the Boston Ballet are mainstays of the performing arts. Bostonians have four major-league sports teams: the Boston Red Sox, the Boston Celtics, the Boston Bruins and the New England Patriots. Fenway Park, one of America's oldest baseball parks, is located in the heart of the city and is only two miles from Boston Medical Center.
On Boston's Newbury Street, elegant boutiques, art galleries and coffee houses are located in 19th century town houses. Nearby, Copley Place and The Shops at the Prudential Center offer more than 200 enclosed shops and restaurants. The city has many other attractions. The New England Aquarium, the Museum of Science and its four-story Omnimax Theater, for example, are just the tip of the iceberg. 
Cape Cod, only 60 miles from Boston, offers 27,000 acres of beaches. There are warm-water beaches, an abundance of seafood, summer theater, and challenging golf courses. The Cape Cod National Seashore offers miles of bicycle and nature trails, long stretches of sandy beaches and desert-like sand dunes. The nearby islands of Nantucket and Martha's Vineyard offer their own brand of sandy beaches, pine forests, rolling hills and moors and delightful towns. Each can be reached by air and by passenger and car ferries. Martha's Vineyard is a picturesque turn-of-the-century community and a year-round ferry port. Nantucket, where whaling ships made their home, is 30 miles off the coast of Cape Cod. It has elegant restaurants and antiques, crafts and specialty stores in addition to its relaxing beaches.
A quick drive west or north provides access to the Berkshires and the White Mountains. Abundant natural beauty is the setting for downhill skiing, cross-county skiing, hiking, mountain biking, and rock climbing. To many, Massachusetts is one of the most exciting places to live in America.