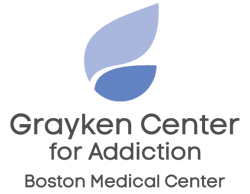 To schedule an appointment with an addiction specialist, please call 617.414.6926
Training and Education
When clinicians across the country are looking to educate and train their teams, they turn to BMC. BMC has developed numerous programs for hospital-based and community-based providers so that anyone who encounters a patient needing help with addiction can offer them appropriate care. At BMC, many training opportunities are offered.
The Addiction Medicine Fellowship Program is a one or two year fellowship. Year 1 is clinically-focused on fulfilling the requirements for board certification in Addiction Medicine. Year 2 is focused on mentored research projects and typically includes a Master's of Science in Epidemiology or Health Services Research at Boston University School of Public Health. There is also a 3-year joint Infectious Disease-Addiction Medicine program and a 2-year joint Preventive Medicine- Addiction Medicine program. Fellows are mentored by a multidisciplinary group of faculty from Internal Medicine, Infectious Disease, Emergency Medicine, Obstetrics & Gynecology, and Addiction Psychiatry. The Boston Medical Center Addiction Medicine Fellowship Program is accredited by the American Board of Addiction Medicine (ABAM) Foundation.
---
Under the sponsorship of the BMC Graduate Medical Education Committee, the VA/Boston University Medical Center Program has been providing subspecialty training in addiction psychiatry for 20 years. Psychiatric physicians receive advanced training in the recognition, diagnosis, and treatment of substance use disorders. A well-rounded and comprehensive series of didactic presentations, as well as training at renowned Boston area tertiary care facilities, ensures that fellows graduate develop a broad expertise on the history of substance use disorders, sociological aspects of addictions and public policy, addiction pharmacotherapy, and the role of mutual-support groups in addiction treatment. A significant amount of time is dedicated to medication for addiction treatment with methadone and buprenorphine. This one year accredited program meets all requirements for ABPN eligibility in Addiction Psychiatry and typically hosts 3-4 fellows per year.
---
BMC is nationally recognized for the quality and depth of training in addiction treatment that is integrated into the General Psychiatry Residency. Residents receive more than 100 hours of didactic training in the etiology, diagnosis and clinical management of substance use disorders, with an emphasis on the care of complex patients with addictions and co-occurring psychiatric disorders. Patients are seen in inpatient, outpatient, and emergency settings. There is a two year required outpatient dual diagnosis continuity clinic rotation during the third and fourth residency years. Our residents are recognized for their competence in the management of these patients; between 25% and 30% of our graduates elect subspecialty training in addiction psychiatry during their PGY-5 year.
---
This four-day immersion training program provides chief residents with the scientific foundation of addiction medicine and state-of-the-art substance use diagnosis and management skills in order to facilitate integration of substance use content into residency program curricula and chief resident teaching. Prior experience indicates that the education of chief residents may be more effective when they are paired with a faculty mentor; therefore, the program codifies previous experience with this training modality.
---
FIT is a four-day intensive, immersion training that equips incoming and current clinical subspecialty fellows (e.g., Infectious Disease, Gastroenterology, Pain) with state-of-the-art skills and content to integrate addiction medicine into clinical research.
---
In 2007, the Massachusetts Department of Public Health Bureau of Substance Use Services (MDPH BSAS) created the State Technical Assistance Treatment Expansion (STATE) OBAT program with the specific intent of integrating BMC's nurse care manager OBAT model into Community Health Centers (CHCs) across the Commonwealth. In addition, the state funded BMC to provide all of the Training and Technical Assistance (TTA) to the original 14 sites funded by the STATE OBAT program. Within three years, expansion of BMC's OBAT model to 14 CHCs increased the number of physicians "waivered" (i.e., able to prescribe buprenorphine) by 375%. At present, BMC provides TTA to approximately 40 community providers across the state and many others across the country. BMC staff have helped implement the OBAT model at CHCs state-wide, with a focus on expanding treatment to underserved areas and low-income communities. Types of TTA offered by BMC routinely include: on-site technical TTA to community providers, specialized trainings for addiction medicine providers (e.g., physicians, nurses, social workers) on a variety of topics, buprenorphine waiver trainings, 8-hour trainings for nurses on how to operationalize the OBAT model, certified addiction nurse exam review courses, and other TTA as requested. Since 2015, the State OBAT program has treated over 15,000 patients. See Table 1 for the full scope of trainings provided by our OBAT TTA program in 2016.
| Table 1. OBAT Training and Technical Assistance | 2016 |
| --- | --- |
| Number of patients treated through State OBAT Program (all health centers) | 10,432 |
| Number of waiver trainings conducted | 7 |
| Total Number of providers trained through Waiver Trainings | 522 |
| Number of other trainings provided by BMC | 3 |
| Total number of individuals trained through Other Trainings | 111 |
| Number of trainings provided for DCF | 5 |
| Total number of individuals trained through DCF trainings | 440 |
| Number of Trainings provided by DCF and BMC Staff | 1 |
| Total number of individuals trained by DCF and BMC Staff | 72 |
| Number of CARN Review Trainings | 3 |
| Total number of individuals trained in CARN Review Trainings | 330 |
---
BMC was recently selected by the Health Resources and Services Administration (HRSA) and the University of New Mexico's ECHO Institute to serve as one of five national Opioid Addiction Treatment ECHO hubs collectively tasked with providing TTA to CHCs across the country, with priority given to the 271 CHCs funded by HRSA's Substance Abuse Services Expansion (SASE). This initiative is a partnership between BMC, the University of Montana, the University of Washington, the Billings Institute, the American Society of Addiction Medicine, and the ECHO Institute at the University of New Mexico. Project ECHO is an innovative telementoring model whereby expert teams use multi-point videoconferencing to conduct virtual clinics on specialty care for community primary care providers. The model provides an opportunity to leverage chronic pain, substance use, and behavioral health expertise to revolutionize medical education, support building capacity in such specialties, and reduce health disparities.
---
CARE Unit faculty and staff run the Massachusetts Screening, Brief Intervention, and Referral to Treatment Training & Technical Assistance (MASBIRT TTA) program funded by MPDH BSAS. The program trains medical providers, behavioral health providers, public health service providers, and healthcare support staff to conduct Screening, Brief Intervention, and Referral to Treatment (SBIRT) services to address the spectrum of unhealthy substance use. Staff from MASBIRT TTA collaborate with the BSAS SBIRT Coordinator to support BSAS' ongoing efforts to build statewide SBIRT awareness and capacity; to implement and integrate SBIRT into diverse settings and organizations; and to promote individual clinician SBIRT skills and competency. The state-level aim of the program is to assist BSAS to build awareness of SBIRT that will encompass policy and advocacy support, identify reimbursement strategies, and provide professional and public education across the Commonwealth. The organizational-level aim of the program is to provide technical assistance and consultation to organizations interested in learning about and/or implementing SBIRT services. From 2012-2017, MASBIRT TTA provided over 900 sessions of skills training, and over 150 sessions of coaching and technical assistance to more than 15,000 professionals across healthcare organizations, school systems, community organizations, professional and payer organizations and institutions of higher education. In 2017, MASBIRT TTA was awarded a 5 year contract to continue to provide services.
---
SCOPE of Pain is a series of continuing medical education/continuing nursing education activities designed to help providers safely and effectively manage patients with chronic pain, when appropriate, with opioid analgesics.
---
BMC has deployed overdose prevention with naloxone rescue kit distribution and overdose education throughout the campus. All BMC pharmacies offer naloxone rescue kits to patients and staff under a standing order with no prescription necessary. The outpatient and inpatient pharmacists are trained to provide inpatients and outpatients with overdose prevention education along with naloxone rescue kits. Emergency Department staff provide training and naloxone rescue kits to ED patients. Public Safety officers are trained to respond to overdoses and are equipped with naloxone rescue kits, as they are the first responders for people found overdosing in bathrooms and other public areas. Naloxone rescue kits are available in the medicine rooms on clinical floors so that medical and nursing staff can respond to on campus overdoses, in the bathrooms, hallways, or rooms with patients.
---