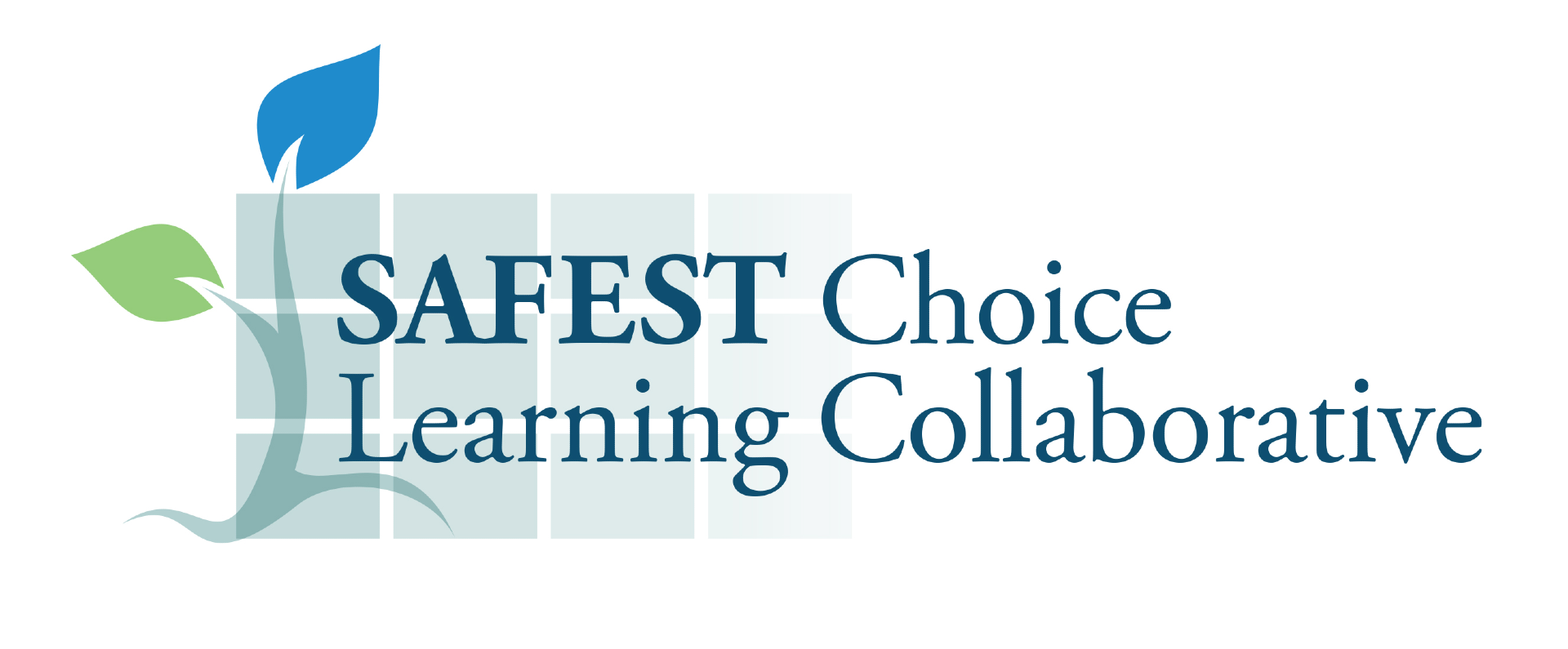 About SAFEST Choice
The SAFEST Choice Learning Collaborative aims to reduce the incidence of prenatal alcohol exposure (PAE) and improve outcomes in children with suspected or diagnosed fetal alcohol spectrum disorders (FASDs). This program, a partnership between Boston Medical Center and  Proof Alliance will use Extension for Community Healthcare Outcomes (ECHO®) virtual education to engage healthcare teams at community health centers (CHCs) in New England and the Upper Midwest in FASD education. Participation costs are completely covered by this program funded by the Health Resources and Services Administration (HRSA).
Contact us at safestchoice@bmc.org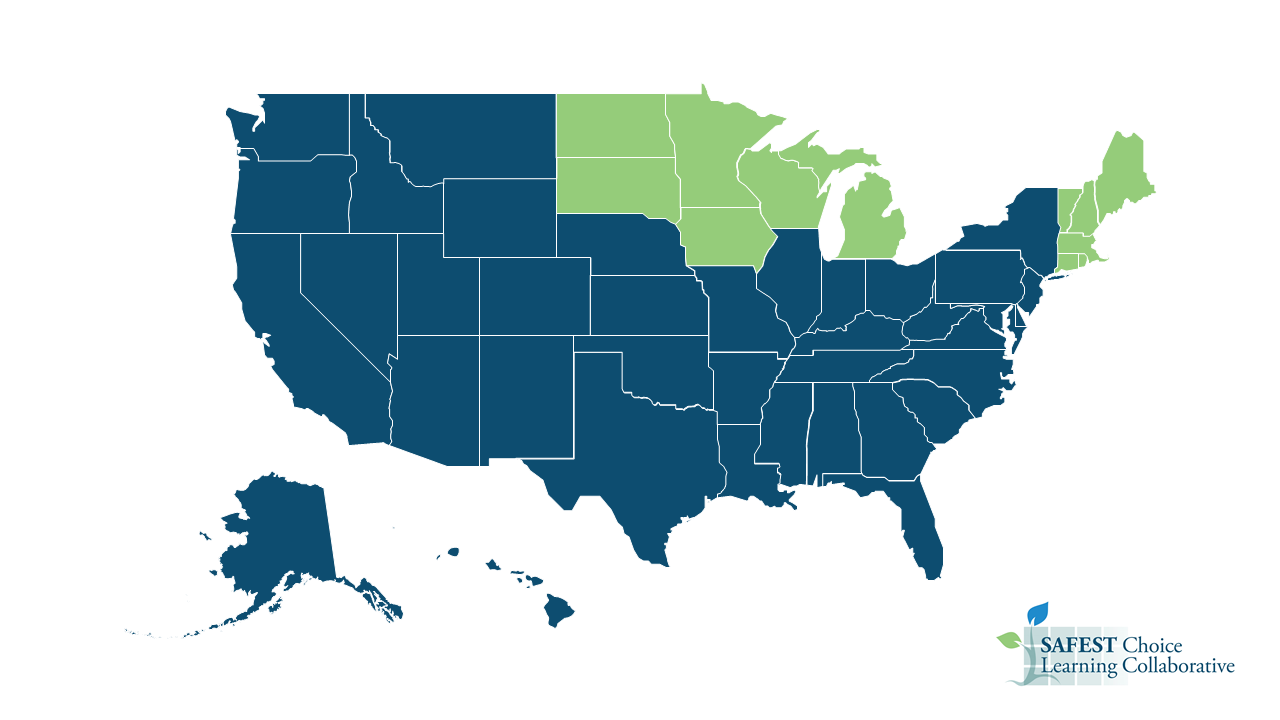 Our Priority areas for the SAFEST Choice Learning Collaborative are New England (Massachusetts, Vermont, Maine, Rhode Island, New Hampshire, and Connecticut) and the Upper Midwest (Minnesota, North Dakota, South Dakota, Wisconsin, Iowa, and Michigan)
Health centers will participate in Prenatal and/or Pediatric ECHO® cohorts to learn FASD -specific core competencies. The Prenatal Cohort will learn how to screen for and counsel women about the risks of alcohol use during pregnancy. The Pediatric Cohort will learn how to identify and care for children and adolescents with suspected or diagnosed FASD. Participation in both cohorts provides a streamlined approach for healthcare teams to address prevention of FASD and management of individuals with an FASD across the lifespan. Each health center will have a Champion who will be in communication with the SAFEST Choice team.

The University of New Mexico (wherefrom the ECHO® model is based) describes how the this learning model works:
"Using proven adult learning techniques and interactive video technology, the ECHO Model™ connects groups of community providers with specialists at centers of excellence in regular real-time collaborative sessions.
The sessions, designed around case-based learning and mentorship, help local workers gain the expertise required to provide needed services.
Providers gain skills and confidence; specialists learn new approaches for applying their knowledge across diverse cultural and geographical contexts. As the capacity of the local workforce increases, lives improve."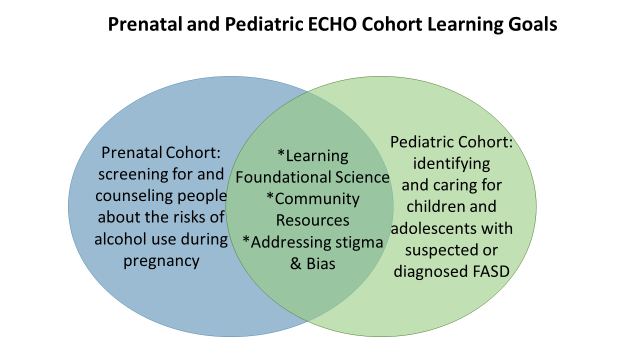 CHCs will participate in Prenatal and/or Pediatric ECHO® cohorts to learn FASD specialty-specific core competencies. The Prenatal Cohort will learn how to screen for and counsel people who can become pregnant about the risks of alcohol use during pregnancy. The Pediatric Cohort will learn how to identify and care for children and adolescents with a suspected or diagnosed FASD. Participation in both cohorts provides a streamlined approach for healthcare teams to address FASDs across the lifespan with their patient population.
By becoming a SAFEST Choice Learning Collaborative participant, each CHC will receive:
Free Continuing Education and Maintenance of Certification Part 2 credits
Ongoing, individualized training and assistance to address implementation challenges
A modest stipend for your health center

Schedule
We are over half-way through our first cohort. Cohort 2 will begin in May 2022. After an introductory webinar there will be ten 75-minute virtual ECHO® sessions delivered over the course of 12 months. Each session will provide a brief lecture by experts, case-based learning and collaborative problem-solving. Participants will have access to resources to help them integrate new tools and workflows into their practice, which includes using quality improvement strategies to overcome any implementation challenges. 

Program Evaluation
The evaluation of the SAFEST Choice Program is accomplished through a rigorous design that includes both process and outcome evaluation measures to examine Cohort 1 and Cohort 2. The evaluation team will use a pre-test/post-test with follow-up design and data collection strategies to address a set of evaluation questions focused on self-reported changes in provider knowledge, self-efficacy and practice. Quantitative data will be collected from surveys (clinics, providers) over 4 time points (including a midpoint survey), and qualitative data will be gathered from focus groups, observations and interviews.
 
The Importance of Intervention and Prevention
The SAFEST Choice Learning Collaborative was created in order to address and prevent Prenatal alcohol exposure (PAE) and Fetal Alcohol Spectrum Disorders (FASD). PAE is notably the most common preventable cause of intellectual and developmental disabilities in the US.1 Alcohol is a teratogen and exposure to alcohol in utero can result in a range of developmental and physical challenges across a spectrum of disorders (Fetal Alcohol Spectrum Disorders-FASD). 
FASD is an umbrella term and the impact of PAE exists across a spectrum of Fetal Alcohol Spectrum Disorders (FASD). These include Fetal Alcohol Syndrome (FAS) and partial FAS (pFAS), Alcohol-Related Birth Defects (ARBD), Alcohol-Related Neurodevelopmental Disorder (ARND), and Neurobehavioral Disorder Associated with Prenatal Alcohol Exposure (ND-PAE).2 Each varies in characteristics and occurrence. FASDs impact as much as 5% of school aged children.3  Diagnosis criteria vary for each of the FASD.4
Alcohol at any stage in a pregnancy can have negative impacts as alcohol readily crosses the placenta.5 Therefore, this is a considerable issue as alcohol use among pregnant people occurs commonly. One challenge in gaining precise data and information is shame and stigma surrounding drinking during pregnancy.6 As nearly half of pregnancies are unplanned it is important to have a discussion about alcohol use before pregnancy.4 
Therefore SAFEST Choice aims to reduce the incidence of prenatal alcohol exposure (PAE) and improve outcomes in children with a suspected or diagnosed fetal alcohol spectrum disorder (FASD). Pregnant patients will benefit from the screening and counseling on alcohol use. For pediatric patients, early identification can change the trajectory of their lives. These children are already in your practices.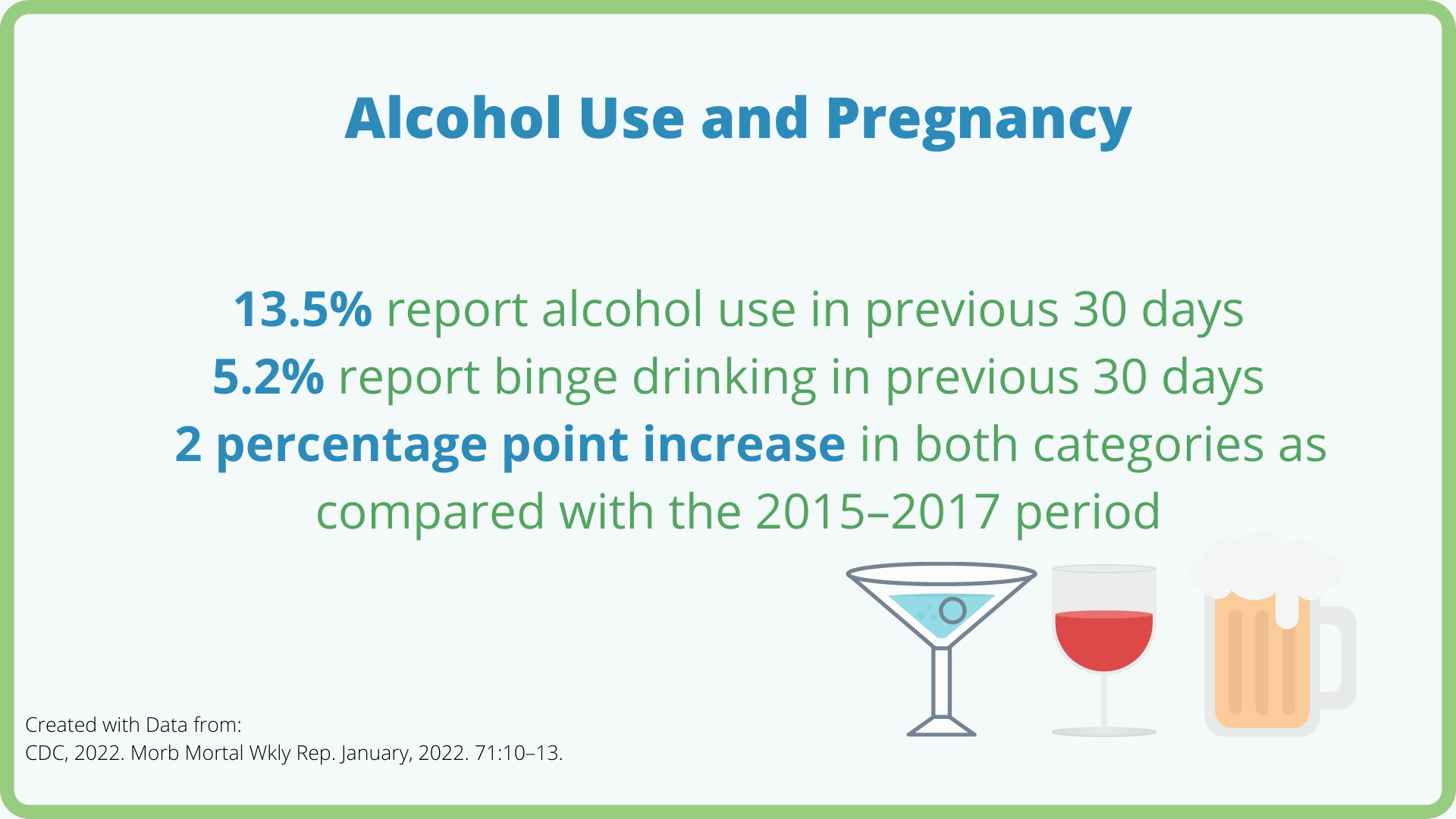 Learning Collaborative Curriculum and Technical Assistance
Curriculum

Each ECHO Session begins with a didactic informational learning session led by a core faculty member. The curriculum for these presentations have been created through a collaboration of experts in the field. Each of these will explore an area related to better understand FASDs and unhealthy alcohol use.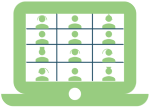 The SAFEST Choice Curriculum Focuses on:
•    FASD core knowledge, foundational science, and up-to-date clinical care
•    Prevalence and trends of alcohol use
•    Stigma, implicit bias, and cultural competency 
•    Screening for prenatal alcohol exposure (PAE)
•    Unhealthy Alcohol use screening, brief intervention, and referral to treatment (SBIRT)
•    FASD Referral and care coordination
 
The Umbrella of FASD
Created with information from
May PA, Chambers CD, Kalberg WO, et al. Prevalence of fetal alcohol spectrum disorders in 4 US communities. JAMA. 2018;319(5):474-482. 
SAMHSA. 2014.
Centers for Disease Control and Prevention. Basics about FASDs. https://www.cdc.gov/ncbddd/fasd/facts.html. Accessed May 10, 2018.
Technical Assistance
SAFEST Choice offers technical assistance opportunities to participating health centers. These opportunities include skills based, systems change, and community resources trainings. This assistance will occur in a variety of formats including webinars, smaller groups, and individual clinic assistance as we make use of our community of experts in the various field. The technical assistance opportunities will continue to expand based on the specific needs of the cohort participants. A selection of possible technical assistance opportunities can be seen below.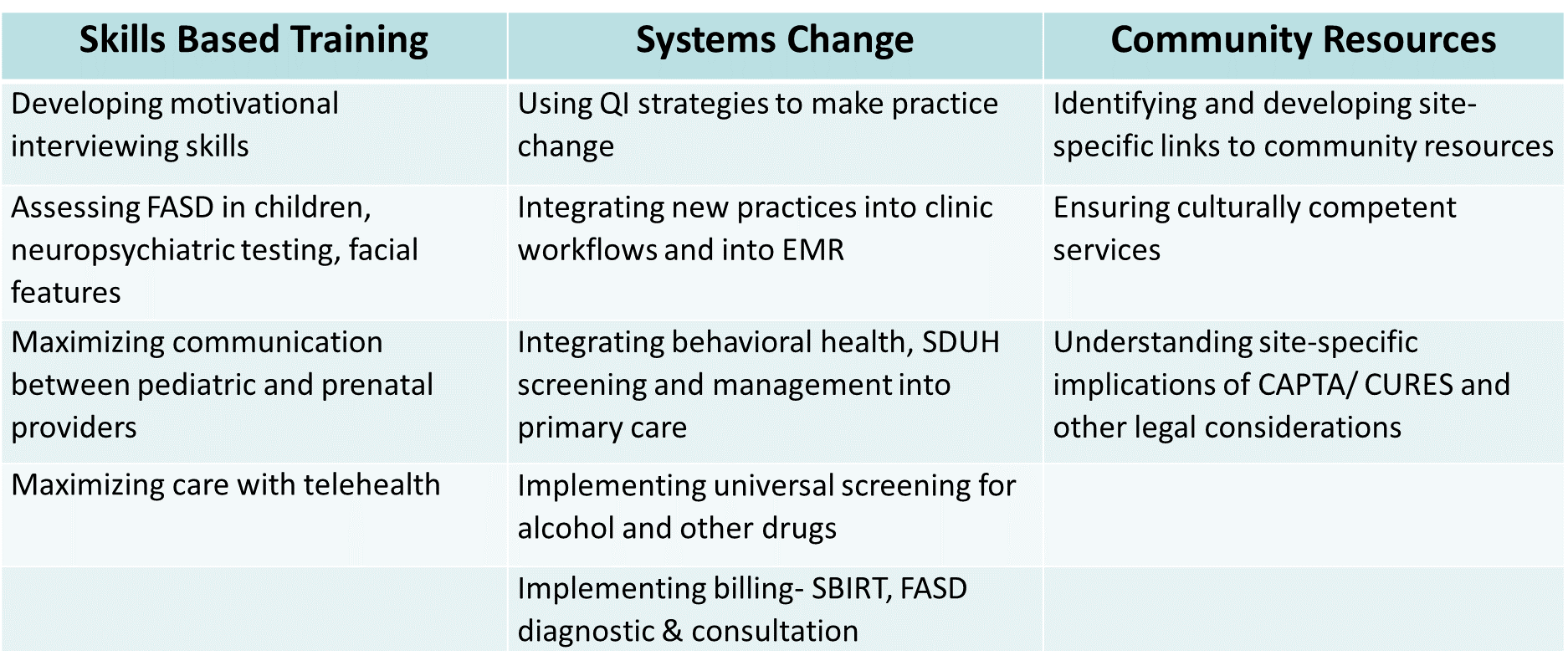 Information For Participants in the Learning Collaborative

Participating practices are encouraged to invite all appropriate clinic staff who will be involved in implementation of FASD prevention and care. This may consist of family physicians, pediatricians, OB/GYNs, NPs, PAs, CNMs, other medical personnel, behavioral health staff, and paraprofessionals such as community health and outreach workers.
Current participants can access interactive Learning Collaborative information on our password protected Padlet. This is an interactive web platform where we will share resources and interact with the other learning participants.
If you would like more information on how your community health center could be part of the SAFEST Choice Learning Collaborative, email Jackie German at safestchoice@bmc.org
Learn More about Safest Choice with our
FAQ
SAFEST Choice Team

Who We Are
Boston Medical Center (BMC) is a private, not-for-profit, 514-bed, academic medical center and the primary teaching affiliate for Boston University School of Medicine.  BMC emphasizes community-based care, with its mission to provide consistently accessible health services to all. The largest safety net hospital in New England, BMC provides the full spectrum of pediatric and adult care, from primary care and family medicine to advanced specialty care, in more than 70 subspecialties. Three-fourths of our patients come from underserved populations, such as the low-income and elderly, who rely on government payers such as Medicaid, the Health Safety Net, and Medicare for their coverage. Two-thirds are racial and ethnic minorities and 32 percent do not speak English at home. BMC is the tertiary care center in Boston HealthNet, an affiliation of BMC, BUSM, and 14 community health centers in Boston's most impoverished neighborhoods. BMC is also a recognized leader in groundbreaking medical research and is the 15th largest recipient of funding in the US from the NIH among independent hospitals. BMC has extensive experience working with CHCs throughout MA and New England to transform addiction treatment by integrating the Massachusetts Model of Nurse Care Management into adult primary care practices. 
The CARE Unit (a collaboration of BMC and BUSM) will house the SAFEST Choice Program. The CARE Unit was established in the BMC Section of General Internal Medicine in 1993 with the mission to educate health professionals, provide healthcare, and inform clinical and public health practice and policy to improve the lives of individuals with substance use problems. For 25 years, the CARE Unit faculty and staff have developed innovative programs in outpatient, inpatient, and community settings that help providers identify and care for some of the most vulnerable patients - those with substance use and substance use disorders and their medical and psychiatric complications.
Proof Alliance is a nonprofit founded in 1998 in MN with a dual purpose - providing education on the impact of PAE, and championing efforts to enable individuals living with an FASD to reach their full potential. Proof Alliance works to prevent PAE and to improve the quality of life of the individuals and families affected by FASD by providing resources and support in MN and beyond. By building partnerships and improving services, it generates awareness of the importance of alcohol-free pregnancies. Proof Alliance has had extensive experience with implementing screening for both prenatal alcohol use and FASD over the past 10 years. They started working with primary care in 2011 to determine how to screen for FASD in pediatric settings. The AAP had not yet released their FASD Toolkit at that time, so Proof Alliance assembled a medical advisory committee to create an algorithm on how to screen for FASD. They piloted this FASD screening algorithm with four clinics over three years, which created opportunities for many lessons learned on what this screening looks like in practice. The clinics were able to add the FASD screening protocol into their EMR, have staff trained on FASD and the screening method, change their practice, and embed it into their standard of care. In addition to their work on FASD screening in pediatric care, Proof Alliance has also worked with numerous clinics providing prenatal care to implement screening for alcohol use during pregnancy. 
Funding Source
This Learning Collaborative is supported by the Health Resources and Services Administration (HRSA) of the U.S. Department of Health and Human Services (HHS) as part of a financial assistance award totaling $986,500 with 100 percentage funded by HRSA/HHS and $0 amount and 0 percentage funded by nongovernment source(s). The contents are those of the author(s) and do not necessarily represent the official views of, nor an endorsement, by HRSA/HHS, or the U.S. Government.
Sources Cited
Text
Images
CDC Vital Signs. https://www.cdc.gov/vitalsigns/pdf/2016-02-vitalsigns.pdf ; 2016. 
May PA, Chambers CD, Kalberg WO, et al. Prevalence of fetal alcohol spectrum disorders in 4 US communities. JAMA. 2018;319(5):474-482. doi:10.1001/jama.2017.21896
SAMHSA. 2014.
Centers for Disease Control and Prevention. Basics about FASDs. https://www.cdc.gov/ncbddd/fasd/facts.html. Accessed May 10, 2018.
CDC, Denny CH, Acero CS, Naimi TS, Kim SY. Consumption of Alcohol Beverages and Binge Drinking Among Pregnant Women Aged 18–44 Years — United States, 2015–2017. MMWR Morb Mortal Wkly Rep 2019;68:365–368. DOI: http://dx.doi.org/10.15585/mmwr.mm6816a1
CDC, Gosdin LK, Deputy NP, Kim SY, Dang EP, Denny CH. Alcohol Consumption and Binge Drinking During Pregnancy Among Adults Aged 18–49 Years — United States, 2018–2020. MMWR Morb Mortal Wkly Rep 2022;71:10–13. DOI: http://dx.doi.org/10.15585/mmwr.mm7101a2