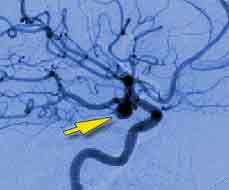 Our goal is to provide a complete range of services for the diagnosis, treatment and rehabilitation of patients with brain aneurysm, whether they have ruptured or not. We inform each patient and their families about the aneurysm, the natural course of a brain aneurysm over a person's lifetime, and what the possibilities are for treatment (medical management, endovascular repair, endovascular flow diversion, surgical repair). We strive to achieve the safest clinical outcomes for every patient.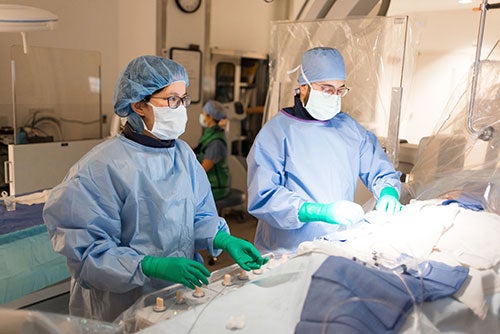 A brain aneurysm, also called a cerebral or intracranial aneurysm, is an abnormal bulging outward of one of the arteries in the brain. This may be due to a weakness or injury to one or more of the three layers of tissue in the vessel wall. Most patients with a brain aneurysm do not have symptoms, or are accidentally known to have a brain aneurysm because of a brain scan performed for other reasons not related to the aneurysm.
The risk of rupture of a brain aneurysm is thought to be very low; approximately less than 1%/year. It is estimated that more than 30,000 people experience cerebral aneurysm ruptures in the United States each year. The presentation of aneurysm rupture often occurs with a severe headache that comes on suddenly. Most people claim that it is "the worse headache of my life." Nausea, vomiting or loss of consciousness may be associated symptoms with the aneurysm rupture. Ten percent of these patients die before receiving medical attention; half die 3 months after the rupture event. One out of two patients who survive a ruptured aneurysm experience serious neurological or psychological problems.
View treatment protocol and guidelines for aneurysm coiling used by BMC Stroke & Cerebrovascular Center.
For more information, please call 617.638.8456.
BMC Brain Aneurysm Physicians
Patient Stories
Retresha Kilgoe
Subarachnoid hemorrhage (SAH)
Children call to 911 save their mother's life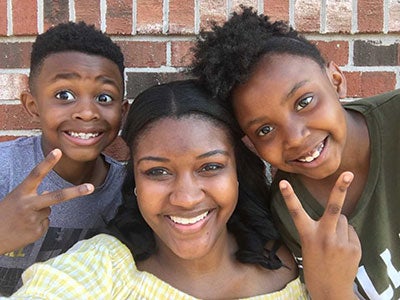 Retresha was doing well until May 2018 when she was at home, and suffered a bad headache. She describes tension in her neck. Her neck went stiff and she couldn't move it. She felt dizzy. She felt like she needed to throw up.
The patient was in too much pain to call 911. She knew she had to get an ambulance to come get her. She told her children Alani, 8 years old, and Trey, 7 years old, let's call 911.
Both children dialed 911 and talked to the operator. It was their first time calling 911, from the patient's cell phone. "My mom needs an ambulance." The patient was brought to Boston Medical Center. The diagnosis was quick: a subarachnoid hemorrhage (SAH), a life-threatening type of stroke, caused by bleeding from ruptured brain aneurysm into the space surrounding the brain. For the patient to survive, urgent treatment is required to seal off the aneurysm. Under the combined care of Dr. Thanh Nguyen, Dr. Mohamad Abdalkader, and Dr. Courtney Takahashi, she underwent treatment of her brain aneurysm via endovascular coiling. Endovascular coiling is "minimally invasive," technique with a wire and catheters introduced into one of the femoral arteries in the groin to the brain to seal off the ruptured aneurysm.
Two weeks later, she was discharged to home and now is back to work, reunited with her two children.
The patient notes "I was well taken care of. I would recommend BMC if you are experiencing bad headaches or symptoms of stroke. It was really great service."
---
Wildine Despeignes
Subarachnoid hemorrhage (SAH)
On September 11, 2017, Wildine was at the gym when she suddenly felt something was happening to her. She left the stairmaster and sat on a bench in the locker room. She had a headache. She moved from the bench to the floor by a locker. The gym manager called 911. She called Boston EMS, but Wildine wanted to go home. She signed them off and drove herself home.
When she walked through the door of her house, the headache went from 1/10 to 10/10 to 20/10 instantly. Wildine states, "It felt like fire, it felt like a bomb. It was hurting." She called her friend Fita and told her she had pain in her spine. Fita advised her to call 911, and when EMS came to her door, she collapsed to her knees.
She arrived at BMC and was greeted by her care team, Dr. Thanh Nguyen and Dr. Courtney Takahashi. She was found to have a subarachnoid hemorrhage due to a ruptured aneurysm. She was brought to the neurointerventional suite and underwent coiling of her aneurysm with good aneurysm occlusion.

Since her aneurysm treatment at BMC, Wildine has been very well and has had no significant headaches. She is grateful to God and to her care providers at BMC.
---
References