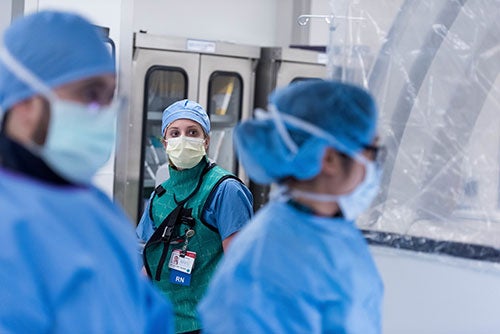 When a blood vessel just outside the brain bursts, the space surrounding the brain (the subarachnoid space) fills with blood. This condition is called subarachnoid hemorrhage, and is usually due to an aneurysm. This bleeding may irritate nearby blood vessels that can become very narrow, a condition known as cerebral vasospasm. This vasospasm can starve the brain of oxygen, and therefore damage parts of the brain similar to a stroke. Cerebral vasospasm is a delayed event after an aneurysmal subarachnoid hemorrhage, with a usual peak from days 7 to 9 after a bleed. It usually affects the large arteries near the ruptured aneurysm.
CONSCIOUS 3
The main purpose of this clinical research study is to evaluate whether an investigational medication, Clazosentan, can prevent the narrowing of blood vessels in the brain following a subarachnoid hemorrhage. It has already been given to approximately 340 patients with subarachnoid hemorrhage in previous clinical research studies. Preliminary results showed that clazosentan could prevent vasospasm and improve the blood supply to the brain. There was also some evidence that clazosentan reduced damage to the brain. This trial aims to further investigate the potential benefits and side effects of Clazosentan in a worldwide population.
Clazosentan to Overcome Neurological Ischemia and Infarction Occurring After Subarachnoid Hemorrhage (CONSCIOUS-1)
More information on CONSCIOUS 3.