Veggie Pasta with Meat Sauce
EntréeLunch / Dinner, American
Contributed by,
BMC Teaching Kitchen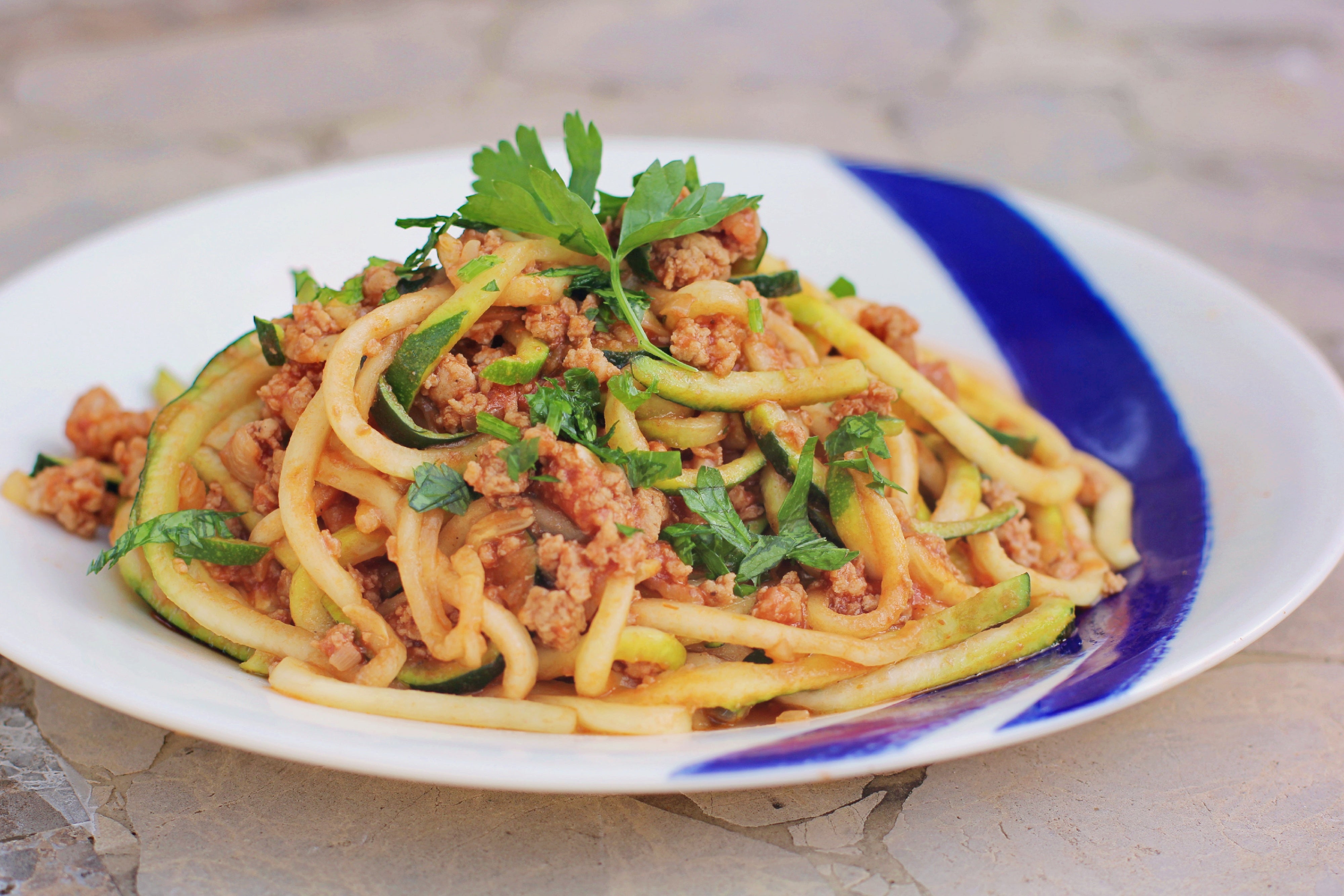 Adding more vegetables to a pasta dish helps to cut the total carbohydrate of the dish. If  60 grams of carbohydrate is too much in one meal, you can add additional lean, ground meat to the recipe, and divide this into 5, rather than 4 portions. In that case, each portion will have 48 grams of carbohydrate and 48 grams of protein.
Ingredients
Whole
wheat spaghetti - ½ lbs. (½ box)
Zucchini
- 1 medium (whole or pre-spiralized noodles)
Carrots
- 2 large
Celery
- 2 large stalks
Onion
- 1 medium, any type
Ground
turkey, 97% lean - 1 lbs.
Tomato
sauce, no salt added - 1 (15.5 oz) can
Water
- ½ cup
Italian
seasoning - 1 Tablespoon
Crushed
red pepper flakes - 1 pinch
Salt
- to taste (~¼ teaspoon)
Parmesan
cheese - ½ cup (optional)
Instructions
Step 1
Cook pasta as directed on box and drain with a colander.
Step 2
While the pasta is cooking, chop the carrots, celery, and onion. Prepare the zucchini noodles or chop the zucchini into small pieces.
Step 3
Heat oil on medium-high heat in the same large pot you used for the pasta.
Step 4
Add the chopped vegetables (not zucchini noodles) and cook for 2-3 minutes or until some water cooks off.
Step 5
Add the ground meat and cook for 3-5 minutes or until browned, stirring occasionally to break up the meat.
Step 6
Add the Italian seasoning and crushed red pepper flakes. Allow seasoning to become fragrant (about 2 minutes).
Step 7
Add the tomato sauce and water and stir. Reduce heat to medium-low and cook for 20 minutes or until thickened.
Step 8
If using chopped zucchini, add it to the sauce. If using zucchini noodles, mix them into the pasta.
Step 9
Divide pasta into 3 equal portions and top with sauce (the hot sauce will cook the zucchini). Sprinkle with parmesan if desired.
Notes
Zucchini noodles can be purchased in the frozen section of many grocery stores, or made at home if you have a kitchen tool to make them (spiralizer). You can also simply chop the zucchini.
Nutrition Information