Boston Medical Center's Pediatric Nephrology Program provides a full range of kidney and urinary tract care for babies, children, and young adults. 
 
We also offer prenatal consultations if a fetal ultrasound shows possible kidney problems. If our testing shows kidney problems, these babies can then become our patients after they are born. 
 
Our experienced team will work closely with your family to build a personal kidney care plan. We will also work with your child's pediatrician and other specialists across BMC to coordinate all your child's care.
We care for children with a range of conditions, including: 
Acute kidney injury
Chronic kidney disease
Electrolyte abnormalities 
Urinary abnormalities, such as proteinuria and hematuria
Chronic or recurrent urinary tract infections
Bedwetting and urinary accidents
Congenital abnormalities of the kidneys and urinary tract such as hydronephrosis and vesicoureteral reflux
High blood pressure (hypertension) 
Contact Us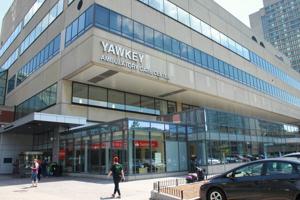 Hypertension Program
Our specialized hypertension program provides care for children with high blood pressure. Our experienced team includes providers from: 
Pediatric nephrology
Pediatric cardiology
Pediatric nutrition
We are a small group who works closely together and with your family to make sure your child has all the care they need. In addition to managing your child's high blood pressure with medication, our team also offers counseling and support around healthy food and exercise options.
Our program offers diagnosis and treatment for children with both primary and secondary hypertension. 
Primary hypertension—also known as essential hypertension—is associated with obesity and is increasingly more common in children. 
Secondary hypertension is caused by another condition, such as chronic kidney disease, heart or blood vessel abnormalities, or hormone problems. This is the more common type of hypertension in younger children. It is usually harder to diagnose and manage. 
Children in this program will have a complete evaluation, including an ambulatory blood pressure monitor (ABPM) test. This special blood pressure cuff measures blood pressure over 24 hours, which allows us to diagnose high blood pressure more accurately. 
Diagnostics and Tests
Depending on your child's condition, we may run tests, such as: 
Laboratory evaluations
Ultrasound testing
Specialized kidney imaging studies, such as DMSA scan, MAG3 scan, and voiding cystourethrogram (VCUG)