The Division of Hospital Neurology specializes in the diagnosis and treatment of hospitalized patients with complex neurologic disorders. In collaboration with colleagues in both our outpatient neurology clinics and the departments of internal medicine, psychiatry, neurosurgery, and others throughout the hospital, our Division provides high-quality care to Boston Medical Center's diverse inpatient population, furthers the hospital's educational mission by training residents and medical students in the complexities of acute neurologic care, and conducts cutting-edge research on the diagnosis and treatment of a broad spectrum of acute neurologic disorders. Our faculty includes two dedicated hospital neurologists who work alongside faculty from every division within the Department of Neurology to staff our Inpatient General Neurology and Consultative services.
Areas of Expertise:
Acute neurologic disorders
Encephalitis
Meningitis
Guillain-Barré syndrome
Acute myasthenia gravis exacerbation
Refractory epilepsy
Neurologic complications of multisystem disorders
Diagnostics
Diagnostic evaluation in the hospital is conducted at the discretion of the inpatient neurology team and may include electroencephalography and other neurophysiologic studies, cerebrospinal fluid analysis, and neuroimaging among other testing.
Contact Us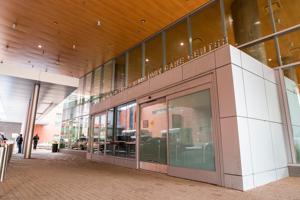 Our Team
Research Overview
Our faculty have made extensive contributions to the existing scholarship on a wide spectrum of neurologic disorders and topics related to inpatient neurologic care, including neurologic complications of COVID-19 and other infections, epilepsy, stroke, and disparities in the delivery of healthcare. We also play a critical role in patient safety and quality improvement initiatives for neurology inpatients, working to build a hospital environment that ensures patients and their families feel heard and receive the highest quality of care.
Residency and Fellowship Information
Education and Training:
The Division of Hospital Neurology is integral to the educational mission of the Boston University Chobanian & Avedisian School of Medicine. Our Hospital Neurology faculty are committed educators who have been honored with numerous teaching awards. We are dedicated to both growing our medical students and residents into highly skilled clinicians and empowering them with tools to improve the delivery of neurologic care.