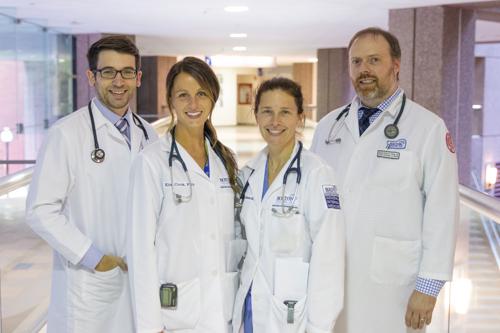 The hospitalist medical team is a group of clinicians dedicated to providing exceptional care on the general medical inpatient services at Boston Medical Center. Our team is made up of physicians, nurse practitioners, and physician assistants who work alongside nurses, case managers, social workers, and other inpatient providers to deliver the best care possible for each patient we treat. Over the last few years, our group has grown substantially and has expanded into new roles throughout the hospital and teaching services.
As hospitalists, we treat patients on the general wards and in the Observation Unit, and we assist specialty services in the care of a broad range of diseases ranging from congestive heart failure to advanced kidney disease to orthopedic injuries. Members of our team also help with procedure services and palliative care consultation. Our job is to treat hospital patients with holistic, evidence-based care, and to work closely with primary care providers to ensure a safe transition for each patient back to their outpatient primary care provider.
Medical Education is an integral aspect of our team --- many of our providers serve as clinician educators working closely with BMC's Internal Medicine Residency program and the Boston University School of Medicine teaching residents, medical students, and physician assistant students. Additionally, members of our team work closely with hospital administration to advance quality improvement projects and develop hospital-wide strategic organizational initiatives that help BMC better serve its patients.
We believe fully in the larger mission statement of Boston Medical Center: Exceptional care, without Exception.
Patient Resources
A hospitalist is a medical provider who cares for patients while they are in the hospital. We work closely with patients, families, specialists, nurses, and other hospital professionals to care for their patients. Hospitalists coordinate care with outpatient providers to ensure smooth transitions into and out of the hospital. 
Latest from HealthCity
Providing the best feasible care for COVID also brings consequences for clinicians and patients.
HealthCity is Boston Medical Center's online publication that explores the most pressing issues in healthcare. At HealthCity, we believe that healthcare must transform itself to become more equitable, sustainable, and open source.