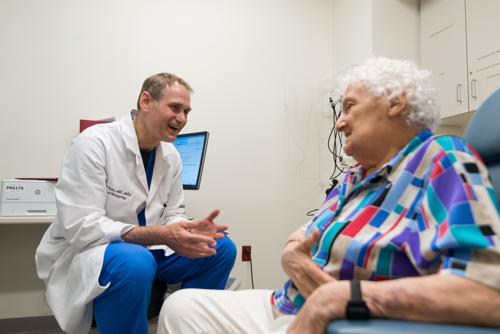 Existing Patients
Make an appointment by phone
617.638.8124
Make an appointment with MyChart
Book with MyChart
Hours of Operation: Monday-Friday - 7:30 AM - 5:00 PM
Refer a Patient
Refer a patient
Call for assistance with the referral process
617.638.8124
Hours of Operation: Monday-Friday - 7:30 AM - 5:00 PM
617.638.8124
If a person has severe hearing loss, a cochlear implant may help. A cochlear implant is different from a hearing aid. A hearing aid makes sounds louder and helps someone who has some hearing loss;  a cochlear implant can help a person with very little or no hearing (partial or complete deafness) be able to hear.
A cochlear implant is small electronic device that stimulates the nerve a person hears with, called the cochlear nerve. The implant has two parts. One part sits behind the ear and picks up sound. It transmits that sound to the second part of the implant, which is located in the inner ear. A thin wire between the two sends signals to the auditory nerve, which tells the brain it is hearing.
Boston Medical Center's Cochlear Implant Program is committed to providing high-quality, team-centered, patient-focused hearing care for adults and children with hearing loss. The team is made up of providers who specialize in audiology, neurotology, and speech language pathology.  Peter Weber, MD leads the Cochlear Implant Team. Dr. Weber has performed over 2000 implant surgeries in more than 20 years and also spends time traveling the world teaching others how to perform cochlear implant surgery.
The team works closely with patients and families to guide them toward the best course of treatment based on their individual goals. In successful cases, children and adults gradually learn to hear well enough to use the telephone, and most children hear well enough to learn spoken language and attend school.
For more information about BMC's Cochlear Implant Program, please call 617.638.8124.
Cochlear Implants Now Offered at BMC!
Contact Us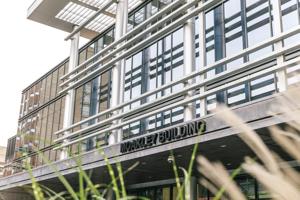 Specialty Clinics
Audiologists at Boston Medical Center provide services to a wide variety of patients, ranging from newborn babies to elderly adults. The team performs a number of diagnostic tests in our state-of-the-art clinic. Testing ranges from basic hearing tests that require the patient to raise their hand in response to sounds to more advanced testing which uses computer generated signals to elicit responses in the brainstem (ABR). We also provide testing for those who are suspected of having auditory processing disorders.
The department evaluates approximately 13,000 patients per year in the otolaryngology outpatient clinics and performs nearly 1,700 hospital-based surgical procedures annually. The Department of Otolaryngology - Head and Neck Surgery provides care for patients with problems involving the ears, sinuses, oral cavity, nose, throat, neck (ENT) including sinus conditions, allergy, sleep disorders, and snoring.
The Department of Pediatric Otolaryngology (otherwise known as Ear, Nose, and Throat, or ENT) provides care for patients with problems involving the ears, sinuses, oral cavity, airway, nose, throat, and neck including sinus conditions, neck masses, allergy, and snoring.
Treatments & Services
Cochlear Implant Surgery
There are several types of cochlear implants. Working with the doctor, adults and children choose the cochlear implant to best fit their needs. The team provides explanations of the different options available for internal/external components, speech processors, etc.
Cochlear-Meningitis Vaccination
Children with cochlear implants are more likely to get bacterial meningitis than children without cochlear implants. In addition, some children who are candidates for cochlear implants have inner ear anatomic abnormalities that may increase their risk for meningitis. 
Patient Resources
A cochlear implant is a small electronic device that stimulates the cochlear nerve (nerve for hearing). It has two parts. One part sits behind the ear. It picks up sounds with a microphone, processes the sound, and transmits it to the second part of the implant. The second part is implanted in the inner ear during a surgery. A thin wire and small electrodes leads to the cochlea, which is part of the inner ear. The wire sends signals to the auditory nerve, the nerve that sends sound impulses to the brain. A cochlear implant helps give a person a sense of sounds. It doesn't restore hearing to normal, but it can help a person understand speech and noises in the environment.