Head and Neck Cancer Program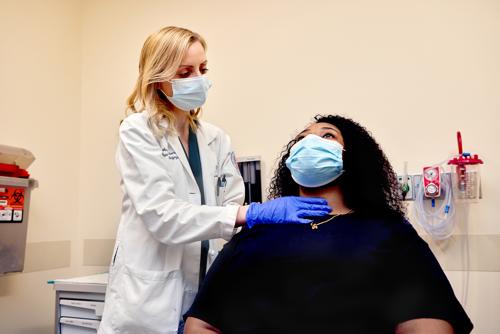 Existing Patients
Make an appointment by phone
617.414.4913
Make an appointment with MyChart
Book with MyChart
Hours of Operation: Monday-Friday 8:00 AM - 5:00 PM
Refer a Patient
Refer a patient
Call for assistance with the referral process
617.414.4913
Hours of Operation: Monday-Friday 8:00 AM - 5:00 PM
617.414.4913
The Head and Neck Cancer Center is a major provider for patients with early-stage, recurrent, or aggressive head and neck cancers. The nationally recognized team of multidisciplinary specialists who care for these patients collaborate to manage patient care from the first consultation through treatment and follow-up. They combine their expertise in patient care with state-of-the-art treatment options while actively participating in clinical trials to provide tomorrow's treatments today.
For more information or to refer a patient, call 617.414.4913 or email HNC.Center@bmc.org. Patients with a diagnosis or strong suspicion of cancer are seen within 72 hours.
Contact Us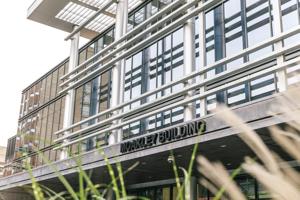 Treatments
Cancer Surgery
The goal of cancer surgery is to remove the cancerous tissue and a ring of normal tissue around it. The surgery may also include removing lymph nodes from the neck. Reconstructive plastic surgery may be needed if the cancer is widespread and requires extensive tissue removal. These may include surgery to the tongue, jawbone, facial skin, pharynx, or larynx. In cases such as this, tissue from other parts of the body, like the forearm or leg, can be transplanted to give patients the best possible cosmetic and functional outcomes.
Radiation Therapy
Radiation uses special equipment to deliver high-energy particles, such as x-rays, gamma rays, electron beams or protons, to kill or damage cancer cells. Radiation (also called radiotherapy, irradiation, or x-ray therapy) can be delivered internally through seed implantation or externally using linear accelerators (called external beam radiotherapy, or EBRT).
External Beam Radiation Therapy
External beam radiation therapy is one of the most common types of radiation for cancer treatment. Radiation comes from a machine outside the body and delivers radiation to a specific location inside the body.
CyberKnife
CyberKnife delivers highly targeted beams of radiation directly into tumors, in a pain-free, non-surgical way. Guided by specialized imaging software, we can track and continually adjust treatment at any point in the body, and without the need for the head frames and other equipment that are needed for some other forms of radiosurgery.
Chemotherapy
Chemotherapy is a medication or combination of medications used to treat cancer. Chemotherapy can be given orally (as a pill) or injected intravenously (IV).
Immunotherapy
For patients with advanced-stage melanoma, immunotherapy may improve the body's natural immune response to cancer. Immunotherapy recruits the body's own immune system and uses it to fight cancer all over the body, making it difficult for cancer cells to hide or develop defenses against it. Immunotherapy has the potential to keep working even after the patient has completed treatment.
Integrative Therapy
Integrative medicine practices have been shown to reduce cancer-related symptoms such as pain, anxiety, nausea, and fatigue. The Program for Integrative Medicine and Health Care Disparities in the Department of Family Medicine at BMC combines conventional medical treatments with evidence-based complementary therapies. Free therapeutic massage to decrease preoperative anxiety and postoperative pain in cancer patients undergoing surgical procedures is available. In the Moakley Building, where BMC conducts much of its cancer care, a registered yoga instructor holds free biweekly yoga classes, and a licensed acupuncturist offers free acupuncture to cancer patients. Participants in these sessions have gained notable clinical benefits, reporting decreases in pain, depression, anxiety, nausea, and fatigue. Services to individual patients complement group activities. Consultations that focus on stress management, nutrition, and coordination of complementary therapies are also available.
Laser Surgery
A laser is a very narrow focused beam of light. Laser surgery for cancer uses this beam of light to shrink or destroy cancer cells. It can also be used to remove a tumor without damaging the healthy tissue around it. This causes less pain, bleeding, infections, and scarring than other types of surgery or treatments.
Robotic Surgery
Our Team
BMC's comprehensive Head and Neck Cancer Center of Excellence team includes physicians who work in head and neck surgical oncology and skull base surgery, radiation oncology, medical oncology, pathology, radiology, nuclear medicine, and speech language pathology. The team's patient-centered, multidisciplinary approach assures each patient benefits from the collaborative expertise of physicians uniquely focused on their individual needs.
Head and Neck Cancer and Reconstructive Surgery Team
Radiation Oncology Team
Chief of Radiation Oncology
Special Interests
Head and neck, skin and central nervous system malignancies, airway amyloidosis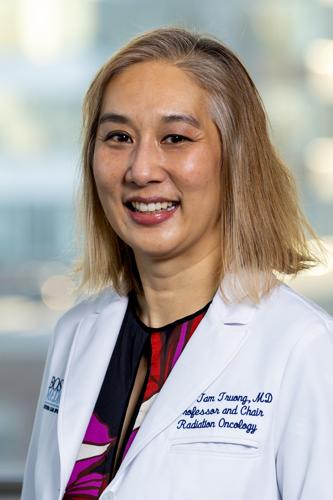 Speech Language Pathology Team
Special Interests
Dysphagia (swallowing problems), Dysphonia (voice problems), Cognitive Deficits and Aphasia (language problems), Reflux-related disorders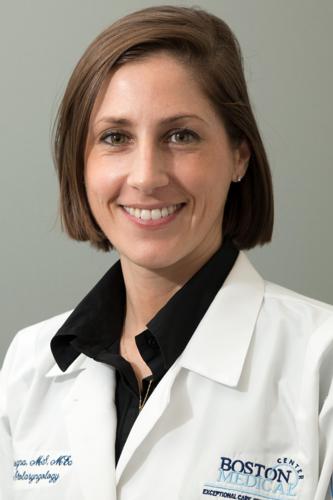 Special Interests
Dysphagia (swallowing problems), Dysphonia (voice problems), Reflux-related disorders, Alaryngeal Rehabilitation included Tracheoesophageal (TEP) Voice Restoration/Management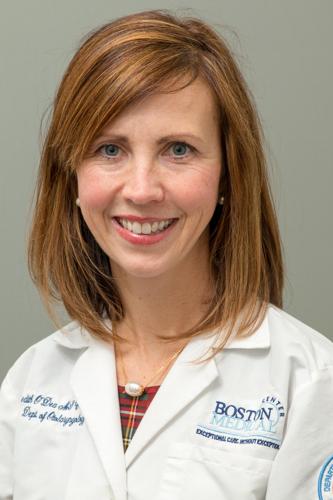 Special Interests
Dysphagia (swallowing problems), Alaryngeal rehabilitation including tracheoesophageal (TEP) voice restoration/management, Evaluation and treatment of swallowing problems after head and neck cancer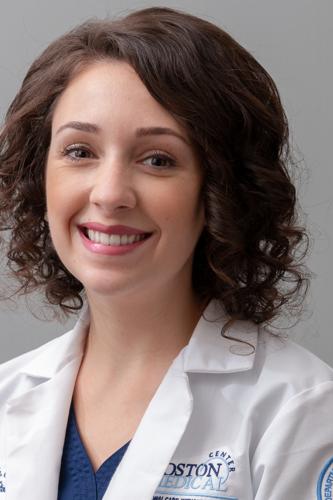 Nutrition Team
Briana Pineau, MS, RD, LDN
Clinical Trials
BMC offers a number of clinical trials specifically for head and neck cancer patients. Promising new techniques in the diagnosis, treatment, and care of patients with head and neck cancers are tested in these studies. The number and types of clinical trials available are constantly changing. View an up-to-date list of ongoing trials here. Those interested in participating in any clinical trials at BMC should talk with their physician.
Featured on HealthCity
BMC's innovative clinic provides same-day shots and a chance to research barriers to vaccination.
HealthCity is Boston Medical Center's online publication that explores the most pressing issues in healthcare. At HealthCity, we believe that healthcare must transform itself to become more equitable, sustainable, and open source.