Basic Life Support Provider (BLS)
Clinical Training Center
Department of Emergency Medicine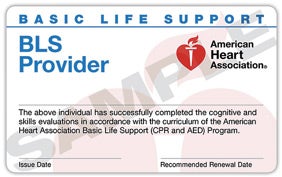 The BLS course teaches both single-rescuer and team basic life support skills for application in both prehospital and in-facility environments, with a focus on High-Quality CPR and team dynamics.
BLS certification can be earned 2 ways:
BLS: Blended Learning
Combines the flexibility of online training with in person skills practice and testing.
Step 1 - Student completes the HeartCode® BLS online program:
Through a variety of eLearning assets such as dramatizations, eSimulations, animations, self-directed learning, and interactive activities, this course teaches students BLS knowledge and skills. (Time varies~ 1-2 hours)
Step 2 - The student completes a hands on skills session with an instructor to complete their certification. (2 hours)
Recertification
The American Heart Association no longer offers a separate BLS recertification class - Evidence has shown that the more time that a student spends in manikin practice, the better the outcome when performing CPR under clinical conditions.