The Clinical Training Center at Boston Medical Center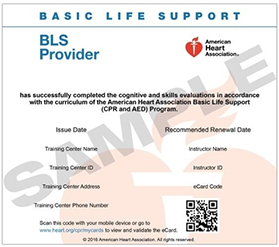 The American Heart Association Basic Life Support course offered by the CTC teaches single and multiple rescuer basic life support skills for both prehospital and in-facility environments, with a focus on High-Performance CPR and Team Dynamics.
BLS Certification / Recertification
The new 2020 version of HeartCode® BLS is a highly dynamic approach to online education- The user can select their level of mastery of BLS- ranging from novice to expert, and through true adaptive education, the program will confirm the learners skills level in subject areas, reinforce any areas where a knowledge gap exists, and present any updated guidelines. This allows learners who are experienced in resuscitation to rapidly have their knowledge verified, while allowing new learners take the time to learn the material.  (Time to complete varies~ 15 minutes to 2 hours).
The BLS Provider certification is offered as a blended learning program- this combines the flexibility of online training with in person skills practice and testing.
Completion is simple:
Student completes the HeartCode® BLS online program
Go to our sign up page to schedule your hands on session.
The student completes a hands on skills session with an instructor to complete their certification. (About 90 minutes)
The certification card is emailed to you the next day
Register for a BLS class:
Step 1: Request the online assignment 
Click here to sign up for the online portion of BLS
Step 2: Sign up for a hands-on skills session
Schedule the Hands-on BLS skills session 
Location:
The skills sessions are held in the BMC's BCD Building (Directly across from the Moakley building entrance)
Check-in in the lobby and we will direct you to the proper classroom.