The Clinical Training Center at Boston Medical Center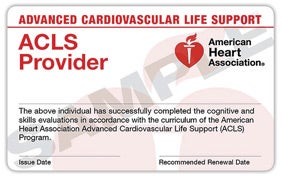 The American Heart Association's ACLS Course has been updated to reflect new science in the 2020 American Heart Association Guidelines Update for CPR and Emergency Cardiovascular Care. This course builds on the foundation of lifesaving BLS skills, emphasizing the importance of continuous, high-quality CPR.
This advanced course highlights the importance of high-performance team dynamics and communication, systems of care, recognition and intervention of cardiopulmonary arrest, immediate post-cardiac arrest, acute dysrhythmia, stroke, and acute coronary syndromes (ACS).
Target Audience: MDs, PAs, RNs, NPs, Paramedics, Respiratory Therapists, Technicians, etc...
ACLS Class Schedule and Registration
Due to the current Covid restrictions ACLS classes are taught in a blended format- Once you register, you will be assigned an online class to complete, then you will attend a 2 hour hands on skills session where you will demonstrate what you have learned. (The hands on sessions are conducted with appropriate PPE)
Completion is simple:
Register for and complete the ACLS online program
Go to our sign up page to schedule your hands on session
Complete the ACLS hands on skills session with an instructor to complete their certification. (About 2 hours)
The completion card is emailed the next business day
Step 1- Register for the online class:
Click here to sign up for the online portion of ACLS 
Step 2- Sign up for a hands on skills session:
Click here to schedule the Hands-on ACLS skills session    
Important Notes
Basic Life Support
High Quality BLS is a critical part of the resuscitation process. You will be required to demonstrate a mastery of Basic Life Support during the ACLS Skills session. 
Optional - If you complete the HeartCode BLS online portion prior to the ACLS skills session we will issue both a BLS and ACLS completion card.
Location:
Effective January 1, 2023 all ACLS and PALS classes are now being held in the Northampton Square Building (Also known as "The Miranda-Creamer" building, the "Boston EMS" building and for really tenured folks- the old "Nursing School")
The address is 785 Albany Street, Boston (Cross Street is Northampton Street)
Pedestrian Entrance:
All students must enter through the Miranda-Creamer building at 785 Albany Street. Enter using the ramp to the left of the entrance marked as 785. (The 785 door is locked, and please DO NOT ring the bell) Once inside, turn right and go thru the glass doors. Take the elevator to the 4th floor. There will be signage and a person to check in with at the double glass doors.