Advanced Cardiac Life Support (ACLS)
The Clinical Training Center at Boston Medical Center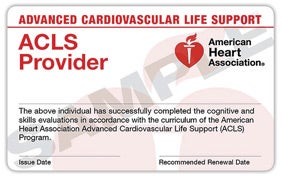 The American Heart Association's ACLS Course has been updated to reflect new science in the 2015 American Heart Association Guidelines Update for CPR and Emergency Cardiovascular Care. This course builds on the foundation of lifesaving BLS skills, emphasizing the importance of continuous, high-quality CPR.
This advanced course highlights the importance of high-performance team dynamics and communication, systems of care, recognition and intervention of cardiopulmonary arrest, immediate post-cardiac arrest, acute dysrhythmia, stroke, and acute coronary syndromes (ACS).
Target Audience: MDs, PAs, RNs, NPs, Paramedics, Respiratory Therapists, Technicians, etc...
ACLS Class Schedule and Registration
This program is for students who have not previously completed their ACLS Certification, or who have let their certification expire.
The initial certification program is approximately 13 hours (Over 2 days)
This program is for students who have completed their ACLS certification and need to renew their skills and certification. (Student must have current ACLS Certification)
The update course is approximately 5 hours (1 day)
Important Notes
Basic Life Support
High Quality BLS is a critical part of the resuscitation process. We include BLS certification/recertification with all ACLS classes. This not only helps you develop good BLS skills, but also aligns your expiration dates making it easier for you, and credentialing to renew every 2 years. If you prefer not to complete BLS certification/recertification at the time of your ACLS class, that is not a problem and will not affect your ACLS grade. Please select this option when registering.
The online portion of the class must be completed prior to the ACLS class session, and the completion certificate either printed and brought to the class, or emailed to [email protected]
ACLS Course Pretest
Students must complete the American Heart Association ACLS Pre Course Evaluation before taking the program. Access to this test is included with your textbook. If you have difficulty locating the code, please contact the CTC for assistance.
Pharmacology and ECG Recognition
Students entering the ACLS program are expected to have a basic understanding of ECG recognition, and basic pharmacology. By completing the Pre-Course Assessment, this will help you identify what areas you may review before class. (Consider taking the ECG and Pharmacology Prep Class prior to your ACLS class)
Textbooks
The American Heart Association requires all students to have a current provider manual available to them "before, during and after" the certification program. In our experience, students that have the book prior to class, and take the online pre-course assessment are able to participate more fully in the class, and score better in the practical and written exams.
Provider manuals are provided by the hospital for BMC employees, and are available for purchase by outside students with your online registration. We also have provider manuals available for purchase the day of class.
Rescheduling or canceling a class that you have registered for: