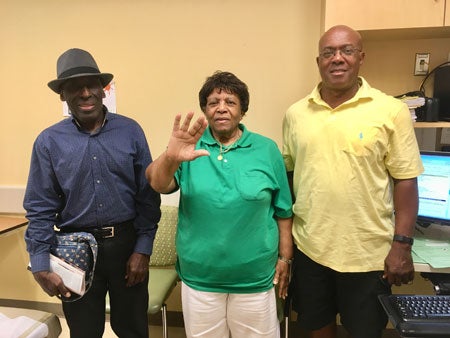 One warm evening in June 2018, Marie and her husband Sauveur stopped by their local Walmart store to do some shopping. After checking out and upon exiting the store around 5:30PM, Sauveur noticed that his wife began to speak funny. Moments later, Marie lost her balance and began to fall, and Sauveur assisted her to the ground. At 5:50PM He realized that something was terribly wrong, and signaled to someone close by to call 9-1-1.
Within minutes, first responders were on scene, and Marie was rushed to Good Samaritan Medical Center under the care of Dr. William Bennett. During Dr. Bennett's examination, he noticed that Marie's left eye was moving abnormally (gaze deviation), and that she was not able to move her right side or speak. Her NIH stroke scale was 25, which is considered severe.
It was then that Marie was diagnosed with a blood clot in her left middle cerebral artery and her care team at Good Samaritan notified Drs. Thanh Nguyen and Mohamad Abdalkader at Boston Medical Center.
Within 6 minutes of arrival to BMC, Marie was prepped in the neurointerventional suite. 22 minutes later, the clot was retrieved and the blocked artery was successfully opened. Within minutes, Marie regained movement in her right side, and after several days, her speech was fully back to normal.
After a two week inpatient stay at Braintree Rehabilitation Hospital, Marie's NIH stroke scale had reduced to 2, and was well enough to return home. She is thrilled to continue to enjoy company of her children, nine grandchildren, and seven great-grandchildren.