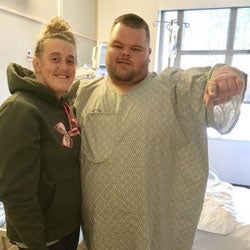 During St. Patrick's Day weekend 2018, 26-year-old Anthony Hart traveled from New York to New Hampshire to visit friends. That Saturday morning Anthony's friend, Nick, noticed his face starting to droop. He also dropped the cigarette he was smoking. "You're making me nervous," Nick stated, as he reached for his phone to dial 911. Although Anthony insisted he was fine, Nick persisted in seeking help.
When the 911 operator on the line asked Anthony to raise both arms, he could only raise one. The operator asked Anthony to repeat "The early bird gets the worm!" and in trying to do so, he realized that there was a significant slur in his speech. At that point, a stroke was suspected. First responders brought Anthony to Holy Family Hospital in Methuen, MA. Amanda Lieu, MD, diagnosed Anthony with an acute stroke from a clot in the right middle cerebral artery, which is main artery that brings blood to the brain.  Anthony was quickly transferred to BMC for care.
At 11:22 AM, Anthony was met by his care team, Thanh Nguyen, MD and Syed Abbas, MD, and brought to the neurointerventional suite. Within 30 minutes his blocked artery was successfully opened. Right away, Anthony was able to move his left arm and leg. Three days later, he was discharged.
"We are thankful that Anthony was as close to Boston as he was when this happened," says Anthony's fiancé, Nicole.
Two weeks after he left BMC, Anthony returned to work as a machine operator. He noted feeling great, as if nothing even happened, although he still exercises caution when using his left hand.