Baby and Me "Sushi" Bowl, WIC-Friendly
Lunch / Dinner
Contributed by:
Caroline Kohler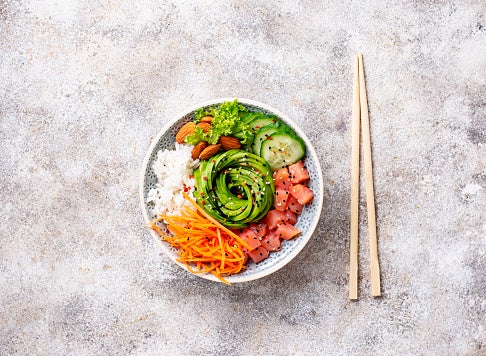 It can be hard to find a recipe that works for both you and baby - but this recipe makes it easy. All of the ingredients can be served separately for baby, with the fruits and veggies cut into pieces that are easy to pick up. Then you can build a delicious bowl for yourself. This recipe makes about three servings - perfect for the whole family or for a dinner and lunch.
Ingredients
Water
- 2 cups
Rice
- 1 cup short grain brown rice
Salt
- ½ teaspoon salt
Ginger
- 2 Tablespoons, peeled and minced
Tuna
- 1 can tuna (approximately 9 ounces, packed in water) OR canned salmon
Sesame-oil
- 1 teaspoon sesame oil (or ½ teaspoon low-sodium soy sauce plus ½ teaspoon oil)
Garlic
- 1 clove, minced
Carrots
- 2 carrots, peeled and steamed
Cucumber
- 1 cucumber, peeled
Scallion
- 2 scallions, chopped
Optional
- 1 mango, 1 avocado
Instructions
Step 1
Add water, rice, salt, and ginger to the pot. Bring to a boil, and then reduce the heat. Cover with the lid and cook for about 25 minutes.
Step 2
Drain the water from the tuna. Add the sesame oil and garlic to the tuna and mix well. Set aside.
Step 3
Peel the cucumbers and steamed carrots. (Peeling makes them easier and safer for baby to eat.)
Step 4
Chop into strips or a small dice. Strips are best for babies age 6 - 9 months, who use their whole hand to grab food. Babies older than about 9 months will start to learn how to grab diced veggies with their fingers.
Step 5
Put some (or all) of the carrots into a microwave safe bowl and add two Tablespoons of water. Microwave about 2 minutes, until the carrots are soft enough to smush with your fingers. (This makes them safe for baby.) Let the carrots cool.
Step 6
Chop the green onions and slice the mango and avocado.
Step 7
When the rice is done cooking, spoon the rice into two bowls.
Step 8
Add the tuna, carrots, cucumbers, green onions, mango, and avocado.
Step 9
Place small portions of each food on a plate or on baby's highchair tray.
Step 10
Optional: top the adult meals with sriracha, peanut oil, or seasoning (such as an "everything bagel" seasoning which contains sesame seeds and garlic)
Notes
You may have extra veggies leftover, depending on how much baby eats. Store them in an airtight container in the fridge for a snack for you or baby.
You can use any vegetable you want in this recipe, or even substitute canned salmon. This is a very flexible recipe, so you can make it your own!
Nutrition Information