News Release Archives
Boston Medical Center, Boston University School of Medicine Appoint Minh Tam Truong, MBBS, BSc, Chief & Chair of Radiation Oncology
April 11, 2016
(Boston) – April 11, 2016 – Minh Tam Truong, MBBS, BSc, has been appointed chief of radiation oncology at Boston Medical Center (BMC) and chair of the department of radiation oncology at Boston University School of Medicine (BUSM), effective immediately.
Truong, who has served as interim chief/chair of the department since July 2015 and currently serves as associate professor of radiation oncology at BUSM, joined BMC in 2004 as an attending physician, serving as clinical director in the department of radiation oncology.
"Dr. Truong's passion for both clinical care and research in the field of radiation oncology, as well as her clear and thoughtful leadership, have served BMC and its patients well throughout her tenure here and especially during her interim appointment," said Kate Walsh, president and CEO of BMC. "We are confident that her skills and experience are an excellent fit for this role, and that she will continue to successfully lead the department."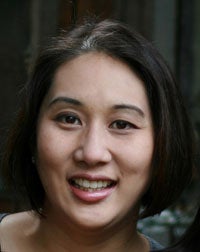 Truong's clinical focus is the treatment of head and neck, skin and central nervous system malignancies, benign diseases such as airway amyloidosis, quality of life and patient-reported outcomes research. She serves on a number of national committees for the American Society for Therapeutic Radiation Oncology, the American Board of Radiology, and the NRG Oncology group. She is the Quality of Life Co-Chair on several national head and neck cancer multicenter trials and contributes her radiation expertise to the National Cancer Institute's Adult Oncology Treatment editorial board. She promotes clinical research activities at BMC/BUSM and was a project principal investigator on two US Department of Defense-funded studies of stereotactic body radiotherapy for recurrent head and neck cancer, and spine stereotactic body radiotherapy. She also serves as a reviewer for the International Journal of Radiation Oncology Biology Physics; Radiotherapy Oncology; Cancer; Head and Neck; Oral Oncology; and Practical Radiation Oncology.
"Dr. Truong is an accomplished researcher with many years of experience," said Karen Antman, MD, provost of BU Medical Campus and dean of BUSM. "We believe radiation oncology will continue to grow and thrive clinically and academically under her guidance."
Born in Australia, Truong received her Bachelor of Medicine, Bachelor of Surgery and Bachelor of Science (Medicine) degrees from the University of New South Wales (UNSW), Sydney, Australia. She completed her internship at Prince of Wales Hospital, also at UNSW; and began her radiation oncology residency training at Westmead and Nepean hospitals, University of Sydney. She completed her radiation oncology residency, with her last year as chief resident, at New York University Medical Center.
Learn more about Radiation Therapy.
About Boston University School of Medicine
Originally established in 1848 as the New England Female Medical College, and incorporated into Boston University in 1873, Boston University School of Medicine (BUSM) today is a leading academic medical center with an enrollment of more than 700 medical students and 950 students pursuing degrees in graduate medical sciences. BUSM faculty contribute to more than 668 active grants and contracts, with total anticipated awards valued at more than $693 million in amyloidosis, arthritis, cardiovascular disease, cancer, infectious diseases, pulmonary disease and dermatology, among other areas. The School's teaching affiliates include Boston Medical Center, its primary teaching hospital, the Boston VA Healthcare System, Kaiser Permanente in northern California, as well as Boston HealthNet, a network of 15 community health centers. For more information, please visit http://www.bumc.bu.edu/busm/