Reducing Maternal Morbidity and Mortality With Pre-and-Postnatal Substance Use Disorder Screening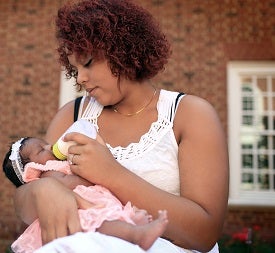 In Massachusetts, approximately 20 percent of deaths during pregnancy or within one year of pregnancy are related to substance use. And yet, care during pregnancy often does not include screening for substance use disorders. Recognizing this need, the Obstetrics and Gynecology Department at Boston Medical Center has implemented universal substance use disorder screening for pregnant and postpartum women, with the aim of decreasing maternal overdose and improving infant outcomes.
"There's a push in Massachusetts – and nationally – to do a better job of serving and identifying prenatal patients with substance use disorders, and early identification and treatment leads to better outcomes for both mother and baby," says Ronald Iverson, MD, MPH, vice chair of Obstetrics and director of Quality Improvement and Safety. "This is part of a larger effort to provide systematic approaches to major causes of maternal morbidity and mortality."
Previously, a nurse in OB/GYN would do a phone intake for prenatal patients, asking about using drugs or alcohol. However, the department found that this process was insufficient for identification of patients with substance use disorder, and follow-up for connection to treatment was inconsistent. Therefore, a universal screening process was put in place to ensure all patients get the treatment they need.
Patients are screened three times – at their first prenatal visit, their mid-pregnancy visit at 24-30 weeks, and their first postpartum visit. At the prenatal and postpartum visits, patients are given the written screening form when they check in, and answers are entered into Epic by the medical assistant; at the mid-pregnancy visit, the screening is given directly by the medical assistant. Since the program was fully implemented in April 2019, over 90 percent of eligible patients have been screened.
"We've heard worries that the questions are going to turn patients away or offend them, but the fact that over 90 percent of patients who are asked to fill out the form do so shows that they understand why we're asking these questions," says Iverson. "It also indicates that our patients feel safe answering the questions."
If a patient answers yes to any questions on the screen – including if anyone around them has problems with drugs and/or alcohol, not just their own use – the provider will do a brief intervention, which is to have a discussion with the patient to learn more. They'll then decide on next steps with the patient, based on the patient's individual needs and risk factors.
Those next steps might include check-ins between provider and patient, a meeting with a social worker, or a direct connection to other programs such as Project RESPECT, which provides treatment to pregnant women with substance use disorders, or treatment closer to home.
"Screening is about being able to begin a conversation to assess risk," says Elise Petersen Memmo, MPH, MSW, LICSW, lead quality improvement specialist in the Department of Obstetrics and Gynecology. "If a patient is at risk, we're able to build on the strong foundation that BMC already had in caring for pregnant women with SUD through our RESPECT clinic."
The ultimate goal is to have patients who need it in a treatment program, so that when they have their baby, they'll have a system already set up to care for them through the postpartum period. This goal recognizes the fact that women with substance use disorders who are not in treatment have the highest risk of maternal morbidity and mortality prenatally and in the postpartum period.
Screening is one component of a larger opioid use disorder "bundle" that focuses on pregnant and postpartum women and aims to reduce morbidity and mortality related to substance use and to improve infant outcomes. The bundle, which Iverson helped develop, is part of the Alliance for Innovation in Maternal Health (AIM) effort to provide systematic approaches to major causes of maternal morbidity and mortality.
Other components of the opioid use disorder bundle – which will be implemented over several years – include improving continuity of care and educating staff and providers on opioid use disorders and the particular needs of pregnant and postpartum women. Currently, BMC has created workgroups to look at how to best educate staff, what systems are already in place for continuity of care and how they can be improved, and how to best measure improvements in maternal morbidity and mortality.
Along with these workgroups, the OB/GYN team is working with community health centers and community organizations to extend the screening and figure out how to best serve prenatal and postpartum women in their populations. They've also started a series of staff education on substance use disorders and trauma-informed care, so that all staff members in OB/GYN are prepared to take care of patients with substance use disorders.
"Universal screening helps us get all the patients we care for as healthy as possible," says Iverson. "Success will be continuing to have a robust clinical team that works with our patients so that the patients have excellent health care experiences and outcomes."
What do you do, Carol Sulis?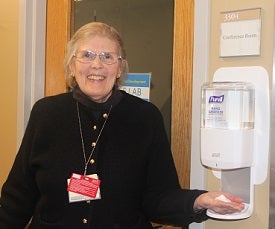 Name: Carol Sulis, MD
Title: Hospital epidemiologist
Time at BMC: 34 years, including time at Boston City Hospital
What do you do at BMC?
I spend a third of my time as an infectious disease doctor and see adult patients in the hospital.
The remainder of my time, I'm the medical director for Infection Control. That means that my job is to keep patients, health care workers, and visitors from infecting each other with anything contagious that they're carrying around with them.
You have an infection prevention and control team – what does the team do?
We develop policies and procedures that make it easy for people to do the right thing to minimize the risk of infection. We then provide education around the policies to make sure they're followed correctly.
We work throughout the hospital on infection control issues. For example, we work with Pharmacy to make sure antibiotics are being used wisely so resistant organisms aren't developing in the hospital.
We also work with the Working Well/Occupational Health Clinic to make sure people get treated when they have an unprotected exposure and don't work when they're sick. And, we work with Environmental Services to make sure they have good cleaning products and use them properly, and with the construction teams to make sure the dust in the air doesn't contaminate the environment. 
We visit different units and teach employees how to use precautions correctly, and other ways they can protect themselves, such as washing their hands regularly.
Another area of focus is making sure that people are protected against vaccine-preventable infections, such as the flu. There's a lot of misunderstanding about flu shots, for example, so we do a lot of education around that. Everyone should talk with their provider about getting a flu shot (it's not too late).
When there are new, serious diseases happening in the world, such as the novel coronavirus, we work to create policies to protect patients and employees. We educate staff to safely care for any patient that might come in with that type of new illness. One of the ways we do this is to have people practice how to correctly put on and take off (called donning and doffing) protective gear. That way they know exactly what to do if they need to use the protective gear. 
What are three things people should know about the novel coronavirus?
Three things to know are:
The disease caused by the new coronavirus has officially been named COVID-19.
Many people are studying how the virus is transmitted and how it is spread. There's still a lot we don't know.
Until we learn more about COVID-19, BMC has developed strategies to minimize risk to healthcare workers. Employees can visit the Emergency Management Hub site to learn more.
What brought you to BMC?
I actually came here as a general internist. I had been doing research at the National Institutes of Health, and after my husband retired from the Navy, we wanted to look for jobs where we could do general internal medicine. I came up here and I loved Boston City Hospital. I loved the patients and the people who worked here.
The person who was head of infectious diseases at the time found out that I had been doing immunology research at NIH. He needed someone to do immunology here, so he interviewed me and offered me a position as an infectious disease fellow, even though I had never planned to pursue infectious disease work. I liked him and he had lots of exciting ideas, so I agreed to be a fellow. I completely changed my career course.
After my fellowship, the hospital needed someone to do infection control, so I said I would, and I've stuck with it.
What are the top things you want people to know about Infection Control's work?
Boston Medical Center has so many people coming in and out every day, and we have mostly double occupancy hospital rooms. Because of this, it's really important to figure out who might have an infection when they come in and manage those patients in a way that minimizes risk of spreading infection. For example, a child with chickenpox might come in and if the front desk doesn't recognize that, the whole clinic can be exposed.
The most important thing is to recognize who might be contagious and isolate them or otherwise manage them appropriately. If you have questions or need help, you can call Infection Control at 617-414-4958. We can help you understand what the next steps are.
Everyone should also be personally responsible for making sure they're following precautions, washing their hands, and getting vaccinated. Employees should also stay home if they're sick.
Another thing I'd like people to know is about needle sticks. We work hard to try to reduce the risk of needle sticks. But we know from surveys that only about five to ten percent of needle sticks are reported.
To reduce the risk of a needlestick, people should practice using equipment ahead of time. If they have an unprotected exposure such as a needlestick, they should clean the exposed area, tell their supervisor, and go to the Working Well Clinic to get evaluated. They shouldn't second-guess whether they need to be evaluated.
What do you like most about working for BMC?
I really enjoy working with the patients and the staff here. Everyone is working towards a common cause, and working together despite barriers.
What do you do for fun outside of work?
I think it's really important to have balance in your life. I've been married for 40 years, and have a daughter.
One of the things I do for relaxation is to spin wool into yarn. One year, my husband gave me flower seeds for a dye garden, so I dye the wool with natural dyes as well. I make a whole bunch of knitted and crocheted items, many of which I've donated to the hospital over the years. Now, I give the yarn to others for knitting.
I also grow as many vegetables as I can without them being eaten by rabbits.
Fighting Hepatitis A with Vaccines in the Emergency Department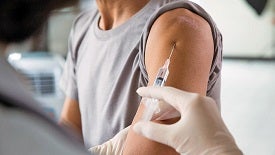 In August 2018, the Massachusetts Department of Public Health (DPH) issued an alert that Massachusetts had joined the ranks of those facing an outbreak of hepatitis A, a highly contagious virus that can lead to liver failure. DPH had identified 22 infections since April, whereas a typical year might see no more than five cases total.
The drivers of the outbreak were clear: substance use disorder and homelessness. To stem outbreaks, the Centers for Disease Control and Prevention has advised vaccination — which is 95% effective for about 10 years — for anyone falling into certain high-risk groups. DPH then called for emergency departments like ours at Boston Medical Center (BMC) to vaccinate all at-risk individuals.
Despite a number of challenges, this was an exciting opportunity to show how EDs can make a direct impact on public health. By putting in place a multi-disciplinary and multi-pronged intervention, Emergency Department providers and pharmacists at BMC were able to successfully screen and vaccinate high-risk individuals against hepatitis A.
Five Things You May Not Know About BMC's Department of Pathology and Laboratory Medicine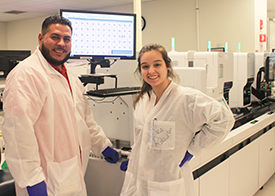 When your doctor or provider orders a series of tests for you in the lab, it typically involves you providing a biological sample of some kind and then waiting a few days to learn the results. But who are the behind-the-scenes people receiving that sample, triaging it, and analyzing the results for both you and your doctor to understand? The BMC Brief is here to help you make sense of it all with five things you may not know about the department of Pathology and Laboratory Medicine and the experts who make it all happen.
1. The department is comprised of a very robust network of people with a broad range of expertise.
The department of Pathology and Laboratory Medicine incorporates all aspects of biomedical science to enhance our understanding of disease processes and develop methods for diagnosis, prevention, and treatment. It encompasses a variety of subspecialty teams who, together, with faculty and staff at Boston Medical Center and Boston University School of Medicine, deliver services that support our physicians, clinical providers, and patient care, as well as fulfill an educational and research mission.
Comprised of more than 240 board certified physician-pathologists, laboratorians and research scientists, credentialed phlebotomists, section managers, and support staff, the subspecialty teams are represented by two distinct areas of expertise: Anatomic Pathology and Clinical Pathology, otherwise known as Laboratory Medicine.
The section of Anatomic Pathology includes Cytology (Cytopathology) and Surgical Pathology. Cytology refers to the scientific evaluation of individual cells obtained through non-invasive surgical practices. Surgical Pathology is responsible for the diagnostic evaluation of tissue and other related specimens obtained by surgical resection and biopsy procedures. Pathologists in both of these areas employ a variety of diagnostic methods, including microscopic examination of tissue sections and molecular assays, to detect the presence and progression of a disease.  They also help clinical providers determine therapeutic options and assess a patient's response to therapy.
The section of Clinical Pathology, commonly referred to as Laboratory Medicine, is a clinical diagnostics operation that works around the clock, 365 days a year, to complete all clinical diagnostic testing of blood and body fluids. Members of this team not only oversee the proper execution, reporting, and interpretation of diagnostic test results, they also help clinical providers determine what tests to order and how results from those tests can guide treatment options and therapeutic monitoring.
Core diagnostic areas within the section of Clinical Pathology include chemistry, microbiology, hematology, transfusion medicine (the blood bank), point-of-care testing and phlebotomy. BMC's phlebotomists are the individuals you see working on the front lines, ensuring all of our outpatient draw centers in the Yawkey, Preston, Shapiro, and Moakley buildings are delivering the highest standard of care.
2. The department has a rigorous quality management infrastructure that ensures specimens are received, processed, evaluated, reported and interpreted properly.
Both sections of the department are highly regulated in terms of the state and federal mandates that control the accreditations and certifications of space and lab personnel. The clinical diagnostics labs are accredited by the College of American Pathologists and the department is regularly inspected by other agencies, including Joint Commission, the Federal Drug Administration, and the MA Department of Public Health. The broad range of experts within the department are guided by evidence-based medicine protocols for pathology and laboratory medicine, public health, and clinical medicine.
3. The department is supported by a vast array of technology.
Before current advances in clinical laboratory systems, staff had to complete all of their duties manually, which, as you can imagine, was much more labor intensive and error prone. Now, most of the labs have undergone partial to complete automation, enabling lab personnel to double or triple the amount of tests they can run each day, while maintaining the accuracy and quality of results.
Examples of this automation are found in many areas within the section of lab medicine. In the chemistry lab, BMC has a brand new automated track system that manages a wide range of tests on blood and other specimens. When barcoded tubes of these specimens are placed in the machine, they are uncapped, triaged, sorted, and positioned on the automated train that delivers them to individual instruments connected to the track, which can then analyze and perform the appropriate tests on them.
One flagship instrument in BMC's hematology lab is the flow cytometer, which is a piece of technology responsible for counting and characterizing blood cells. The flow cytometer is an important tool for the detection of hematologic malignancies, such as lymphomas and leukemias.
When it comes to the microbiology lab, BMC is preparing to achieve total automation in the next few years. It currently features several robotic and automated platforms that complete a variety of analytical tests on specimens to detect and characterize microbial pathogens that cause infections. The lab also uses advanced instruments that perform viral load testing to determine the presence and amount of HIV or Hepatitis in a patient's blood. Over time, it has become a state-of-the-art lab that has accelerated treatment options due to its ability to turn around pathogen identifications in an hour compared to 24-48 hours in the past.
All of this technology is supported by BMC's lab information system analysts, who maintain the data management aspect of the lab by ensuring that results from all of the instruments are securely transmitted to patient medical records.  
4. The department's pathologists and laboratory scientists partner directly with providers to play a very critical role in patient care. 
When most people think of the department, they envision a massive network of incredibly talented people who never venture beyond the walls of the lab. However, there are a number of pathologists and lab scientists tasked with helping clinical licensed care providers determine the tests that need to be ordered, ensuring that they are fulfilled within the lab, and then interpreting the results in a way that the providers can understand and explain to their patients. It takes a team to deliver exceptional, comprehensive care, and many of the experts in this department are part of it.
5. The department is expanding its outreach efforts on campus and in the community.
When the department isn't training medical students and resident physicians on campus, it is extending its training capabilities to the community. In an effort to help educate the next generation of medical lab technologists and technicians, the department regularly partners with local community colleges to provide onsite training programs for their students.  Currently, the department welcomes individuals from Quincy College, UMass Lowell, and Roxbury Community College, to all of its subspecialty areas.
In addition to what that the department is doing on campus, it's also regularly involved with community health centers in the Boston HealthNet and Boston Accountable Care Organization (BACO) in a variety of ways – from providing ancillary support of their operations to consulting and completing lab testing.
Awards and Accolades
Ravin Davidoff Named a Hospital and Health System Chief Medical Officer to Know
Ravin Davidoff, MBBCh, Senior Vice President and Chief Medical Officer, was named to Becker Hospital Review's list of "100 Hospital and Health System Chief Medical Officers to Know."
The chief medical officers featured on this list are chosen for their dedication to strengthening their organizations through clinician leadership development, patient safety initiatives, health IT and quality improvement. They are also noted for their integral role on the executive team moving their organization's strategic vision forward while always keeping the patient front and center.
Nancy Gaden Honored as an Extraordinary Woman Advancing Healthcare
Nancy Gaden, DNP, RN NEA-BC, Senior Vice President and Chief Nursing Officer, was named one of the Commonwealth Institute's 2020 Extraordinary Women Advancing Healthcare. The ten women on the list were chosen for their role in shaping health care in Massachusetts with their exemplary talents and achievements in demonstrating collaboration, mentorship, innovation, and encouraging diversity.
News of Note
Ryan Boxill Joins BMC Health System as Chief Behavioral Health Officer
Ryan Boxill, PhD, MBA, has joined BMC Health System in the newly created role of Chief Behavioral Health Officer.  In this role, he is responsible for BH strategy and programming across our health system. 
As a licensed clinical psychologist, Boxill brings in-depth expertise in Behavioral Health (BH) from the perspective of both providers and payors. His experience spans almost 25 years working in various clinical settings in California, New York and Massachusetts. More recently, he served as vice president of behavioral health at Steward Healthcare System, where he led the turnaround of inpatient BH operations. 
Boxill also spent five years at Blue Cross Blue Shield of Massachusetts (BCBSMA) where, among his various roles, he helped develop innovative wellness solutions for BCBSMA members to reduce medical expense from avoidable behavior-based medical conditions. He has also maintained a private practice as a clinical psychologist.
Return to BMC News