2019: The Year in Review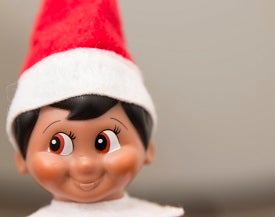 Congratulations to all on a great year! Here's a look back at some of the major events, milestones, and awards of 2019.
January
The Quality Improvement Leadership Academy graduated its inaugural class of 16 employees. The program aims to guide both clinical and non-clinical mid-level managers through an improvement project of their choice. Some of the projects have already been put into practice around the hospital!
Crystal Ann Williams, Boston University's Associate Provost for Diversity & Inclusion, spoke at this year's annual Martin Luther King, Jr. Day Celebration. Her talk focused on looking beyond the narratives we're taught about civil rights leaders and understand that it's not only those who are larger than life who can make a change.
Bristol-Myers Squibb Company and Boston Medical announced a multi-year joint research study to identify and analyze potential sensitivity and resistance markers in patients treated with standard-of-care checkpoint inhibitors.
Kate Walsh, president and CEO, was named to Becker's Hospital Review annual list of 143 women hospital and health system leaders to know.
February
BMC welcomed the Joint Commission, and concluded the survey with very positive results. The surveyors commended us for doing a remarkable job and for providing exceptional care. In fact, one surveyor even told us that she, "would absolutely get her care at BMC" – the highest level of compliment in health care. They also shared that they were impressed by how engaged staff are and by their expert knowledge and professionalism.
BMC also welcomed surveyors from Centers for Medicare and Medicaid Services. This survey Our CMS survey led to even fewer findings than the Joint Commission survey, validating the great care that we provide every day at BMC.
Alastair Bell, MD, MBA, EVP & COO of BMC, assumed interim responsibility for overseeing BMC HealthNet Plan and Well Sense Health Plan as a nationwide search began for a new president.
March
March marked one year that our Boston Medical Center Health System (BMCHS) has been part of the MassHealth accountable care organization (ACO) program. We have worked with partners across the state to reach ACO quality of care metrics and improve the health of our members. For example, since the start of the program, BACO's complex care management has engaged more than 1,400 members, leading to a 25 percent reduction in Emergency Department visits.
The Grayken Center for Addiction at Boston Medical Center announced the three recipients of their first pilot grant program to fund addiction research projects for highly vulnerable populations. The recipients will focus their two-year research projects on improving outcomes for these high-risk populations with substance use disorders (SUD), including pregnant women and incarcerated individuals.
Well Sense Health Plan, which is part of the BMC Health System and is the business name for our New Hampshire Medicaid product, signed a new five-year contract with the State of New Hampshire to continue managing care for the State's Medicaid population.
BMC was recertified as a Level 1 adult trauma center and Level 2 pediatric trauma center by the Verification Review Committee of the American College of Surgeons (ACS).
April
Boston Medical Center received an $89 million research grant from the National Institute on Drug Abuse (NIDA) to lead a study aimed at reducing opioid overdose deaths by 40 percent in Massachusetts communities heavily impacted by the opioid crisis over the next three years. This grant is the largest ever awarded to BMC by NIDA and follows a highly competitive process that included many leading academic medical centers from across the country.
While BMC has had a longstanding annual Diversity and Inclusion Week, this year the hospital dedicated the month of April to celebrating the unique characteristics and global cultures that make our medical campus such a special place to work and receive care. Events throughout the month focused on improving our understanding of each other's differences so that we can strengthen our culture of respect and enhance our empathy towards colleagues, patients, and their families.
For the third year in a row, BMC has received a Top 25 Environmental Excellence Award from Practice Greenhealth. This is the highest honor Practice Greenhealth gives, and exemplifies BMC's environmental excellence and groundbreaking achievements and innovation in health care sustainability. In addition, BMC won a Circles of Excellence award from Practice Greenhealth in climate. This award honor up to ten of the highest performing hospitals nationwide in each area of sustainability expertise.
Michael Olsen joined BACO as Executive Director. BACO is one of the four ACOs for which BMC HealthNet Plan serves as the managed care organization partner.
Ellen Weinstein, JD, who had served in a variety of key roles for 10 years in the Legal Department for BMC and BMCHS, was named chief legal officer for BMC HealthNet Plan/Well Sense Health Plan.
May
Becker's Hospital Review once again listed BMC on its list of "150 Top Places to Work in Healthcare." This list highlights hospitals, health systems and healthcare companies that promote diversity within the workforce, employee engagement and professional growth.
The Leapfrog Group, an organization committed to driving quality, safety, and transparency in the U.S. health system, awarded BMC an 'A' spring safety grade. This grade takes into account 28 measures related to keeping patients safe from preventable harm and medical errors.
The Association for Healthcare Philanthropy announced that BMC achieved "Top Performer" status in this year's Report on Giving and Benchmarking. BMC is one of only 64 organizations across the U.S. and Canada to achieve this status. The award recognizes BMC's success in fundraising revenue used to advance our mission and achieve our strategic goals.
June
BMC launched a program offering primary care appointments to the class of interns – first-year residents – to help address burnout. More than 80 percent of the 144 interns signed up for primary care appointments.
This year's Be Exceptional Awards ceremony on June 14 was hosted by Kate Walsh, president and CEO, and Lisa Kelly-Croswell, senior vice president and chief human resources officer. Along with attendees, which included employees and families, Walsh and Kelly-Croswell honored 20 exceptional individual winners and seven exceptional team winners.
Boston Medical Center received three-year accreditations from the Joint Commission for both hospital and home care. These accreditations recognize BMC's quality and safety of care for all patients.
July
Esther Choo, MD, MPH, an Emergency Department physician and associate professor at the Oregon Health & Science University and one of the founders of Time's Up Healthcare – who trained as a resident at BMC – spoke at a BMC event on gender equity. BMC, along with Boston University School of Medicine (BUSM), joined Time's Up Healthcare earlier this year to help combat gender inequity and harassment.
The Boston Medical Center Teaching Kitchen and Rooftop Farm devoted the summer to programming for kids, playing host to Boston Public School (BPS) summer programs. On the farm, they learned about bees and beekeeping and picked vegetables they used to cook in the Teaching Kitchen.
The American College of Healthcare Executives of Massachusetts named Boston Medical Center as the inaugural recipient of its Diversity & Inclusion Award. This award recognized the hospital's outstanding commitment to equality and humanity in the pursuit of healthcare excellence.
The BMC HR team was awarded the 2019 Community Leadership Award from the Northeast HR Association for their work on the Grayken Center for Addiction Employer Resource Library. =
Yi-An Huang was named Chief Transformation Officer – a new executive position – for BMC HealthNet Plan and Well Sense Health Plan. In his role, Huang oversees a process to revise  traditional health care coverage business models.
August
Toby C. Chai, MD, joined BMC as Chief of Urology and Professor and Chair of the Department of Urology.
BMC was designated a LGBTQ Healthcare Equality Leader by the Human Rights Campaign. The status is awarded to healthcare facilities that attained a score of 100 in the Healthcare Equality Index (HEI) 2018.
BMC's Oral & Maxillofacial Surgery group was recognized as "Top Dentists" in Boston Magazine's August 2019 issue.
September
Sushrut Waikar, MD, MPH, joined BMC as Chief of the Section of Nephrology in the Department of Medicine and the Norman G. Levinsky Professor of Medicine.
Boston Medical Center was one of 22 organizations across the country who received recognition from the American Medical Association for their efforts to address the systemic causes of physician burnout in areas throughout the organization.
Boston Medical Center was officially re-designated as a Baby-Friendly hospital. The Baby-Friendly Hospital Initiative encourages and recognizes hospitals that offer an optimal level of care for breastfeeding mothers and their babies.
Christopher Andry, MPhil, PhD, became Chief, Department of Pathology and Laboratory Medicine at Boston Medical Center and Chair, Department of Pathology and Laboratory Medicine at Boston University School of Medicine.
October
BMC received two awards from the Worksite Wellness Council of MA. The silver award for overall wellness program achievement recognized BMC for developing and implementing a successful and well-rounded wellness program that builds a healthy and resilient workforce. The Community Award was given both based on what our employees contribute, and what the hospital does as a whole for the community.
The 2020 U.S. News & World Report rankings of the world's best global universities and programs have been released. Overall, Boston University was ranked 51. The BUSM programs in cardiology, clinical medicine, neurosciences, psychiatry/psychology, and surgery were all highly ranked.
November
Boston Medical Center Health System was named #5 on a list of the Top 100 Women-led Businesses in Massachusetts by the Globe Magazine and The Commonwealth Institute.
During this year's 6th Annual Quality and Patient Safety Week, James Moses, MD, MPH, Vice President and Chief Quality Officer, spoke about journey to a quality and patient experience role, and his work to lead a "culture of safety" at BMC. In addition, nine posters were given awards at the annual poster presentation and ceremony.
December
Project ASSERT (Alcohol & Substance Abuse Services, Education, and Referral to Treatment), celebrated its 25th anniversary. The program helps connect Emergency Department patients who demonstrate risky alcohol and drug use behavior with access to treatment and care. Over those 25 years, the program's health promotion advocates have offered alcohol and drug use screening and/or referral to treatment to more than 60,000 patients. The model has also been replicated at hospitals across the country.
BMC was chosen for a Leadership Award – Organization in Color Magazine's All Inclusive Awards. This award recognizes a company that has advanced the evolution of diversity and inclusion within their organization and/or community. Color Magazine is a publication focused on highlighting topics of interest for corporate America and its diverse professionals.
A New Model of Care for Crohn's Disease and Ulcerative Colitis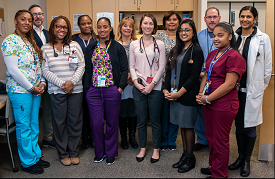 Each year, Boston Medical Center sees approximately 1,000 patients with Crohn's disease or ulcerative colitis, two forms of inflammatory bowel disease (IBD). Although these conditions are complex and affect many aspects of a patient's life, patients often see a specialist only for IBD and a primary care physician for everything else, leading to inefficiencies and lack of care coordination. A team in the Gastroenterology Department at BMC is looking to change that.
Led by Alan Moss, MD, a gastroenterologist, the team uses a medical home model to care for patients with Crohn's disease and ulcerative colitis. Instead of relying on a gastroenterologist only for IBD treatment and primary care or other specialists for all other types of care, the medical home model brings all elements of IBD care into one team. This brings together physicians, nurses, pharmacists, nutritionists, psychologists, and others all to work together with patients. All 1,000 BMC patients with Crohn's disease and ulcerative colitis will be part of this program.
"In the medical home model, patients are in the center and all the components of care are around them," says Moss. "This way, we can work together to determine the best person to handle a patient's issues efficiently and effectively."
The first phase of the medical home program rolled out in November. In this model, a care coordinator in Gastroenterology answers all calls from IBD patients, brings questions to the best person to handle them, and sets up appointments with the appropriate providers. For example, if a patient has a medication question, the care coordinator will send them to a pharmacist, while a question about symptoms may be handled by a nurse.
Currently the team has three physicians, a physician's assistant, two nurses, a pharmacist, a pharmacy technician, and a research assistant. They are in the process of hiring a research coordinator, a full-time nurse, and a psychologist / medical social worker as well.
"We want everyone to work at the top of their license, and take on all the tasks they're able to do, in order to help us care for patients more fully," says Moss.
The second part of the program, which will roll out in the new year, involves data analysis to better understand patient characteristics, such as how often they visit the Emergency Department. This research will help the team better understand patients' needs, as well as the impact of IBD on the health care system. As the program develops, the team will continue to study how the program impacts these areas. Moss also plans to connect with patient advocates who have Crohn's and ulcerative colitis, to learn their thoughts on the program, their care priorities, and what may be missing from BMC's model.
A medical home model has many types of benefits for patients with IBD, largely from being able to identify and treat issues earlier. This helps patients stay healthy, which helps them avoid Emergency Department visits and makes it less likely that they will be readmitted after leaving the hospital. Care is also more convenient, making it more likely that patients will reach out when they have an issue.
In addition, this helps patients feel that they're not reaching crisis points in their illness. They feel better and understand more about their condition. This in turn helps them cope better throughout their lives, especially when flare-ups – a hallmark of IBD – occur.
Currently, the program is only in the Gastroenterology Department, but the team's vision is to work with other departments around the hospital to provide guidance for caring for patients with IBD. For example, research at other institutions has shown that patients with Crohn's disease get more CT scans in the Emergency Department than other patients, leading to a higher accumulation of radiation exposure to their bodies. The team's guidance could caution the ED away from CT scans and to other types of diagnostics. The guidance could also help coordinate care across Gastroenterology, Primary Care, inpatient, the ED, and other departments, leading to truly coordinated care for patients with IBD.
"Other hospitals in Boston have IBD centers, but incorporating this medical home model is unique in the city," says Moss. "We really have all the ingredients to be a top program in this area."
Protecting Patients from Energy Insecurity Requires Universal Screening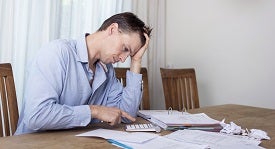 As the weather cools in New England it brings beautiful fall foliage followed by a winter wonderland — and increasing utility bills. For households already struggling to pay bills, the season is tinged with anxiety as heating bills climb.
In this climate, energy expenses are a practical necessity, but also a critical public health factor. Energy insecurity — an inability to adequately meet basic household energy needs for heat, gas, and electricity — can have myriad adverse health effects. When money is tight, households may be forced to choose between covering expenses like rent and utilities and paying for other basic needs, including medicine or food.
"What are you going to do when the electric and gas companies are threatening to turn your service off?" says JoHanna Flacks, legal director at MLPB, an organization that works to address social determinants of health through legal problem solving. "People pay the bill, and then don't go grocery shopping."
In order to address these challenges, BMC has made SDOH screening a standard practice in its ambulatory primary care clinics and has implemented programs to increase adherence and efficiency by embedding screening questions in the EHR system. With greater screening, providers can do more to link patients to utility shutoff protections, relieve financial stress, and create more space to address their health. In addition, BMC and MLPB have partnered to successfully advocate for policy changes reducing the frequency of disease re-certification for chronic illnesses down from quarterly to its current twice-per-year and allowing physician assistants and nurse practitioners to write and submit letters in addition to physicians.
What do you do, George O'Connor?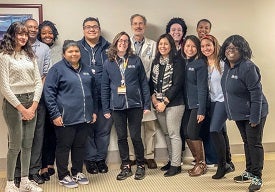 Name: George O'Connor, MD
Title: Attending physician at Boston Medical Center, director of the Adult Asthma Program at BMC, BMC lead for the All of Us Research Program, professor of Medicine at Boston University School of Medicine
Time at BMC: 27 and a half years, but I was also a resident here.
What do you do at BMC?
I spend about 75 percent of my time on research and about 25 percent on patient care and clinical teaching. A typical day depends on which day of the week it is. On Mondays, I have my pulmonary clinic, so much of Monday is spent caring for patients. There are also certain weeks of the year where I'm covering the Pulmonary consult service, so I might be seeing inpatients those weeks.
But most days, I'm focused on research, including both my own research on chronic lung diseases and my activities in the BU Clinical and Translational Science Institute (BU CTSI). I'm the BMC/BU principal investigator of the Inner-City Asthma Consortium, where we conduct both an epidemiologic study and clinical trials focused on asthma in inner-city children. I also lead our site of the VDART trial, a clinical trial to see if giving women prenatal vitamin D reduces allergies and asthma in their offspring.
Another major focus is the All of Us Research Program, as well as the Framingham Heart Study.
I'm also involved in a new study called the Rural Study, a study of cardiovascular and pulmonary health in rural populations in some Southern states.
What brought you to BMC?
I was a medical student at BUSM, so when it came time to do residency, I knew I always loved working at Boston City Hospital and with the population there. So I decided to do residency here.
Then I left for fellowship at Brigham and Women's Hospital, and was there for nine years. But I always loved City Hospital, the clinical environment, and the patient population we care for. And BUSM has always had a very strong pulmonary division. So when I had an opportunity to return to City Hospital and BU, I took it.
You're the lead for the All of Us Research Program at BMC. What can you tell us about that program and its current state?
All of Us is a nationwide initiative that was first announced by President Obama in his 2015 State of the Union address. It aims to recruit 1 million very diverse volunteers across the country who are willing to share their health information and provide blood and urine samples so that researchers across the country can study the whole spectrum of health conditions, with the goal of finding the best ways to prevent, diagnose, and treat disease based on a person's individual characteristics. The research will be available to all researchers and will be a very powerful scientific resource both in terms of diversity – age, ethnicity, gender, race, socioeconomic status, environmental history, and many other factors – of the participants and the number of participants.
Enrollment in the program is taking place at many sites around the country. One of them is the New England Consortium, which is BMC and Partners Healthcare. We're enrolling patients and staff in our hospitals and in some of our affiliated neighborhood health centers.
We're just finishing the second year of our five year grant for enrollment. Already, the New England Consortium has enrolled approximately 18,000 participants. Nationwide, we're approaching 300,000 participants. We expect that participants will be followed by All of Us for over ten years, and will receive information and results from the program.
We've reached the point where research databases are in place, and we are just beginning demonstration projects, which are analyses of the data to address research questions. In a project of this size, we need to make sure the data are clean and organized correctly in order to move forward, which demonstration projects help with.
How can staff get involved in All of Us?
Well, I'm not just one of the multiple principal investigators of the New England Consortium and the leader of the program at BMC, but I was also one of the first volunteers to join the program here as a participant.
All adults who can give consent to join the study and speak English or Spanish are eligible to join the study. You won't be excluded based on any health or other criteria. That includes not only all BMC patients but also all employees, regardless of where they receive their health care. We encourage all employees to consider joining the program themselves.
We also encourage staff to become familiar with the program so they can answer any questions patients may have. Many BMC patients will see our signs and might have questions, so we hope staff will have a basic understanding of what the program is about.
To learn more and join, staff can search for All of Us on the Hub or go to www.joinallofus.org. When you join there, it will ask you to choose what health center you want to affiliate with. If you choose Boston Medical Center, a member of our research team here will contact you to complete enrollment. Staff can also reach out to us directly at allofus@bmc.org or 617-414-3300. It takes about 90 minutes to enroll online, plus a 35 minute visit here at BMC. (Volunteers may also complete the entire visit with us here at BMC, if they prefer.). After completing both of these, participants are given $25 for their time.
What are the benefits of getting involved?
The program is a wonderful way to give a gift to your family, community, and future generations by contributing to research that will improve health care for everyone. A lot of people have never been in a medical research study, but everyone who takes any medication or has had a health intervention is benefiting from people who have been in previous research studies. For example, much of what we know about how to prevent heart disease comes from volunteers in the Framingham Heart Study.
Many communities have been previously underrepresented in research, such as the elderly or those in racial minorities, so we're specifically trying to enroll a diverse cohort. The BMC staff and patient population is such as great community to participate, because we are such as diverse institution.
Results with clinical significance from testing will be shared with participants. Not everyone will have results of clinical significance, but one potential benefit is that you might receive some laboratory test results indicating a health issue that you should address. We'll also be sharing information about what we learn more generally about the cohort and any research findings.
What do you like most about working for BMC?
The people, both my fellow BMC employees and the patients. It's just a wonderfully diverse, lovely group of people to interact with.
What do you do for fun outside of work?
When I'm outside of work, I'm often playing mandolin in a couple of Boston-area bands. Or, I'm fly fishing in Colorado.           
Awards and Accolades
BMC Receives All Inclusive Award from Color Magazine
BMC has been chosen for a Leadership Award – Organization in Color Magazine's All Inclusive Awards. This award recognizes a company that has advanced the evolution of diversity and inclusion within their organization and/or community. Color Magazine is a publication focused on highlighting topics of interest for corporate America and its diverse professionals.
Jennifer Tseng, MD, Selected as a 2020 Pinnacle Award Winner
Jennifer Tseng, MD, Chief of Surgery at Boston Medical Center, has received a Pinnacle Award from the Greater Boston Chamber of Commerce in the Achievements in the Professions category. The Pinnacle Awards honor nine leading Greater Boston women for outstanding achievement in the workplace, demonstrated leadership that has made a difference, and a commitment to enhance the quality of life in the region.
Sondra Crosby, MD, Receives Navy and Marine Corps Achievement Medal
Sondra Crosby, MD, a general internist at BMC, was awarded the Navy and Marine Corps Achievement Medal for superior performance of her duties while serving as Senior Medical Officer for Detachment Victor, Operational Health Support Unit, Portsmouth, Va., from March 2016-October 2019. In this role she supervised nearly 2,000 periodic health assessments to 263 members of Naval Operational Support Center Quincy, increasing medical readiness to 94 percent. 
The Navy and Marine Corps Achievement Medal is awarded to members of the Armed Forces, including members of Reserve components on active or inactive duty, of the grade of lieutenant commander/major and below. It is presented for meritorious service or achievement in combat or non-combat based on sustained performance or specific achievement of a superlative nature.
Crosby joined the United States Navy Reserve Medical Corps in 2014 at the rank of Lieutenant Commander and was selected to the rank of Commander in May 2019. She is also an internationally known expert in medical documentation of human rights violations, and has made significant contributions to the field of caring for survivors of torture and refugee trauma.
Peter Burke, MD Honored With the 2019 Jerome Klein Award
Peter Burke, MD, Chief of Acute Care & Trauma Surgery, has been named the 2019 recipient of the Jerome Klein Award for Physician Excellence.
Established in 2010, the award commemorates Dr. Klein's 50 years of service to BMC/BUSM and is presented annually to a physician who exemplifies Dr. Klein's attributes, including clinical and research excellence, leadership, and dedicated commitment to education and mentoring.
News of Note
Nancy Miller, MD, and Grace Zhao, MD, PhD, Named to Laboratory and Pathology Leadership Positions
Nancy S. Miller, M.D. has been appointed Chief and Vice Chair for Laboratory Medicine in the Department of Pathology and Laboratory Medicine at Boston Medical Center. She will also remain Medical Director of the Clinical Microbiology Laboratory.
In addition, Grace Zhao, MD, PhD, has been appointed Chief and Vice Chair for Anatomic Pathology in the Department of Pathology and Laboratory Medicine at Boston Medical Center. This is the first time since 1864 that Anatomic Pathology has had a female Chief and Vice Chair.
Return to BMC News