The BMC Brief - Volume 8, Issue 9
Nationally, one out of every five children experiences a mental health issue. However, research shows that many children never receive a diagnosis or adequate treatment for behavioral health issues, even though the signs and symptoms may be apparent for years. These issues are a major driver of health care costs and often cause stress and other burdens for both children and their families.
TEAMing UP to Change Behavioral Health Paradigms in Pediatrics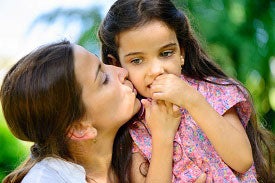 Nationally, one out of every five children experiences a mental health issue. However, research shows that many children never receive a diagnosis or adequate treatment for behavioral health issues, even though the signs and symptoms may be apparent for years. These issues are a major driver of health care costs and often cause stress and other burdens for both children and their families.
An initiative at Boston Medical Center, working in collaboration with partners in community health centers (CHCs), aims to reframe the conversation around behavioral health issues and provide support for children and families as soon as these issues arise. Their model – Transforming and Expanding Access to Mental Health Care in Urban Pediatrics (TEAM UP for Children) – brings integrated behavioral health care to children and families in the CHC primary care setting in order to increase access and close gaps in care.
"CHCs see a wide variety of behavioral health issues in the patients they serve, from depression and anxiety to ADHD," says Michelle Durham, MD, MPH, Director of Clinical Training for TEAM UP. "There are also many children who may not have a specific diagnosis but have experienced trauma or face other risk factors that need to be addressed, such as homelessness or difficult family situations."
In 2016, TEAM UP – funded by the Smith Family Foundation– began at The Dimock Center, Codman Square Health Center, and Lowell Community Health Center. Each of these health centers began by implementing enhanced universal screening for behavioral health issues for pediatric patients, as well as integrated behavioral health care for those who need it. Over time, TEAM UP developed a comprehensive model for integrated pediatric behavioral health care in CHC settings.
The TEAM UP model includes three domains. The first is strengthening primary care foundations to create an environment that supports integrated care. This includes engaging CHC leadership to guide the clinical transformation process, readying the physical and operational environment, augmenting the care team to include integrated behavioral health clinicians and community health workers, and involving communities and families in these efforts.
The second domain is transformation of clinical care itself. Primary care providers screen all children annually for behavioral health issues, as well as for parental concerns and social determinants of health. When necessary, each child and family works with a three-person team that includes the pediatric primary care provider, a behavioral health clinician, and a community health worker, sometimes called the family partner. These teams provide services from therapeutic interventions to external referrals for specialty services, depending on need. All care focuses on healthy child development and wellness, parental support, and increased access to care.
"If a child has behavioral health needs, the family must be supported in their efforts to address those needs," says Anita Morris, MSN, FNP-BC, Director of Practice Transformation for TEAM UP. "Social determinants of health such as food or housing insecurity can be major barriers to that. These social determinants also affect children's healthy development. Therefore, we can't help our pediatric patients get well without addressing all of these issues."
The third component of the model is a learning community, which offers clinical training and implementation support.  This learning community provides the whole care team with activities designed to expand their knowledge of pediatric behavioral health. Results from TEAM UP show that this approach to integrated care has helped decrease burnout among pediatric primary care providers. The learning community also provides a framework for on-going practice transformation by using data to support continuous quality improvement.
Early results from the TEAM UP model are promising. Although Massachusetts requires screening all pediatric patients on Medicaid for behavioral health issues, this screening only happens approximately 46 percent of the time. Screening rates in community health centers that are part of TEAM UP are between 78 and 96 percent.  In addition, over 50 percent of school-age children identified as needing behavioral health support are able to see a provider on the same day, which increases both access to and engagement in care.
Recently, TEAM UP began a second phase – funded by both the Smith Family Foundation and The Klarman Family Foundation -- which expands this model to four new regional health centers. The goal of this phase is to further refine the TEAM UP model and test if the model is broadly applicable to other community health centers and patient populations.
"Our goal is to create a model that's sustainable beyond the time of our grant, and that's able to be spread to other health centers," says Emily Feinberg, ScD, CPNP, Director of TEAM UP. "We've made a lot of progress, and we want to be able to advocate for the program at the policy level. That's our next goal for TEAM UP."
What do you do, Miriam Komaromy?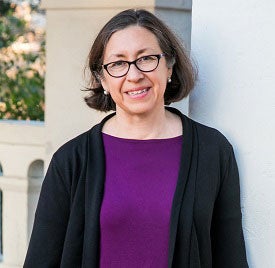 Name: Miriam Komaromy, MD 
Title: Medical Director, BMC Grayken Center for Addiction
Time at BMC: Two and a half months
What do you do at BMC?
The Grayken Center has both internal-facing and outward-facing missions. Internally, our focus is to help integrate the comprehensive services that BMC has for patients with substance use disorders both with each other and with the rest of BMC, and to help improve the quality of that care. Externally, our mission is very broad – to improve substance use disorder prevention and treatment nationally. As part of our national role, we want to highlight and amplify the impact of our internal programs, as well as help people and by extension, other organizations, figure out how to adopt the innovative practices and programs that have been developed here.
My job is a mixture of both of those missions. Initially, I'm primarily focused on working within BMC to help optimize the services being offered and link them across the hospital. Many great programs have grown as the result of grant funding and very energetic, visionary individuals. But they've grown up vertically, and are not always integrated across other programs. We want to make sure everyone has access to all the services that are right for them, no matter where they start at BMC.
For example, right now I'm working with the whole set of programs that work with emergency services for patients with substance use disorder. I'm collaborating with each of the different groups that interacts with those patients to determine how we ensure the services are well-integrated, how to make sure each patient gets the services that are right for them and engages with follow up care,. Then we look at aspects like the reporting structure of programs to see if those are the optimal way to organize the services.
What brought you to BMC?
It was a big move for me. I moved from New Mexico to Boston, and I've actually never lived in the Northeast before.  Last year, I was a Fulbright Scholar in Hanoi, Vietnam, so we spent the year in Southeast Asia. The State Department sponsored me to teach about substance use disorders in Thailand, Indonesia, and Vietnam.
In New Mexico, I was working at the ECHO Institute at the University of New Mexico, which focuses on figuring out how to best use a particular model of medical education to bring together specialists and primary care physicians to serve underserved patients. I had been collaborating with BMC on an opioid-focused ECHO program, and got to know some of the clinical leaders here.
But what specifically brought me here was that this was just an incredible job. I get to work with the people who have really been my heroes in the addiction treatment world – the fantastic BMC researchers and educators who have developed programs focused on caring for patients with substance use disorders, and people who have done great work in the policy world.
This is an organization that really stands out because of the way that it embraces patients with substance use disorders. It's a centerpiece of what BMC does, not an afterthought, and that's a really exciting environment for someone like me whose career has focused on treating substance use disorders.
What are your top three priorities for the Grayken Center over the next year? 
Specific projects I'm focusing on this year are:
Emergency department optimization: As I mentioned, I'm working on optimizing and integrating the programs that work with emergency services for patients with substance use disorder.
Increasing the equity of care that's received: For instance, we know that both nationally and here in Boston, the likelihood that a patient, who comes in because of an opioid overdose, will receive treatment for their SUD within 30 days is much higher if they're white. We're doing some studies of why that might be and what we need to do to engage people of color in treatment services that are attuned to their needs.
Supporting clinicians and researchers: BMC is very good at getting big grants to do large projects, but sometimes people need help with the initial look to get the data for quality improvement or pilot research studies. I'm working to put together a team who will be resources who can help people pull together that data, such as a statistician or epidemiologist.
What is something people don't know about the Grayken Center?
We do a lot of work with outside organizations to both increase the profile of the work being done at BMC and to help make progress in the whole field. Examples of that would be partnerships with the Institute for Healthcare Improvement, Shatterproof, and national organizations focused on recovery coaching.
What do you like most about working for BMC?
I love the enthusiasm about providing care for our patient population, the sense of mission, and the collaboration around achieving that mission. And I love the fact that the sense of mission extends all the way through BMC, from clinicians to leadership to frontline staff. There's really clear dedication to providing excellent care for people with substance use disorder.
What do you do for fun outside of work?
My wife is a clinical social worker who specializes in treatment of trauma, so we both have jobs that can be very heavy sometimes. So in our free time, we love to get out and explore, both locally and internationally. We like to hike, and see friends, both old and new. I love to cook, garden, and knit. And we love to spend time with our four adult children.
A Medical Mission to Honduras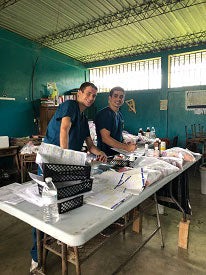 Imagine life 70-80 miles from the closest medical facility of any kind, let alone a hospital. And, imagine having no transportation to get there should it become necessary. This is normal for the 584 people pharmacist David Hughes helped care for during a week-long medical mission to Honduras last month.
Hughes, a hematology/oncology pharmacist in Moakley, traveled with Carolina Honduras Health Foundation to provide basic primary care in the city of Limon and three remote villages located in northeast Honduras. Through their 18 trips a year, the Foundation's goal is to provide medical care in these communities, and others, at least once a month.
Equipped with a van for the eight-member medical team from the United States, a bus full of supplies, and several Hondurans who provided assistance, security, and translation, the team's home base was above the Foundation's clinic building in Limon. The trip, which was bookended with two clinic days in Limon, included daily drives on unpaved roads to more remote locations where people would line up for hours, even before the team arrived, to seek care.
"This trip really helped me see, in person, the lives that many of our patients have left behind, and what they have had to deal with."
Once at these locations, the team would spend about an hour unloading the bus and creating a clinic and, in Hughes's case, a pharmacy. Sometimes, out of nothing more than a six-foot table in an old school building, David and the other pharmacist on the trip dispensed 2,342 prescriptions to the patients they saw. Patients were given medication – mostly pain management, diabetes, hypertension, and dry eye medication, and occasionally just sunglasses – to last until a clinic will be set up in the area again, approximately a month later.
"It was amazing to see just how appreciative these people were. They knew that we were there to care for them, and they were so thankful," said Hughes of everyone he met.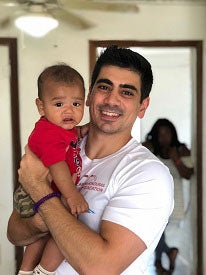 According to Hughes this trip forced him to be very resourceful in thinking about what medications to provide, given the limited resources at hand. Each person on the medical team secured donations of basic medications – for Hughes that meant tapping into BMC, which donated insulin, eye drops, over-the-counter antacids, and inhalers.
"With a limited amount of medication, and needing to provide a minimum supply of it so I could serve every patient I saw, I was forced to do more with less, to be creative with what we had, and sometimes use alternative therapies to treat people with the medication we had on hand. And, I was able to. That makes me think about how I can be more resourceful at BMC," said Hughes.
When asked what stayed with him the most, Hughes said "one of the things that struck me the most was the children. The majority of those we say were kids, and here they are, waiting on long lines and living in these conditions, but they are happy and they are playing. It really makes you appreciate what you have in the United States."
Awards and Accolades
Megan Young, MD Receives AMA Inspiration Award
Megan Young, MD, the clerkship director for the geriatrics clerkship at BMC, and assistant dean for student affairs and assistant professor of medicine in the section of Geriatrics at Boston University School of Medicine, has received the 2019 Women Physicians Section Inspiration Award from the American Medical Association. The award honors and acknowledges physicians who have offered their time, wisdom and support throughout the professional careers of fellow physicians, residents and students.
Young also provides home-based primary care to frail elders in the community surrounding BMC and is one of the Academy of Medical Educators at BUSM.
BMC Receives Recognition for Efforts to Address Burnout
Boston Medical Center was one of 22 organizations across the country who received recognition from the American Medical Association for their efforts to address the systemic causes of physician burnout in areas throughout the organization.
Mass. Medical Society Honors BU Doc with Women's Health Award
Nidhi Lal, MBBS, MPH, MD, an attending physician in family medicine at BMC and a clinical assistant professor of family medicine at Boston University School of Medicine, has received the Women's Health Award from the Massachusetts Medical Society. The award recognizes a physician for outstanding contributions advancing women's health in Massachusetts.
Lal has demonstrated the qualities of an exemplary physician throughout her career by caring for underserved populations, teaching medical students and residents and advocating on local and state levels. She is also a recipient of a Fulbright Specialist grant and worked in India to improve maternal child health outcomes in tribal communities using telemedicine for health care access.
In addition to clinical duties, Lal teaches third- and fourth-year medical students in family medicine and maternal child health at BUSM. She is currently working on a project that aims at early detection, diagnoses and treatment of tuberculosis in India.  
Thea James, MD, Receives GK25 LGBTQ+ Pioneer Award
Thea James, MD, Vice President of Mission and Associate Chief Medical Officer and an Emergency Department physician, has received the LGBTQ+ Pioneer Award from Get Konnected, a networking group. The award recognizes her leadership, professional excellence, and courageous compassion throughout her work.
Leah Stump, CNA, Receives CNA of the Year Award
Leah Stump, CNA in the adult emergency department, has received BMC's CNA of the Year Award.
Leah has worked in the ED for ten years and as her nominator Elizabeth Gibb writes:
"Time after time, shift after shift, she is the one we all want on our team, the one we all turn to when someone needs extra attention, and the one we all thank at the end of a shift, for she consistently has our backs and the absolute best for every patient."
News of Note
BMC Re-Designated as a Baby-Friendly Hospital
Boston Medical Center has been officially re-designated as a Baby-Friendly hospital. The Baby-Friendly Hospital Initiative encourages and recognizes hospitals that offer an optimal level of care for breastfeeding mothers and their babies. This prestigious international award recognizes birth facilities that offer breastfeeding mothers the information, confidence, and skills needed to successfully initiate and continue breastfeeding their babies.
The assessors applauded the availability of pasteurized human donor milk in both the NICU and the Mother Baby Unit. They also commented that "during the assessment, mothers reported that their choice to breastfeed was almost always due to the education and support received from the staff."
Boston Medical Center is one of nineteen awarded hospitals in the state of Massachusetts.
Eric J. Roseen, DC, MSc, Received Career Development Award
Eric J. Roseen, DC, MSc, a research fellow at BMC and assistant professor of Family Medicine, has received a K23 Career Development Award from the National Center for Complementary and Integrative Health for his research "Improving access to chiropractic care for low back pain in underserved primary care settings: development and evaluation of a multi-level implementation strategy."
Return to BMC News