The BMC Brief - Volume 8, Issue 7
When most people go to a pharmacy, they walk into their local CVS, Walgreens, Rite Aid, or maybe a neighborhood pharmacy, pick up the prescription their doctor ordered, and perhaps ask the pharmacist a question or two. While the basic process in a specialty pharmacy is the same, these pharmacies focus on medications that require more specialized care, for patients with more complex conditions, such as cancer or autoimmune diseases.
Pharmacy Care as a Cornerstone of Health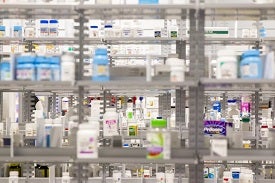 When most people go to a pharmacy, they walk into their local CVS, Walgreens, Rite Aid, or maybe a neighborhood pharmacy, pick up the prescription their doctor ordered, and perhaps ask the pharmacist a question or two. While the basic process in a specialty pharmacy is the same, these pharmacies focus on medications that require more specialized care, for patients with more complex conditions, such as cancer or autoimmune diseases.
Because of the nature of these medicines, specialty pharmacists often work more closely with patients and providers to improve outcomes for patients.  To help facilitate these relationships and address patients' needs, in 2014 Boston Medical Center launched an integrated specialty pharmacy program that became Cornerstone Health Solutions.
Cornerstone Health Solutions consists of three parts: a mail-order pharmacy that can fill any prescription, a consulting business that helps other health organizations develop and operate specialty pharmacies, and a business that supports specialty pharmacies at hospitals, including at Boston Medical Center.
Today, Cornerstone mail order pharmacy meets the mail order and specialty needs of more than 400,000 patients, with over 3,600 patients enrolled in high-touch specialty services.
The Cornerstone services business works with health care organizations across Massachusetts to build specialty pharmacies to serve their patients. In some cases, Cornerstone will run the specialty pharmacy, while in others, they simply set up the necessary pharmacy infrastructure.
The Cornerstone model focuses not just on getting people their medications, but ensuring the person taking those medications has the best possible outcome. The model focuses on the patient first, and not the specialty medication itself.
Traditionally, specialty medications are filled by a specialty pharmacy, while non-specialty medications can be filled at any pharmacy. This means that pharmacists may be unaware of potential drug interactions for the medications they're filling. In addition, patients must navigate services from multiple pharmacies, which can be difficult and require extra time and effort. This can be problematic, as research shows that people who take one specialty medication are also on five or more non-specialty prescription medications as well – and that number only goes up with more specialty medications. Cornerstone is able to fill both specialty medications and non-specialty medications, which alleviates some of these issues.
Cornerstone has also developed programs that are uniquely focused on reducing barriers to medication adherence, such as lack of transportation and forgetting refills. Patient liaisons and clinical pharmacists are at the heart of the team delivering those services. The Cornerstone team members are an integral part of the care team, working in the clinic with the providers, and acting as patient navigators. They can flag potential interactions, ensure patients are able to get their refills, provide comprehensive medication education, and help patients overcome any other barriers to getting the medication they need to stay healthy.
The Cornerstone model has led to successful outcomes for many patients. For example, Cornerstone pharmacists provide medication for patients with chronic myeloid leukemia (CML), a type of leukemia that isn't curable but can be suppressed. At BMC, 74 percent of patients with CML who use the Cornerstone pharmacy have disease suppression at two years after diagnosis, versus 50 percent of patients in trials and in the community.
Another area where Cornerstone has been particularly successful is hepatitis C treatment. The pharmacy has helped treat over 5,000 people with hepatitis C, 97 percent of whom completed their treatment on the first attempt, versus 89 percent nationally. In addition, 95 percent of those patients were cured of their hepatitis C after treatment, versus 85 percent nationally.
With these and other programs, Cornerstone is not only able to improve health outcomes for our patients and patients at other hospitals, but also to help keep more money in the BMC Health System. This means more money can be put back into BMC for other programs that can further improve patient health.
Nourishing Our Community with Boston Public Schools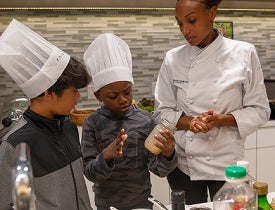 Summer can be an exciting time for children, with no school, long daylight hours, and more time to play with friends. It's also an exciting time for farmers and chefs in the Northeast, who can take advantage of the abundance of crops grown in the warm weather.
This summer, those two groups will come together at Boston Medical Center for some unique summer programs for local children focused on fun and healthy eating.
Teaching Healthy Eating to Boston Public School Students
Every August for the last four years, the Boston Medical Center Teaching Kitchen has held a week of cooking camp for children of patients and employees. The camp program has been so successful that this year, they've devoted the whole summer to programming for kids. The traditional cooking camp will still be held in August, but throughout the rest of the summer, the Teaching Kitchen and Rooftop Farm will play host to Boston Public School (BPS) summer programs.
For this program, BMC has partnered with the BPS summer camp series, which holds summer programs at schools around the city. Ten summer programs made up of children in first through eighth grade will each spend a day at the Teaching Kitchen and Rooftop Farm, learning about healthy food and how to cook it. The children come from a number of local programs, including the Boys and Girls Club, Summer Early Focus, and the Edwards Summer Learning Academy.
When the kids arrive at BMC, they're split into two groups -- one starts on the Rooftop Farm, and the other starts in the Teaching Kitchen. Everyone in the group gets to experience both halves of the program.
On the farm, they learn about bees and beekeeping, get a chance to taste our BeeMC honey, and pick vegetables they can use to cook in the Teaching Kitchen or take home. Another particularly popular part of the Rooftop Farm program, says Tracey Burg, culinary nutrition manager in the Teaching Kitchen, is the chance to dig in and stir up compost, working with the worms that turn our food scraps into fertilizer for the farm.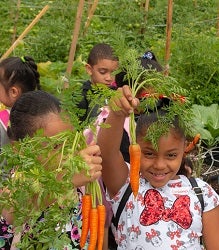 In the Teaching Kitchen, the kids learn about healthy eating, specifically about ways to get more fruits and vegetables into their diet by "eating the rainbow." Then they get to put these ideas into practice by customizing a from-scratch vinaigrette and salad with vegetables from the farm. And since a little bit of dessert can be part of a balanced diet, the kids also make chocolate-dipped strawberries with dark chocolate, which is high in nutrients called flavonoids.
And of course, everyone gets a chef's hat to wear as they make their meals.
"We have a lot of children who tell us they were born here at BMC, or get their care here," says Burg. "They're excited to have a better view into the hospital through this program."
Burg says both BMC and BPS have found the program very successful and plan to continue it not only next summer, but potentially throughout the school year.
Summer Eats with Health Leads
Despite the excitement summer can bring, it can also cause anxiety for families who rely on school meals for their children. This summer, BMC helped to relieve some of that anxiety by hosting kids participating in Boston Summer Eats, a federally-funded nutrition program that provides free meals to children ages 18 and under when school is not in session. BMC is one of 100 locations across the city providing critical support to children that rely on school meals throughout the year.
Leading on-site activities is Health Leads, a volunteer staff program that provides social needs intervention for patients in need of food, housing, or childcare resources. Every Monday and Friday, from 11 a.m. – 1 p.m., Health Leads volunteers ensure that the children participating in the program not only eat a nutritious meal, but also engage in activities such as educational games and reading books. Children can participate in the Summer Eats program as often or as little as they wish.
"Historically, hospitals have never been chosen as a meal site for the program," said Jessie Odegard, Health Leads program manager. "That made for the perfect opportunity to show just how innovative and progressive hospitals like BMC have become over the years by creating spaces that help patients thrive beyond the observation room. We couldn't wait to take it on."
What do you do, Itzi Garcia?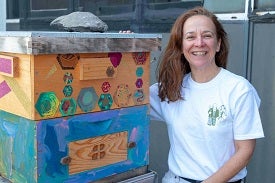 Name: Itzi Garcia
Title: Rooftop Farm Beekeeper
Time at BMC: Three months
What made you decide to become a beekeeper?
As a child, I spent a lot of time around beekeepers. I fell in love with the care they provided toward an animal that in turn provides such an incredible service to our environment and the food we eat.
What brought you to BMC?
I've worked on a lot of farms but this is my first rooftop farm, which is a testament to how innovative the "nourishing our community" concept is. We're producing crops and using them to help heal patients, all within a geographic span of two blocks.
I came to BMC because I wanted to do my part to help advance this "farm-to-plate" model that is nationally-recognized as revolutionary in our industry.
What sparked the urban beekeeping trend?
About ten years ago, when the world's bee population was in serious jeopardy, people scrambled to figure out creative ways to do their part. This fear is what birthed the idea for urban beekeeping. At the time, people didn't know how beneficial the practice would be to helping save the bee population. But as more urban hives popped up and more research became available, they quickly understood how revolutionary it was.
What they discovered is that honeybees thrive in urban areas because the plants they feed from in cities are a lot more diverse and far less likely to be treated with pesticides. This is important because it's widely known that the harsh chemicals in insecticides are what caused the rapid decline of bee populations to begin with.
Can you explain the different roles bees play inside the hive?
There are three essential roles in every honeybee hive. The colony always consists of a queen, drones, and worker bees. The queen's primary function is to staff the hive through reproduction. During peak seasons, she can lay up to 1,500 eggs per day. Drones are typically the largest of bees in stature and mainly responsible for mating with the queen. Worker bees constitute the majority of the colony. They don't lay eggs but they do clean and polish the cells, feed the brood, care for the queen, remove debris, handle incoming nectar, build beeswax combs, guard the entrance, and ventilate the hive. So, I think it's safe to say that they definitely live up to their name.
What misconceptions about honeybees would you like to clear up?
I have been beekeeping for six years and have had to dispel a lot of myths about the profession through education. People think that just because the bees are small and have the potential to harm you, they are dangerous and unnecessary. That just isn't true.
Honeybees play a key role in our environment by pollinating plants. That extends our crop yield and enhances the quality of the fruits and vegetables we love to eat.
Bees are only a potential danger to people when they feel that their hive or fellow bees are being threatened. Honeybees are routine animals, so as long as they're able to be productive without interruption, they're happy.
What challenges do honeybees face on a rooftop farm compared to the more conventional style at ground level?
Weather fluctuations definitely pose the greatest threat to their productivity. Greater altitudes come with high winds and heat that make foraging difficult for the honeybees.
How much honey do you expect to harvest this season, and how can our employees get some of it?
We anticipate harvesting about 40-60 lbs. of honey this season. The only way to get your hands on a jar is to keep an eye out for giveaways on our BMC Instagram page!
What do you like to do for fun, outside of work?
Being a beekeeper isn't the only way I get to showcase my adventurous side. I also love aquatic sports and travelling the world during off seasons.
Boston Medical Center Program Helps Parents Recover from Substance Use Disorder and Keep Families Together
This article was originally published by the BU Center for Innovation in Social Work and Health, as part of a series that highlights success stories about social workers working in healthcare and public health to address social determinants of health.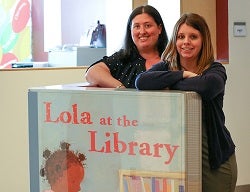 Being a new parent is a tough job for anyone—but it's even more difficult when substance use recovery is part of the mix. For parents who are also struggling with a lack of resources such as housing, transportation, or childcare, the situation can be overwhelming. Enter Boston Medical Center's (BMC's) SOFAR (Supporting Our Families through Addiction and Recovery) program, which provides care and assistance to families to encourage healthy outcomes for both parents and children.
SOFAR, which turns two in July 2019, sits within BMC's pediatric primary care clinic and expands upon the prenatal care offered by BMC's Project RESPECT. SOFAR's team of seven—comprised of physicians, nurse practitioners, a social worker, and a patient navigator—currently serves 125 families that are affected by substance use. The integration of a social worker and patient navigator is an essential part of the program, helping patients make progress on their parenting and recovery goals, and preventing parent-child separation.
Jill Baker, SOFAR's clinical social worker, provides behavioral health support and crisis management services. "A lot of my work is helping parents with whatever they need help with, because if the parent's not doing well, the child's not going to do well, and they will end up separated," she said.
"Especially when the kids are younger, it's a lot of parental mental health, making sure that they're connected to therapists, recovery support—and if they're not going to connect, I'm the one doing the relapse prevention, recovery work, providing emotional support, and all the stuff that comes along with being a new parent," said Baker. "I'll give referrals to specialized daycares, programs that work specifically with parents in recovery, and work with DCF (Department of Children & Families)."
Kristin Reed, SOFAR's patient navigator, focuses on eliminating barriers that can stand in the way of families accessing the care they need. She is often a parent's first point of contact, and is a resource for a variety of issues, from baby formula to public benefits: she schedules appointments to help families consolidate their trips to BMC, coordinates access to WIC, Early Intervention, and MassHealth's PT-1 transportation service, and connects patients to housing services through Metro Housing Boston. She also reminds patients of their appointments and follows up if they miss appointments to ensure they stay connected to care.
 "Having a direct line makes everything better for the families—knowing us personally, and us knowing the families so well," said Baker. "From a patient perspective, the relationships they've been able to develop with all of us, including their primary care doctors, is great. Knowing that a mom trusts me to have a conversation when she's not doing well—and not feeling scared—is amazing."
Stigma is often a barrier to care, said Baker, which shows up in families either using emergency department services, or not coming in for medical appointments out of fear of DCF removing their children. Positive relationships are key to the recovery process. "We have moms come to us and say 'this is the first time I haven't felt judged,'" said Reed.
While SOFAR is still reviewing their preliminary data on patient outcomes, Reed said that many families have stayed intact. "We've gotten over one of the big humps – the 6-9-month age is when relapse is most likely to happen," she said.
Open and frequent communication between team members is key to SOFAR's success. The team meets weekly to make sure patients don't slip through the cracks, said Reed. And although in many medical settings, doctors have ultimate authority, SOFAR's operations are more egalitarian. "It doesn't feel like a top-heavy approach in this clinic – they really value our opinions and constructive criticism and feedback," said Baker. "Our providers are very appreciative. They know how much easier their job is because we're here," added Reed.
The program does face its challenges, however, often due to systemic problems outside of BMC. "So many expectations are put on [parents in recovery]," said Baker. "If they're in a residential program, they need to be doing chores. They need to go back to work after six weeks of maternity leave. Getting kids into daycare is so difficult for these parents—they need to be working to get a daycare voucher, but they can't work if they don't have daycare. It's an impossible system."
Additionally, Medicaid and Medicare do not currently pay for all of the services social workers and patient navigators provide. "We're not able to bill for our services, but we are being extremely helpful," said Reed. "We are saving money in the long run. If a mom is feeling sad and stressed out, spending time to help her overcome challenges – that's going to have a better outcome for her kids. Building these relationships takes time. But it's hard to show that on paper, because it's not an immediate box we can check that says 'this has been completed.' It can take a year for something to come to fruition."
Workforce capacity is also an issue. "Ideally we need more of us," said Reed. "There's so much more that we could do."
Awards and Accolades
Boston Medical Center Receives ACHE of Massachusetts Diversity & Inclusion Award
The American College of Healthcare Executives (ACHE) of Massachusetts has named Boston Medical Center as the inaugural recipient of its Diversity & Inclusion Award. This award has been given in recognition of the hospital's outstanding commitment to equality and humanity in the pursuit of healthcare excellence.
Nancy Gaden, DNP, RN, Wins Nursing Leadership Award
Nancy Gaden, DNP, RN, Senior Vice President and Chief Nursing Officer, has received the Mary B. Conceison Award for Excellence in Nursing Leadership from the Organization of Nurse Leaders of MA, RI, NH, CT and VT. The award recognizes outstanding contributions made by a nursing administrator.
HR Team Wins Community Leadership Award
Lisa Kelly-Croswell, Senior Vice President and Chief Human Resources Officer and the BMC HR team have been awarded the 2019 Community Leadership Award from the Northeast HR Association for their work on the Grayken Center for Addiction Employer Resource Library. This award recognizes an individual or group who has consistently demonstrated efforts to improve the workplace through their leadership efforts, innovation and professionalism. 
The HR Team and the Grayken Center team created an Employer Resource Library.  The purpose of the Library is to end stigma, suspend judgement and lend a hand. The Employer Resource Library is a set of tools and resources designed to support an organization in understanding and addressing substance use disorders (SUDs). These tools are free to use, regardless of where or how your organization receives its medical care. 
Michelle Long, MD, Received a Clinical Scientist Development Award
Michelle Long, MD, a gastroenterologist at BMC, has received a 2019 Clinical Scientist Development Award from the Doris Duke Charitable Foundation. The award will support her work on non-alcoholic fatty liver disease and its response to exercise.
Return to BMC News