The BMC Brief - Volume 8, Issue 9
Boston Medical Center lives by its core value "built on respect, powered by empathy." That value extends not just to patients, but to how employees at the hospital treat each other. In line with our ongoing commitment to respect, BMC, along with Boston University School of Medicine (BUSM), has joined with Time's Up Healthcare to help combat gender inequity and harassment.
Time's Up for Gender Inequities in Health Care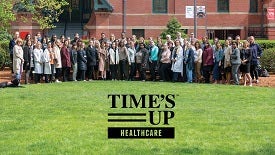 Boston Medical Center lives by its core value "built on respect, powered by empathy." That value extends not just to patients, but to how employees at the hospital treat each other. In line with our ongoing commitment to respect, BMC, along with Boston University School of Medicine (BUSM), has joined with Time's Up Healthcare to help combat gender inequity and harassment.
BMC's involvement with Time's Up comes on the heels of a recent report on widespread gender inequalities in science, technology, engineering, and mathematics (STEM) professions. In this report, medical professions fared the worst. With that news, and recent, ongoing discussions throughout the country on gender inequity and harassment, BMC felt it was time to take a stand.
Time's Up Healthcare's mission is to unify national efforts to bring safety, equity, and dignity to our health care workplace. Specifically, they aim to unite health care workers across fields to improve care for targets of harassment and inequity, raise awareness of these issues, and advocate for meaningful standards and research related to harassment and inequity. They also provide support for health care organizations already working on these issues, including a link to the Time's Up Legal Defense Fund.
"There is no area untouched by gender inequities and harassment," says Aviva Lee-Parritz, MD, Chair of Obstetrics and Gynecology. "BMC and BUSM are not immune to these issues. And while there's no magic bullet to solve these problems, the solution starts with a strong statement by leaders, which is what we have done here."
Signing on to Time's Up is another step in BMC's commitment to reducing inequity and harassment. Everyone at BMC and BU must undergo an annual harassment prevention training with an additional module required of all managers. Although culture change is difficult at any institution, BMC's commitment to respect and reducing inequities in health care means that we are well-positioned to do this work. BMC also has a strong, long-standing commitment to employee wellness, of which feeling safe is a critical part.
BMC's role as a teaching institution also highlights the importance of this work. As medical students from Boston University School of Medicine and our residents become health care leaders and/or go on to other institutions, they take what they learned at BMC with them. Therefore, teaching a policy of non-tolerance toward harassment and inequity at BMC and BUSM has a broad and reverberating impact across the health care system.
In order to move toward culture change, BMC and the rest of the medical campus have joined forces on a variety of internal initiatives. For example, the Women's Leadership Advisory Council is a collaboration between every institution on the medical campus, and is working on initiatives and awareness related to gender inequities. In July, the Council will hold a special event with Esther Choo, MD, MPH, an Emergency Department physician and associate professor at the Oregon Health & Science University and one of the founders of Time's Up Healthcare – who trained as a resident at BMC – to an event on gender equity at the hospital.
In addition, the Boston University Medical Group (BUMG) Office for Equity, Vitality, and Inclusion has been charged with creating initiatives to reduce inequities and combat harassment among providers. Lee-Parritz is the chair of this new initiative.
BMC takes all reports of harassment seriously. The hospital's commitment to this issue is also reflected in the many options employees and providers have for reporting harassment.
BMC employees who feel they have been harassed or have witnessed others being harassed can go to their manager or their manager's manager with their concerns. They can also report directly to BMC Human Resources, or to any member of management with whom they feel comfortable.
If management is informed about harassment, they will bring the complaint to Human Resources, who will investigate, protecting privacy and confidentiality as much as possible.
Staff members who are employed by BUSM, including BUMG members, can also report to a number of mandated reporters, including their management and BU Human Resources. Employees who report harassment to BMC or BU can still file a complaint with federal or state law enforcement agencies.
"Gender equity is not a women's issue," says Lee-Parritz. "It benefits everyone and is just the right thing to do."
What You Need to Know About Measles
In recent weeks, the news has been full of stories about measles outbreaks across the United States. Now a child in Massachusetts has come down with the illness and exposed other. The BMC Brief sat down with Sean Palfrey, MD, a pediatrician at BMC and vaccination expert, to learn more about measles, vaccination, and how worried we should be.
What is measles? How dangerous is it?
Measles is one of the most contagious viral infections, meaning it takes only moments to spread from one person to another. Before we developed an effective vaccine, most children got the illness in childhood and for most of them, their immunity lasted their lifetime.
The symptoms of measles are like the symptoms of many other viral infections. It gives you a fever, headache, fatigue, cough, vomiting, and a very bad cold. You also usually get a measles rash, which is not particularly frightening-looking, but is characteristic of measles. It looks like red blotches all over your body. There's no treatment for measles – it just has to run its course. 
We've developed several different kinds of vaccines for measles over the years. The current vaccine is a combined vaccine with mumps and rubella, or German measles (the MMR vaccine). Even with this vaccine being used across the world, more than 70,000 people die from measles per year worldwide. Measles can also move into pretty much every other organ if you're particularly susceptible. It's most fatal for people who have heart problems or immune problems.
When do people usually get vaccinated? What are some reasons people may not be able to get vaccinated or choose not to get vaccinated?
Most people get vaccinated when they are about a year old, then get a second vaccine three to five later. Only people who have severe allergies to components of the vaccine, who have a weakened immune system, who are pregnant, and people who fall into a few other medical categories shouldn't get the measles vaccine.
Some people state they don't want to vaccinate their children for religious reasons. But when you ask religious leaders, few say that they actually oppose vaccination. Most feel that a safe intervention like vaccination that can save lives is very important for their communities. Some families who still don't want to vaccinate say it is against their personal religion or that their personal religious advisor counsels against it.
Because of the scare 20 years ago when Andrew Wakefield published his paper saying that there's an association between vaccines and autism, whole countries stopped giving the measles vaccine for a few years. Places like Japan and Wales had serious outbreaks, with deaths from measles.
But vaccines don't cause autism. We know that. We even know more, scientifically, about vaccines and their effects than we do about medications like aspirin or foods like potatoes, because we've given them to so many people in controlled circumstances and studied them so thoroughly.
In Massachusetts, we allow both medical and religious exceptions. We have small pockets of people, mostly on the Cape and the islands and in Western Massachusetts, who don't want to vaccinate. We're lucky in Boston that most of our families do immunize. The under-vaccination (people who don't have all their vaccinations) rate in Massachusetts is only about 2 or 3 percent.
Many people have never seen measles before, so they're not particularly worried about it. They don't understand that it can be very serious or even fatal. We have to get people educated enough that they know the disease is serious, the vaccines are safe, and their religious leaders support vaccination.
Can adults get vaccinated? Should they get a booster shot if they've already been vaccinated?
Yes, people can be vaccinated at any age.
People who've only had one vaccine should get a booster shot. But we haven't really decided – except in heavy outbreaks – whether people who have already had two vaccines would benefit another one. Whether an additional booster generates added protection is an unanswered question with many vaccines and, at this point, we are not recommending additional boosters.
How did this measles outbreak start?
In this country, we've been vaccinating fairly thoroughly for over 30 years, and therefore had eliminated all of the natural, in-country cases of measles, up until the last few years. However, over the last few years, cases have been brought into the country by travelers from abroad who have then exposed non- or under-immunized children and adults here.
The people who get the measles in the U.S. were generally people who were non-immunized – usually because of families who were against immunization – or people who were at immunologic risk, such as the elderly, people with cancer, or babies who were too young to be vaccinated. But if you bring a person who has waning or marginal immunity into a community where there are a fair number of measles cases, then you can overwhelm community or herd immunity and get an outbreak, even in people who are partially immune.
What's the role of health care providers?
The influence of health care providers is huge. If a health care provider tells a parent that vaccination is something they should do, most will listen.
All of us face some families who are resistant to vaccination. We don't always win, but we can be successful in changing their minds. We have be respectful, ask about their worries and have good answers to people's questions and concerns. We have to be gentle and persistent, remembering that we are doing this for the health of their whole family not simply the child being vaccinated. We might not change someone's mind the first time, so keep the conversation going.
Pediatricians, public health officials, school systems, and families all need to work together. They're the most powerful advocates for immunization. Pediatricians are the leaders of this and need to say in unequivocal terms that you need to have your child vaccinated, but we're not alone in this. It's a multi-factorial approach to insistence that you follow the rules.
The debate for over 20 years in the Massachusetts public health community has been whether we should pass laws like those now being passed around the country that would eliminate all exemptions but medical exemptions.
One of our pediatrics fellows from BMC moved to California and became a state senator, and was able to pass a law there to outlaw religious and philosophical exemptions. We've drafted legislation like that in Massachusetts, but every time we raise the issue, anti-vaccination groups push back loudly. Now that many people across the country are panicking about the current measles outbreaks, the needle may be moving. It would not surprise me that a bill to eliminate all but medical exemptions in Massachusetts could pass the state legislature. A coalition of parents, schools, physicians, and public health officials will be crucial.
If there's an outbreak, the Department of Public Health also has the power to require that all children going out of the house have to be immunized.
What's the outlook for the outbreak?
I think the current outbreaks will fade because most of our citizens are vaccinated in this country, but how quickly we will stop the spread will depend on each community's response. Epidemics rise and fall, as we have seen over the centuries, and they often do terrible damage in the process. These measles outbreaks must be taken seriously, and we must learn important lessons from them and how we counter them. As a country, we have obviously become too complacent. We have to boost our vaccination rates immediately.
This is a sad but important wake-up call. I hope we can move toward the goal of universal vaccination. Only in this way can we eliminate measles entirely as we did smallpox half a century ago. 
What do you do, Lee Cullivan?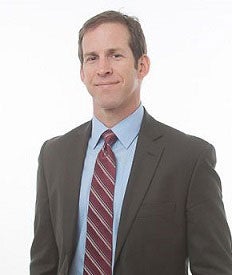 Name: Lee Cullivan
Title: Chief Information Security Officer
Time at BMC: Initially started in November of 2005 totaling about nine years since then. This time, Lee has been here around one year and nine months.
What do you do at BMC?
I oversee the team that's primary responsibility is to ensure the security all of BMC's information assets. That means maintaining the confidentiality, integrity, and availability of our data and systems, everything from billing information to patient charts.
It's important to protect information so that it doesn't fall into the wrong hands. If that happens, we face everything from bad press to financial penalties to the possibility of extended downtimes. And our patients lose trust in us if we can't safeguard their data. The worst case scenario for Information Security is that something happens that keeps us from taking care of our patients. For example, I've heard recently of a hospital that had ransomware – where hackers lock all the files until they get paid – that took down their electronic medical records system for weeks.
To keep BMC's data secure, we install and maintain systems that enable the safety and security of data. These systems are the technologies that employees work with every day, such as email, eMERGE, or even just their desktop computers or mobile devices. There are actually several layers of security that allow you to do that safely.
Our challenge is to seamlessly integrate security with ease of use for employees. If we do our job right, those layers are invisible when you're using the technology.
Information Security recently became a Health System function, and we now have 12 team members. Hospitals and health insurers are very different organizations, so we've been spending time adjusting our business models and learning from each other, so we understand those differences and how best to support the System.
What brought you to BMC?
This is actually my fourth time at BMC. I'm one of the many BMC boomerangers! What brought me here initially was a great opportunity that allowed me to advance in my career. I then left for family reasons, but what brought me back was that I missed the speed and dynamics of working in health care. BMC was a special place for me the first time I was here, so I came back a few more times.
My most recent hiatus was the longest. I was gone for almost five years. Luckily I was welcomed back. 
What do you like most about working for BMC?
There are a lot of things to like about working for BMC. The main one for me is the mission. It's really why I came back to BMC, and why it's such as a special place.
Information Security is similar at many hospitals, but to be able to work at a place that helps those in need is really special. It's good to like what you do every day and who you do it for.
What would you like people to know about BMC's Information Security team?
The Information Security team is here to help. We're not trying to make people's lives harder. What we're trying to do is make sure that our data stays secure, and is therefore available long-term.
However, security is often contradictory to ease-of-use. This is by design, because we only want certain people to be able to access our data. But we honestly do try to make it as easy as possible for our employees to access the systems and data they need to use. Just like other employees, our job is to serve BMC's mission. We know that people need access to systems to do that, but we can't serve our patients if we don't keep their data safe.
Are there any myths about information security that you'd like to dispel?
Despite all the technology that Information Security uses to secure devices and data, everyone's individual behavior is the most critical tool in fighting information security threats.
Anti-virus software doesn't mean you'll never get a virus, and an anti-spam filter doesn't mean you'll never get spam. Hackers understand this technology better than anyone, so they can often find ways around it. Everyone should really try to know what they're clicking on before they click.
What do you do for fun outside of work?
I like to rock climb, hike, and play soccer. I also enjoy being at the beach with my family.
Finding a Simple Predictive Test for Alzheimer's Disease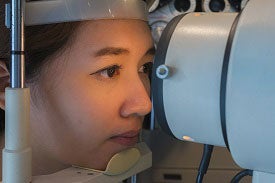 No current therapies are able to treat Alzheimer's disease (AD) once symptoms appear, making early detection the best way to manage this disease. However, early detection can be difficult, due to the lack of understanding around the causes and risk factors for Alzheimer's disease.
The urgency around finding a predictive test has increased due to the disease's growing impact. Alzheimer's affects one in ten people over the age of 65, and the CDC expects rates of the disease to nearly triple over the next 40 years, affecting about 14 million Americans.
Now, researchers at Boston Medical Center have found a potential test for detecting AD risk before symptom onset. 
A promising biomarker that allows for early detection of Alzheimer's is an abnormal amount of amyloid-β and tau protein deposits in the central nervous system. These proteins are almost always found in the brains of people with Alzheimer's disease, and abnormal amounts are detectable many years before symptom onset.
Previous research has examined testing for biomarkers in spinal fluid and imaging the eye's retina for clues about a person's AD risk. However, these tests have limitations that impact their usefulness. For example, the spinal fluid used in some AD tests must be obtained through a lumbar puncture, which is an invasive and expensive procedure that can be painful for patients during and after the procedure. The retina imaging scan is encouraging, but needs more study to determine whether abnormalities in the eye are due to preclinical AD or an undiagnosed eye disease.
In the BMC study, researchers examined amyloid-β and tau protein levels in eye fluid that's extracted — and usually discarded — during certain eye surgeries. None of the participants had an AD diagnosis. Lower levels of these biomarker proteins were significantly associated with lower scores on a test of the patient's baseline cognitive function. The research is the first study to connect these known AD biomarkers in the eye to mental status, and was recently published in the Journal of Alzheimer's Disease, points toward the possibility of a more accessible test.
"The findings could help us build an accessible and minimally invasive test to determine Alzheimer's disease risk, especially among patients with eye disease," says Lauren Wright, MD, first author on the study and ophthalmology fellow at BMC.
These results also align with previous research suggesting that patients with eye disease are at-risk for the development of AD. They suggest that further research in patients with eye disease may lead to results that could be generalizable to larger populations.
"This is a great step in discovering the eye's potential role in diagnosing preclinical Alzheimer's disease, and further study is needed comparing protein biomarkers in the eye with more in-depth neurological testing," adds Manju Subramanian, MD, senior author, principal investigator, and ophthalmologist at BMC.
Awards and Accolades
BMC Named to Becker's Hospital Review 150 Top Places to Work in Healthcare List
Becker's Hospital Review has once again listed BMC on its list of "150 Top Places to Work in Healthcare!" This list highlights hospitals, health systems and healthcare companies that promote diversity within the workforce, employee engagement and professional growth.
Specifically, the organizations on the list offer benefits and opportunities for employees to build successful careers above and beyond the average healthcare provider or company, encourage professional development, promote leadership from within, and offer unique wellness and personal benefits to ensure employees strike a positive work/life balance.
BMC Receives an 'A' Leapfrog Safety Grade
The Leapfrog Group, an organization committed to driving quality, safety, and transparency in the U.S. health system, has awarded BMC an 'A' spring safety grade. This grade takes into account 28 measures to represent a hospital's overall performance in keeping patients safe from preventable harm and medical errors.
BMC Named a Top Performer in Association for Healthcare Philanthropy Report
The Association for Healthcare Philanthropy recently announced that BMC achieved "Top Performer" status in this year's Report on Giving and Benchmarking. BMC is one of only 64 organizations across the U.S. and Canada to achieve this status. The award recognizes BMC's success in fundraising revenue used to advance our mission and achieve our strategic goals.
Michelle Long, MD, Received a Clinical Scientist Development Award
Michelle Long, MD, a gastroenterologist at BMC, has received a 2019 Clinical Scientist Development Award from the Doris Duke Charitable Foundation. The award will support her work on non-alcoholic fatty liver disease and its response to exercise.
Return to BMC News