The BMC Brief - Volume 8, Issue 3
This month marks one year that our Boston Medical Center Health System (BMCHS) has been part of the MassHealth accountable care organization (ACO) program. The hospital is part of Boston Accountable Care Organization (BACO), one of BMCHS's four ACO partnerships across the state. While we are still in the early stages of our ACO journey, we have made considerable progress over the past year in transitioning patients into the ACO and implementing programs to deliver well-coordinated and efficient care to our patients.
A Successful First Year for MassHealth ACOs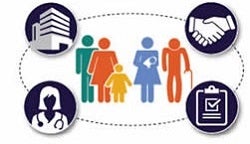 This month marks one year that our Boston Medical Center Health System (BMCHS) has been part of the MassHealth accountable care organization (ACO) program. The hospital is part of Boston Accountable Care Organization (BACO), one of BMCHS's four ACO partnerships across the state. While we are still in the early stages of our ACO journey, we have made considerable progress over the past year in transitioning patients into the ACO and implementing programs to deliver well-coordinated and efficient care to our patients. 
In order for our System to be successful in the MassHealth ACO program we must deliver on our promise of the ACO to provide better coordinated care to patients, and focus on the drivers of our patient's medical expense, including social determinants of health such as housing and food insecurity. To that end, we have a shared System accountability goal for 2019 that includes meeting the quality measures set out by the State/MassHealth and doing 1 percent better in terms of what it costs to take care of patients. Together, these two metrics ensure we are providing quality care at the right price for our patients.
Providing high quality, safe care has been and will always be our top priority for all our patients.    In addition to quality, the other focus areas for the next phase of ACO activities include:
Enrollment/retention: We need to ensure that our patients have a positive experience in the ACO, so that we can continue to make a long-term investment in their health.
Coding: Accurately capturing all known conditions and the true health complexity of our patients will allow us to get paid appropriately for the work we do.
Medical expense management: We need to reduce key drivers of the total cost of care, by focusing on high-utilizers, unnecessary Emergency Department visits, and reducing readmissions.
A key part of medical expense management is our complex care management program, which focuses on helping the two percent of our population that drives 40 percent of our medical spending. By focusing on social determinants of health and the barriers to care, this program has already seen many successes.
For example, the team saw a 28-year-old male who had been diagnosed with obesity, cellulitis, hypothyroidism, depression, and substance use disorder. When he enrolled in the complex care management program, the patient was going to the ED twice monthly and had not seen his primary care physician in months. He told the team he would like to address inadequate housing, income, and ability to "get around."
The team helped the patient obtain wound care for his cellulitis which improved his mobility. They also provided medical education for a psychiatry regimen and copay assistance for Suboxone. They helped reestablish trust with his PCP team, and helped the patient obtain Social Security. The patient has attended his last two appointments with his PCP and has had no admissions or ED visits since April 2018.
This is just one example of the ways in which the ACO has directly impacted patients' health. As we move further along on our journey, everyone has a role to play in ensuring that we can continue to have this positive impact. The most important thing everyone can do is to do the basics really well, and focus on performing your daily responsibilities to the best of your ability. Better communication and coordination between all providers will also help us reduce unnecessary testing and address the underlying causes of disease, such as housing and food insecurity.
"The State has put its faith in us based on our track record of taking care of underserved populations and those with complex medical needs, and our long partnership with them to care for those who rely on MassHealth," says Kate Walsh, President and CEO of BMCHS. "While we have made great progress in our ACO journey, there are challenges ahead and everyone across our System has a role to play in ensuring our ACO patients are satisfied with their care delivery experience."
Local Agencies Address Opioid Epidemic with Compassion, Collaboration
This article was originally published by the BU Center for Innovation in Social Work and Health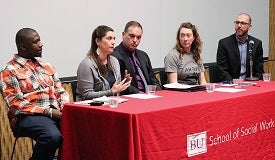 Social work, public health, and law enforcement experts discussed their agencies' efforts to address the opioid epidemic at a panel discussion on February 25, 2019, at Boston University's Kilachand Center. Hosted by the Center for Innovation in Social Work & Health, the panel focused on strategies for harm reduction, an approach that aims to lessen the negative effects of drug use in a person's life, even if the person is not ready to stop their substance use.
With roots in social justice movements and the HIV/AIDS epidemic, a harm reduction approach to substance use prioritizes empowerment and dignity. Although harm reduction can include referrals to treatment, it also includes "meeting people where they are," through needle exchange and overdose prevention services. Harm reduction emphasizes access to health and social services regardless of whether a person is ready to commit to recovery.  
BU School of Social Work (BUSSW) doctoral student Corinne Beaugard, who co-organized the panel, opened the event with an overview of the opioid epidemic in Massachusetts and harm reduction principles. During the discussion, moderated by Chris Salas-Wright, assistant professor at BUSSW, common themes emerged regarding respect for individuals' lived experiences and the importance of collaboration across service areas.
"There's a myth or perception that people who use drugs don't care about their health," said Clare Schmidt, program coordinator for Boston Public Health Commission's AHOPE Needle Exchange. AHOPE, which serves 80-150 people daily, provides access to clean needles and Narcan, as well as testing for hepatitis C, HIV, and other STIs. AHOPE also acts as a bridge to other medical and social services, said Schmidt. The population AHOPE serves is largely homeless, with coexisting mental and physical health conditions. Many clients have had traumatic experiences with law enforcement or social workers, said Schmidt, making relationship building over time an important part of the organization's work.  
"A lot of times in treatment or in detox, you're only seeing the person at the chaotic end of the drug use spectrum, and you're ignoring their abstinence, low use, moderate use," said Schmidt. "With harm reduction, you can see that person as a whole human being and recognize that they have so many more dimensions than whatever their drug use looks like at that point in time, and I think people respond really well to that in general."
Caitlin Clark, a social worker for Boston Medical Center's Project RESPECT, which provides services to pregnant women struggling with addiction, also stressed the need for relationship building. "For anyone with an opiate use disorder, asking for help can be incredibly challenging and difficult because of this wider social stigma," she said. Feelings of shame and guilt are particularly strong among expecting mothers, and many OBGYN doctors will instruct pregnant women to stop opioid use immediately—even though medication-assisted therapy, such as methadone treatment, is considered the "gold standard," said Clark.
Fear of interaction with child welfare and law enforcement agencies can further compound problems, deterring women from obtaining the prenatal care they need, she said. "Data show that women who use throughout their pregnancy but come consistently to prenatal care have better outcomes—so just giving a patient a space to come in and feel like they have dignity, worth, and support is harm reduction in and of itself."
Law enforcement agencies in Massachusetts are also incorporating harm reduction techniques, a reversal of the punitive policing of drug offenses in past decades. "We can't arrest our way out of the problem," said Chief Scott Allen, East Bridgewater chief of police, and member of the PAARI (Police Assisted Addiction and Recovery Initiative) National Advisory Police Council.
Allen said the East Bridgewater Police Department now has a social worker on staff, and sends outreach teams to homes to encourage people who have survived an overdose to seek treatment. Officers carry Narcan, a development he said he would not have predicted 20 years ago. Allen encouraged people working in social work and public health to learn how different fields are approaching the opioid epidemic, rather than making assumptions. "If you think every police officer is just looking to make an arrest, you're not going to be able to interact with them as effectively," he said.
Even when a person embarks on recovery, the principals of harm reduction are still highly relevant. Tyshaun Perryman, a recovery coach at Boston Medical Center's Project RECOVER, works with people who have been discharged from two opioid detox programs, Lahey Health Behavioral Services Boston Treatment Center and Dimock Community Health Center. Perryman works with clients for six months, acting as a guide and mentor by developing a recovery plan, and connecting them to needed resources such as medical care, housing, food, and job training. His work is part of a BMC study to evaluate the role of recovery coaches in addiction treatment, as well as racial disparities in treatment access.
"When some people leave detox, they're just not ready, even though they made a step," said Perryman. "The key thing is I'm still there with them. They know 'if I relapse, my recovery coach is still there with me.' It's not that they are bad people, or that they're undecided. If you know about the stages of change, relapse can sometimes be a part of that process. It may take a person a thousand times before they actually get it—and they're sincerely trying. It supports them for me to just be there and to be non-judgmental and tell them that listen, no matter what, we're going to support you in whatever change you want to make."
Perryman advised social workers and other health professionals to acknowledge the seemingly insurmountable obstacles people living with addiction may face, including unstable housing, family abandonment, and depression. "They have come through a battlefield just to make it to your office."
Following Up on Incidental Findings: A Patient Safety Grant Project

When patients come in for imaging, they usually expect to find the cause of their condition, or reassurance that nothing is seriously wrong. But in some cases, there can be incidental findings, which means the doctors find a potential condition they were not specifically looking for. Masses on the adrenal gland are a common incidental finding, but there can be many challenges that stand in the way of appropriate evaluation when these are discovered. A team led by Frederick T. Drake, MD, an endocrine surgeon, hopes to change that with a project funded by a 2018 BMC Patient Safety Grant.
Adrenal glands, located on top of each kidney, regulate hormone production in the human body. In up to 10 percent of people, a mass may be found on the adrenal gland. These become more common with age. Most are harmless – they are benign and do not produce any hormones. But approximately 15-25 percent are clinically meaningful, which can mean they are cancerous or cause disease.
Many adrenal masses – whether harmless or not – are found during imaging for other reasons, often after a traumatic injury or other visit to the Emergency Department. When an incidental adrenal mass is found, patients are supposed to have follow-up and hormone testing done by a clinician who takes responsibility for the evaluation. However, many patients do not receive this follow up.
A retrospective study of patients who had incidental adrenal masses found at BMC in 2016 found that fewer than 10 percent of patients had follow-up, and only around two percent had the recommended hormone testing.
BMC is similar to other large health systems who have published data on this topic and this is a widespread challenge faced by health systems everywhere.  Drake and his team felt that BMC can do better. They started with a survey and focus group of 100 primary care physicians at BMC and local community health centers to understand what challenges kept them from following up with patients and what solutions they thought might be best.
There was substantial overlap between the providers at BMC and providers at East Boston CHC – both wanted an easily accessible and simple treatment algorithm for adrenal masses and better patient tracking built into Epic, as well as more streamlined communication between themselves, radiologists, and specialists after a mass is found. However, researchers also noted some differences between the groups, mostly based on how their different patients navigate the health system. BMC clinicians preferred an internal referral model for incidental findings, whereas East Boston providers preferred to initiate the work-up at the East Boston facility because coming to BMC for further testing can be a barrier for their patients.
To help address these concerns and make the follow-up process easier, the team recently began a pilot program. Tim Feeney, MD, a post-doctoral clinical research fellow works with Radiology to search their database for adrenal masses. He then goes through the raw search results, eliminating already-known masses, search mistakes, and critically ill patients from the list; this process narrows the list of potential follow-ups from approximately 100 to 20-30 per month.
The team will then alert patients' PCPs about the mass. If there are any red flags that the mass may represent a more urgent problem, the team will alert the PCP immediately. Otherwise, the patient coordinator on the team will follow up with the PCP and provide a simple algorithm for treatment, from testing to a specialty consult if necessary. The team also worked with Radiology to add a short recommendation for a hormonal workup to radiology reports when necessary, as another way to reach clinicians responsible for these incidental findings.
If the patient's PCP is unknown, the team will contact patients directly to inform them of the findings. They will also make a referral to a BMC PCP if the patient doesn't have one.
While this system has received positive feedback so far, Drake and the team think there might be an even better way to identify patients with adrenal masses who need follow-up and are working on a computer algorithm, trained on their 2016 data, to see if they can automate the search for incidental adrenal masses.
"Once we validate the algorithm, we envision expanding its use," says Drake. "Our big picture idea is really to use this process as a model to follow up on all incidental findings, not just adrenal masses."
What do you do, Perla Macip-Rodriguez?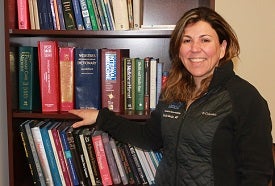 Name: Perla Macip-Rodriguez, MD
Title: Internal Medicine, Geriatrics, Palliative Care Physician
Time at BMC: 10 months
Q: What do you do at BMC?
A: I work with patients who are living with severe illnesses. Every day, I build a rapport with them by understanding their goals, listening to their concerns, answering their questions, and then working with my team to create a comprehensive palliative care management program that the patient and their families are comfortable with. The goal is to help family and patients understand what to expect over the course of illness. This care can occur at the same time as other treatments for illness. There's no reason to wait.
I also work with residents and fellows who choose the palliative care rotation as part of their education.
Q: What brought you to BMC?
A: I'm originally from Mexico and came to the U.S. to pursue internal medicine. During my residency in Florida, one of my first rotations happened to be in hospice. After that, I decided to subspecialize in geriatrics and palliative medicine.
During that time, I noticed that the quality of life of patients who were gravely ill often stayed poor. They were returning to the hospital consistently, and presenting the same issues every time they arrived. That's when I realized how large the need for physicians in these areas is.  
I completed fellowships at Harvard inter-professional and multi-campus palliative care and geriatrics fellowship programs and decided to launch and decided to launch my career at BMC because I couldn't be more inspired by the mission and opportunity to serve such a unique patient population. At BMC, I truly have the opportunity to be the doctor I always wanted to be.
Q: What would you like people to know about BMC's palliative care service and team?
A: Palliative care is a specialty consulting service at BMC. Our interdisciplinary team – consisting of a physician, nurse practitioner, social worker, and chaplain —focuses on the holistic care of the patient and family.
Our service benefits patients who have been diagnosed with advanced or chronic illnesses, including cancer, congestive heart failure, dementia, and Alzheimer's disease. The main objective of palliative care is to offer advanced care planning by engaging in conversation along the entire illness trajectory. We also provide expert symptom management with an emphasis on quality of life.
Quite often, palliative care is confused with hospice, but they are not the same. Hospice is a medical program for patients that are terminally ill, with a life expectancy of less than six months. Generally, patients in this condition are looking for comfort during their last moments. Palliative care is a relatively new practice with roots in hospice, so I understand where some of the confusion comes from. 
Q: Are there any myths about palliative care that you'd like to dispel?
A: I think the biggest myth is that palliative care is just about pain management. Our team understands that pain and suffering can appear in various ways that aren't just physical. For example, when patients are faced with serious illnesses, they yearn for reconciliation with estranged family. Our team has the resources such as chaplains and social workers who can assist with these types of spiritual and psychosocial needs that can cause existential pain.
Q: What advice would you give residents interested in pursuing palliative care as a specialty?
A: Go for it, because our patients need you! The reality is that there aren't nearly enough palliative care doctors in the U.S. to meet the growing need. As the world advances technologically, patient populations are living longer. However, they aren't necessarily living better, especially when faced with life-threatening illnesses. Palliative care is restoring the practice of being human. Patients deserve nothing less.
Q: What do you do for fun outside of work?
A: I recently got married, so I really enjoy exploring the city of Boston with my husband and spending quality time with friends. I also like brainstorming cool projects for residents and thinking of innovative ways to bolster our palliative care services.
Awards and Accolades
John Renner, MD, Receives Special Award for Excellence in Medical Service
John Renner, MD, director of the Addiction Psychiatry Residency Training Program, has been selected as the recipient of the 2019 Special Award for Excellence in Medical Service from the Massachusetts Medical Society. This award is presented annually to an MMS member who has made a distinguished demonstration of compassion and dedication to the medical needs of patients and/or the public.
Ivy Fernandez-Pastrana Honored with Public Citizen of the Year Award
Ivys Fernandez-Pastrana, program manager for the Family Navigation Program at BMC, has been awarded the Public Citizen of the Year Award by the National Association of Social Work, Massachusetts Chapter.   
The Public Citizen of the Year Award is given to a non-social worker who is an outstanding member of the community and whose accomplishments exemplify the values and mission of social work. Fernandez-Pastrana is being recognized for work at BMC and her work with children with neurodevelopmental disabilities, her advocacy on behalf of immigrant families, and her leadership in the effort to support residents of Puerto Rico after Hurricane Maria.
BMC Residents Awarded Ruth Fox Addiction Medicine Scholarships
Three residents from BMC have been awarded Ruth Fox Addiction Medicine Scholarships from the American Society of Addiction Medicine:
Bradley Buchheit, MD, Addiction/Preventive Medicine Fellow
Miriam Harris, MD, Addiction/Preventive Medicine Fellow
Jeoffrey Hill, , MD, Addiction/Preventive Medicine Fellow
The scholarships provides physicians-in-training with the opportunity to learn more about addiction and its treatment.
News of Note
Grayken Center for Addiction Names Recipients of First Pilot Grant Program
The Grayken Center for Addiction at Boston Medical Center has announced the three recipients of their first pilot grant program to fund addiction research projects for highly vulnerable populations, identified by the Massachusetts Department of Public Health as groups of people with disproportionately high levels of fatal overdose.
The recipients will focus their two-year research projects on improving outcomes for these high-risk populations with substance use disorders (SUD), including pregnant women and incarcerated individuals. These projects are funded at approximately $150,000 each over the two years.
The first research project will focus on pregnant women with substance use disorder and posttraumatic stress disorder (PTSD), who are at high risk for relapse, overdose, and suicide attempts.  Led by Yael Nillni, PhD and Sarah Valentine, PhD, the researchers will integrate Written Exposure Therapy, an effective brief PTSD intervention, into clinical practice for patients in Project RESPECT, BMC's high risk obstetrical and addiction recovery program. Social workers embedded in OBGYN will screen patients for PTSD and, if positive, provide the intervention, which will be done in five sessions. 
The second research project is aimed at improving engagement and retention in care among individuals with substance use disorders recently released from incarceration through a robust transitions clinic. Led by Joanna D'Afflitti, MD, and Ricardo Cruz, MD, the researchers will evaluate if hiring a community health worker, a trained individual with lived experience of incarceration, and a social worker to address the social determinants of health, including food and housing insecurity, as well as behavioral health needs, will improve engagement and retention in substance use disorder treatment for these patients. 
The third pilot project will work to expand resources and expertise in patient navigation and linkage to care for people who inject drugs and have injection-associated infections (IAI). Led by Cassandra Pierre, MD, MPH, MSc, and Project TRUST, the researchers will form the Supporting Adherence, Harm Reduction and Treatment for People with Injection-associated Infections (STAhRT) program to integrate outreach and individualized harm-reduction care for those with substance use disorders who are undergoing antibiotic therapy for IAIs.
Well Sense Approved for New Five-Year Contract with the State of New Hampshire
Well Sense Health Plan, which is part of the BMC Health System and is the business name for our New Hampshire Medicaid product, signed a new five-year contract with the State of New Hampshire to continue managing care for the State's Medicaid population. The new contract runs from September 1, 2019 through August 31, 2024.
Well Sense currently manages care for approximately 94,000 of New Hampshire's 180,000 Medicaid members.
Sushrut Waiker, MD, MPH, Named Chief of the Section of Nephrology
Sushrut Waiker, MD, MPH, has been named Chief of the Section of Nephrology in the Department of Medicine and the next Norman G. Levinsky Professor of Medicine effective September 16. Currently, Waiker is the Constantine L. Hampers, M.D., Distinguished Chair in Renal Medicine at Brigham and Women's Hospital and Associate Professor at Harvard Medical School
Waikar received his undergraduate degree from Amherst College and his medical degree from Yale School of Medicine. He was an intern, resident, and Chief Resident at the University of California San Francisco before moving to Brigham and Women's Hospital and Massachusetts General Hospital for his renal fellowship. He joined the Harvard faculty in 2006. Waikar has a distinguished record of research in acute kidney injury and the identification of biomarkers of acute and chronic renal diseases.
Shapiro 2 Installs Bathroom Motion Detectors
In order to help prevent drug overdose fatalities, BMC has installed motion detectors in the bathrooms on the second floor of the Shapiro Building. This project involved a collaboration between Public Safety, Addiction Medicine, and Patient Safety, and highlights BMC's commitment to treat patients with substance use disorder and dedication to patient safety.
The goal of the device is to prevent fatal overdose by alerting responders early enough so that naloxone (the opioid reversal agent) can be administered. They also reduce the time that Public Safety officers need to spend monitoring the bathrooms.
BMC's Trauma Center Recertified by American College of Surgeons
BMC has been recertified as a Level 1 adult trauma center and Level 2 pediatric trauma center by the Verification Review Committee of the American College of Surgeons (ACS). This certification recognizes the trauma center's dedication to providing optimal care for injured patients from the prehospital phase through the rehabilitation process.
Return to BMC News