The BMC Brief, Volume 7, Issue 10
With less two weeks until Election Day, BMC continues to be strongly opposed to Question 1 – the nurse staffing ballot initiative that seeks to impose rigid, government mandated ratios at all times at every hospital. In recent days, both The Wall Street Journal and The Boston Globe endorsed the NO side of Question 1 highlighting, among other things, the fact that there is no conclusive evidence that a nurse staffing law will lead to better care.
Why BMC is NO on Question 1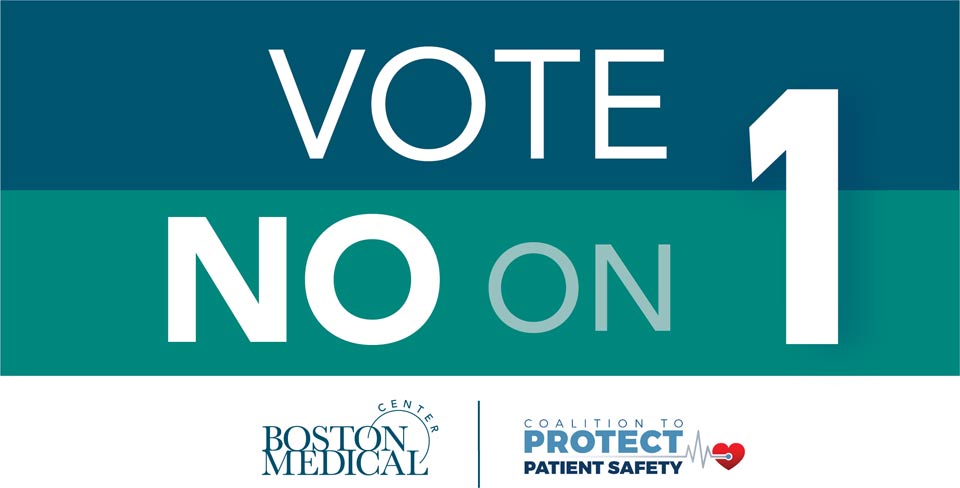 With less two weeks until Election Day, BMC continues to be strongly opposed to Question 1 – the nurse staffing ballot initiative that seeks to impose rigid, government mandated ratios at all times at every hospital. In recent days, both The Wall Street Journal and The Boston Globe endorsed the NO side of Question 1 highlighting, among other things, the fact that there is no conclusive evidence that a nurse staffing law will lead to better care.
While that's good news, the attention and intensity will only mount in the coming weeks, and we must continue to push through Election Day. It is likely that your friends, family and neighbors are asking you for advice on how they should vote. Below is information about why a NO vote is best for BMC, our patients, and the broader healthcare community.
Added costs. The Massachusetts Health Policy Commission (HPC) issued an independent analysis that concluded the proposed law would generate up to $949 million in added healthcare costs each year. Research on the relationship between staffing and quality concludes that nursing ratios do not improve patient outcomes. Hiring the number of nurses required to meet the mandated, at-all-times ratios would cost BMC alone $28 million - funds we do not have. We are very worried about the important BMC programs that would be at risk of being cut.
Patient access. If we are unable to hire the additional RNs that would be needed to comply with the law — more than 3,100 statewide, according to the HPC analysis —BMC would be forced to limit the number of patients who could be seen.
Impact to vulnerable patients. Hospitals like BMC, along with community hospitals and behavioral and rehabilitation facilities, will be hit hardest by this bill, and we know that our patients and their families have the most to lose.
Nurses and nurse staffing are critical to the care we provide and we are committed to providing the appropriate number of nurses and other care providers to deliver exceptional care for all patients we are privileged to treat at BMC. But this ballot question will not improve patient care.
We encourage all employees to educate themselves about the ballot question, so they can understand the impacts and answer questions from others. An FAQ, social media sample text, 15-minute podcast, graphics, sample emails you can send, and more are available on the intranet.
Denim Day is October 26!
Patients with breast cancer receive exceptional care at BMC. But it's often the special touches that help patients feel fully supported during their treatment. The Department of Radiology hosts an annual Denim Day fundraiser during Breast Cancer Awareness Month to help support BMC patients diagnosed with breast cancer and going through treatment. This year, it will be celebrated October 26.
On Denim Day, employees are encouraged to donate $5 and wear jeans to work. The 10th Annual Denim day held last year was a great success. With donations pouring in from ambulatory practices across the hospital, the Denim Day fundraiser raised over $4,000!
Recognizing the incredible technology and treatment the patients receive, Radiology worked with patient navigators and breast cancer health professionals to spend the funds in a way that the patients would most value. Members of the Radiology team purchased items that would provide comfort to patients and took time to put together 75 "comfort care" totes. Among other items, these totes included beautiful blanket scarves, personal care items, notepads, adult activity books, water bottles, BMC cafeteria vouchers, and grocery gift cards.
The patients' smiles showed just how much the patients loved the bags. A current BMC patient undergoing treatment, Simlide Galdini, said, "I love everything in the bag! I use it every day." Similde was very grateful for such a generous gift during a difficult time in her life.
In addition to the comfort care totes, funds were used to help provide transportation assistance to a patient, Joseline, who was recently diagnosed with breast cancer. Joseline lives with her son, many miles away from BMC and has concerns about making it for her treatment due to transportation challenges. Joseline is ineligible for door-to-door ride services, as her insurance is limited and her location is outside of the transportation's service areas, so she has had to ask family and community members to drive her to the hospital, often reimbursing them for gas costs.
Joseline will be coming to BMC for the next twelve months to receive the treatment she needs to cure her cancer – a minimum of 50 trips to BMC. Money raised last year allowed the department to provide gas cards and Uber gift cards to ensure that Joseline will always be able to make it to her chemotherapy and radiation treatments. BMC's fundraising efforts help lessen the worries that many patients have related to receiving treatment and we hope to help many more in the future.
This year, Radiology along with Ambulatory Practices, hopes to surpass their goal of $4,000 and make even more of an impact on patients' lives. To participate, please get permission from your supervisor. We look forward to seeing everyone in jeans on the 26! Visit BMC.org/DenimDay to donate and participate or give the $5 to your supervisor.
What do you do, Grace Cashman?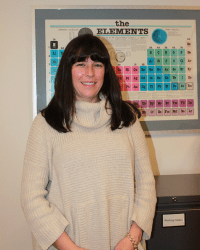 Name: Grace Cashman
Title: Senior Director of Research Operations
Time at BMC: Five months
Q: What do you do at BMC?
A: I oversee the Research Operations department here. My office includes a pre-award team, a post-award/finance team, and the Clinical Trials Office, which is a shared resource between BU and BMC. We support all of the research proposals that are sent out to all different federal and state agencies, foundations, and other sponsors. Once the grants are awarded, we work with Departmental Administration and Investigators to manage the post-award support and compliance.
We're here as advocates and support for the researcher, to help make sure they don't have to worry about the administrative tasks that go along with research.
On the clinical trial side, we work with both BU and BMC, doing Medicaid coverage analysis, working with sponsors to help negotiate trial agreements, and manage billing and collections.
We work in conjunction with Departmental Administration as well as with the Development Office's pre-award team.
Q: What brought you to BMC?
A: I started my research administration career at BU almost 18 years ago in an engineering lab and then central research finance. Since then I have locally worked at Partners Healthcare and Brigham and Women's Hospital.  I took some time to consult with Huron Consulting group. The experience with Huron allowed me to work with hospital and research institutions across the country. It turns out that everyone has the same issues, and I find the challenge and fun of the job in finding ways to support our researchers in the changing research environment.
I will never be the researcher but I always look for something that will allow be to give back in my job.  Opportunities to work at BMC in this capacity do not come up very often, and this job was an ideal match for me at this time in my career. This is a place I've always wanted to work, because of the mission, the people, and the leadership. It's such a great place to be doing research, because the population that this hospital serves allows us to do a lot of great things.
Q: What are your top three priorities for research in the upcoming year?
This department has been through a lot of change. We want to change our communication out to other departments to let them know what we're doing and what's changing. We also want to get to know them and hear what their needs and pain points are, so we can help.
Many of our policies and procedures haven't been updated in a long time. We plan to streamline, review, and update those. This will be informed by the needs of the departments we support.
Education both internally to this team and externally to departments, so they know what we're here as a resource. I want them to know that they can always reach out to us if they have questions. Everything in research is "it depends," instead of "no," so we can work with investigators to figure out a way to achieve their goals. Anyone can pick up the phone and call me or a member of my team if they need our support.
Q: How does having a strong research program benefit BMC as a whole?
A: We are a research institution, so having a strong research program is part of our mission. It benefits BMC in that there are things we can do here that others can't do. We have many amazing researchers here who are doing great things, and we want to be able to leverage their work and build up their careers.
A lot of the research we're doing on the clinical side is to improve patient care processes. This is really important, especially for areas like the opioid epidemic, which we're at the forefront of. There are a lot of people in every area of medicine at BMC working on ways to improve patient care across the country.
Q: Can you tell us a bit about an interesting research project that most people wouldn't be aware of?
One research project that's really interesting is the $13.5 million grant Lisa Fortuna, MD, received from the Patient-Centered Outcomes Research Institute (PCORI) to compare different methods - face-to-face and online - of delivering cognitive behavioral therapy to children with anxiety. Being able to provide CBT in community pediatrics practices could really help many children, especially those in lower-income and minority families that may not seek care elsewhere
Q: What do you like most about working for BMC?
A: I like the people most of all. Everyone who's here really wants to be here. That makes it a lot easier to get things done. You can put meetings or workgroups together, and people are excited to be a part of it. And everyone has been very nice and accessible.
Q: What do you do for fun outside of work?
A: I have a two-and-a-half year old son, so he keeps me very busy. We live in Boston, so we try to spend a lot of time outside and at the local museums and parks.
Providing Fun and Therapy at the Margaret M. Shea, RN Adult Day Health Program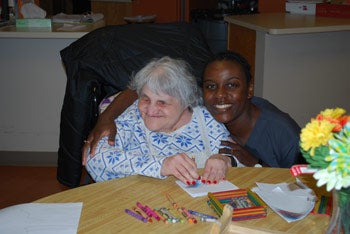 The Margaret M. Shea, RN Adult Day Health Program was founded in the 1980, but has only recently become a department at BMC. The program, formerly known as Mattapan Adult Day Health, serves elders who might otherwise need nursing home care or who need extra care to continue to live alone, individuals with mental and behavioral health needs, and others from 18 years of age upward who have a medical order to attend the program due to the inability to remain at home independently during the day.
Nearly all of the participants are nursing home eligible. The program runs Monday through Friday and participants must attend a minimum of two days a week with a five day maximum.
Services include nursing interventions, therapeutic activity, and social services that the participant is unable to navigate independently. All participants are all given a light cold breakfast, hot lunch, and a snack before they leave. The staff engage in therapeutic activities with participants like word search, cards, dominos, Uno, coloring pictures and Bingo for cognitive function and kickball, bowling and darts for physical therapeutic benefits, just to name a few. The program also provides transportation to and from the program.
The nurses also help with appointments and have relationships with each participant's doctors and families. The programs employees often work with the community police officers and governing representatives within the Boston area to provide different activities and day trips for the participants.
"We're like just one big family. We have long term staff that have remained working here and are committed to the community at large," said program director Deborah Agati.
The program employs two registered nurses and two licensed practical nurses, as well as a licensed independent clinical social worker who provides one-on-one therapy and group therapy to all participants. They have a therapeutic activity coordinator, assistant program director, and director.
"We coordinate the participants to be safely in their home while we deal with their medical frailties, prepare hospitalizations and readmissions. Our goal and future plan is to continue to provide the services as a department within the hospital and work closely with other departments and care providers that we are now associated with," said Agati.
This program has been on the same campus for 38 years and look forward to continue to offer their care and services to those participants in need.
Awards and Accolades
Geoffrey Habershaw, DPM, Honored with Lifetime Achievement Award from MA Foot and Ankle Society
Geoffrey Habershaw, DPM, Chief of the Section of Podiatry Surgery and Director of Foot Care, Vascular and Endovascular Specialists of Boston Medical Center has received a lifetime achievement award from the Massachusetts Foot and Ankle Society. Habershaw founded the Podiatry program in the Department of Surgery at BMC in 1999, as well as founded the Podiatry residency program. He is known as an international expert in treating diabetic foot ulcers.
Julie Swain Receives Department of Surgery's Hirsch Prize
Julie Swain, RN, a nurse in the IMCU, is this year's recipient of the Hirsch Prize, in recognition of her unique care for trauma patients. Swain developed a pilot program to visit patients served by VIAP at their homes for dressing changes and other routine care, as well as case management services when necessary. The program has prevented readmissions and saved thousands of healthcare dollars by seeing these patients in their homes instead of the ED. 
News of Note
BMC's Specialty Pharmacy Program Accredited by URAC
BMC's specialty pharmacy program has been accredited by URAC, a non-profit that helps promote health care quality through the accreditation of organizations involved in medical care services. The accreditation recognizes the program's commitment to providing quality health care services to its patients.
Return to BMC News