The BMC Brief, Volume 7, Issue 9
An Improved Way to Provide Guardians to Patients in Need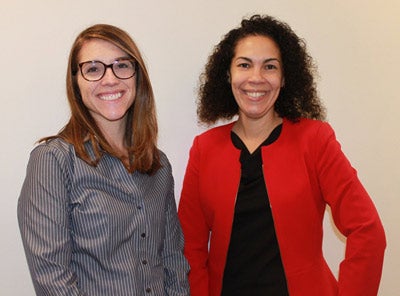 How do you take a plan from idea to execution? For one team in the Legal Department, the answer was the Improvement Leadership Academy, run by the Boston Medical Center QI Hub. The team used the expertise of the academy, along with their own experience, to help improve the guardianship process at BMC.
Patients are appointed guardians when they no longer have the ability to consent to health care procedures for themselves (for example, if they are in a coma) and have not appointed a health care proxy. Often, a family member is appointed as a patient's guardian. In cases where there are no family members or friends who can serve as the guardian, an unrelated person, such as a professional guardian, lawyer, or other suitable person may be vetted and appointed by the court to serve as a patient's guardian.
Historically, at BMC, a patient's family has had to navigate the court process, with some assistance from social workers, and obtain guardianship for their loved one. The Legal department would handle the cases where no family or friends were available to obtain the guardianship. This process was inefficient and often resulted in delays of the guardianship appointment, which lead to delays in care, discharge, and extended stays at the hospital.
"We knew that there was a problem with our guardianship process, but we were not as sure how to fix it," says Wendoly Langlois, associate general counsel. "The academy provided the opportunity to collect and show data and work with stakeholders across the hospital to improve the process."
To help solve this problem, Langlois and her colleague Dianne Yacovone, assistant general counsel, proposed retaining outside counsel who focus on guardianship issues. The outside counsel's expertise and focus would help guardianship cases move more quickly through the court system, which in turn would help patients get necessary care quickly and save families from having to navigate the court process alone, at a time when they should be with their loved one.
In addition, the data showed that approximately half the patients going through the guardianship process had a previous hospital stay where they could have appointed a health care proxy, or would have been able to appoint a proxy earlier in their stay. As a result, they created a guardianship group that meets weekly to review cases where a patient might potentially need a guardian. The group – which consists of representatives from Legal, Strategy, Case Management, Psychiatry, Social Work, and other areas – reviews the status of patients who are here for more than five days, as these are the patients most likely to require guardianship. Members of the group and other clinical staff can also request reviews of certain cases to help patients get guardians. The goal of the group is to start working with patients early, so that they can appoint a proxy and the guardianship process can proceed efficiently when necessary.
Since the project launched in April, data has already showed a reduction in median length of stay for patients with guardians from 98 days to 32 days, indicating that patients are being appointed guardians and receiving necessary levels of care faster. Data also shows that this translates into increased cost savings for the hospital and increased satisfaction for both patients and families.
Phase two of the project will include working with clinical teams across the hospital to help make the use of health care proxies more widespread. This will entail patients appointing proxies while they still have capacity to make health care decisions for themselves. The proxy can then make decisions for the patient if they lose capacity. This makes getting proper care for patients even more efficient.
The group also plans to look at data around hospital acquired infection rates for patients with guardianship. They'll also be taking their data to present at the annual Institute for Healthcare Improvement National Forum, one of the country's top events for health care quality improvement.
Langlois and Yacovone credit the academy with helping them carry out their project and expand their view of quality improvement.
"We had generally heard about QI at BMC, but being part of the academy really opened our eyes to what it could be," says Yacovone. "Legal already touches a lot of areas at the hospital, but this gave us a new lens to engage with stakeholders and make change happen. We would recommend it to anyone who has an idea for a project that can benefit the hospital."
The Improvement Academy was launched in 2017 to create and support a culture of healthcare quality improvement (QI) engagement through accredited education, mentorship and administrative oversight. To learn more visit their website.
I Am Nurse and I Will Be Voting NO on Question 1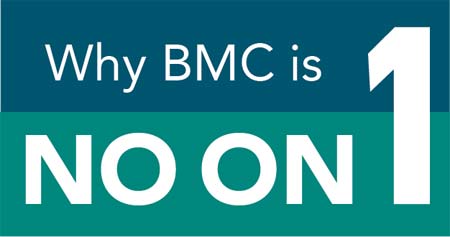 Published in the Duxbury Clipper on September 4
I am a lifelong resident of Duxbury and have never written a letter like this, but on November 6th Massachusetts voters will be asked to put into law nurse staffing ratios that would have devastating impact to patients, hospitals and communities. As a nurse at Boston Medical Center (BMC) for almost 20 years, I feel an obligation to make sure my neighbors understand why I am voting NO on Question 1. If Question 1 passes on November 6th and becomes law, it will make it harder for patients to access care and services, and will have a devastating financial impact on BMC and hospitals across the state. At BMC if Question 1 passes we will face immediate and devastating impacts including:
Our Emergency Department, which is the busiest provider of trauma and emergency services in New England, would have to reduce capacity by 100 patients a day.
800 expectant mothers, every year, would have to deliver their babies elsewhere, a 30% decrease in our deliveries, and all other hospitals would have similar service reductions, because there are not enough nurses in Massachusetts to meet the demand.
We would have to close a gap of $28 million annually, and to do so would have to cut services and programs that our patients and the community rely on.
Nurse staffing is critical and something that we focus on every single minute of every day as we consider patient complexity, the number of admissions, discharges, and transfers and the professional nursing experience and other staff skill level and expertise available at any given time. But there is a reason that every hospital in Massachusetts and professional nursing organizations in the state, including the Mass. chapters of the American Association of Nurses and Emergency Nurses Association, oppose Question 1 - as healthcare professionals we all agree that an unnecessary government mandate would take decision making away from patient care teams including nurses, doctors and other clinicians.
Please take the time to learn more before you cast your vote on November 6th - https://www.protectpatientsafety.com/. I hope you will join me in voting NO on Question 1 on November 6th.
Sincerely,
Christine DeAngelis, RN
If passed into law in November, Question 1 regarding rigid nurse staffing ratios would have devastating impacts to BMC and our nurses, as well as significant ramifications statewide including decreased access for patients, increased costs, and nursing shortages. For more information on potential impacts and what you can do, visit the No on 1 intranet page.
Free Online Resources Will Help Organizations Support Employees and their Families Impacted by Addiction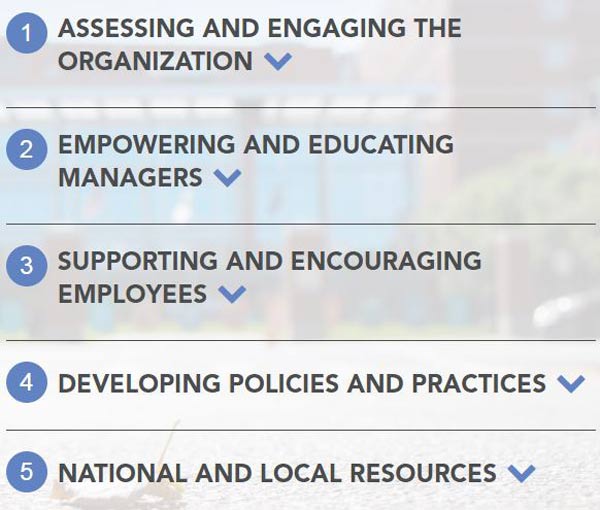 The Grayken Center for Addiction at Boston Medical Center recently made publically available a set of free online resources to help employers understand and address substance use disorders (SUD) in their workforce. The Employer Resource Library provides actionable steps that any organization can take to support employees who are dealing with their own or a family member's issues related to substance use disorders.
The library, which was launched on September 12 at a Greater Boston Chamber of Commerce session for employers, includes more than 25 downloadable documents that can be tailored by an organization and used to develop the supports needed to address important workforce issues.
"No workplace is immune to substance use disorders, and it is critical for organizations to prioritize this issue and provide resources that best support their employees' needs," said Lisa Kelly-Croswell, BMC's senior vice president and chief human resources officer, who led the development of this library with the Grayken team. "We hope that BMC's efforts and experience will help other employers confront this public health issue in a meaningful, non-judgmental way."
The Centers for Disease Control and Prevention estimate that more than 22 million Americans are struggling with a substance use disorder. Misuse of tobacco, alcohol, and illicit drugs costs the United States more than $740 billion annually as a result of crime, lost work productivity, and health care associated expenses related to these substances. And a recent report issued by the Massachusetts Department of Public Health indicates that opioid use disorder has a significant impact in the workplace throughout the state, particularly in industries where work-related injuries are more common.
The library of resources help employers address a range of issues related to substance use disorder in their workplace, including surveying employees about substance use and mental health disorders; working with health insurers to obtain adequate, evidence-based coverage for mental health and substance use disorder services in health plan policies; addressing stigma and creating a non-judgmental culture surrounding substance use disorders; and linking employers to resources both locally and nationally.
In evaluating its own employees' needs, BMC found that many employees have been affected either personally or within their family by issues related to mental health and substance use disorders. In response, BMC developed a set of resources, including a Mental Health and Addiction Resource Guide as well as a new support group that helps employees encourage a loved one to enter recovery. The drop-in group meets the third and fourth Monday of every month from 5:30 – 6:30 p.m. in the Shapiro Lobby conference room. Further, BMC created a cross-functional task force that is working to make improvements and expand programs that support employees, including developing manager trainings, a mentoring program, and new wellness sessions.
Awards and Accolades
Well Sense Named a Top Company to Work For in New Hampshire
Well Sense, Boston Medical Center Health Plan's New Hampshire business, was named a top company to work for in New Hampshire by Business New Hampshire Magazine for the second year in a row. Well Sense was recognized for its generous tuition reimbursement program, a professional mentoring program, and a robust community outreach atmosphere. In addition, a recent employee survey showed that ninety-eight percent of employees felt that the mission and purpose of the organization makes them feel that their job is important, and ninety-six percent of employees feel that their manager displays the behaviors and traits that are consistent with the company's values. 
News of Note
Our Commitment to Veterans
Boston Medical Center is passionate about adding more veterans to our workforce. In a public signing ceremony on September 21, BMC entered into a formal partnership with the United States Army Reserve to provide active Army reserve soldiers, veterans, and their family members with opportunities for training and development and connect them with careers at BMC. A memorandum of understanding was signed by Major General Troy Kok, Commanding General, 99th Readiness Division, and Kate Walsh, BMC President & CEO.
Major General Kok spoke about the Private Public Partnership program, which establishes mutually beneficial relationships between the U.S. Army Reserve and private and public sector organizations such as BMC, and acknowledged the veterans currently employed at BMC with commemorative coins.
See photos from the event and special pre-ceremony reception for current BMC veterans.
Return to BMC News