Meet Your Vice President: David Twitchell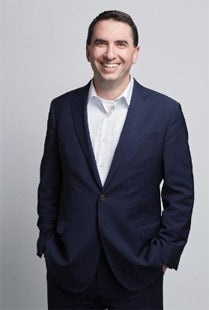 David Twitchell has a vision for pharmacy across the BMC Health System (BMCHS). In early 2017, Twitchell, then the vice president of Pharmacy, left BMC to take a role as co-founder and president of a specialty pharmacy company. In March 2018, missing the complexity of health care delivery and his "exceptional" Pharmacy team, he returned as vice president/chief pharmacy officer for the BMC Health System.
The BMC Brief sat down with Twitchell to learn more about his new role and his plans for Pharmacy at BMCHS.
Q: Your new role is vice president/chief pharmacy officer for the BMC Health System. What does that entail?
A: Whether it is on the hospital or health plan side, our pharmacy team is united in trying to increase the quality of care and help our patients and members achieve the best possible health outcomes. The challenge for us in pharmacy, and all of us across the system, is doing this in a way that also lowers the total medical expense.
At the hospital, my role is overseeing all of our pharmacy operations which includes inpatient, outpatient, retail, specialty, and mail-order pharmacy. At our health plan, a significant spend is related to the, pharmacy costs for members, so I am working closely with Phuong Pham, the pharmacy director at BMCHP and her team. We want health plan members to be satisfied with the pharmacy services we provide but also want to minimize the amount of care they need by keeping them as healthy as possible. Sometimes that means less drugs. Sometimes it means getting them very expensive drugs that keep them well enough to not access care as often, such as in the case of HIV.
Q: What are your top three priorities for pharmacy work across the system?
Growth. There are already substantial growth targets in place for retail and specialty pharmacy, and it's important to make sure we hit those goals and try to exceed them. We have an ever-more-challenging reimbursement environment in health care, and Pharmacy is a big way that we can thrive in it.
Continue to enhance alignment between Pharmacy programs and other programs, such as complex care management and the ACO, and the goals of those programs. I also want to continue to align Pharmacy goals with BMC goals. For example, Pharmacy develops at least a few dozen quality improvement initiatives each year, all of which are guided by the greater hospital goals.
Integration of the health plan and the provider side of pharmacy. The goal is to bring us all together and find ways we can leverage each other's expertise. The health plan and hospital have over 400 pharmacy employees, many of whom are deep experts in subspecialties. Our hospital team can work with the experts at the health plan create the right policies that will help us all work towards better outcomes for members, for example. And on the flip side, the health plan pharmacy team can help us learn how health plans think about covering certain medications.
Q: What are the advantages for our system in terms of growing our pharmacy services/offerings?
A: One is that the system gives us scalable infrastructure. For example, we have a mail-order facility that can fill 15,000 prescriptions a day. That infrastructure was needed to serve ourselves as a health system, but even if we served every patient in the system, we still have excess capacity. The beauty of that is we have scalable infrastructure that can be used to partner with others in Boston. If we brought in a thousand more prescriptions per day, for example, we wouldn't need any more equipment. Just a few more people.
The second is that it gives us a huge opportunity to prove that we're effective in population health management. I want Pharmacy to feel like it has a leadership role in helping to improve patient care, and if we're showing better outcomes for patients and lower total medical expense, that enables more growth. People will be interested in being part of a system that works and where they can learn from our experiences and expertise. We're going to build the infrastructure anyway, because we want to do a great job for our system, but if we do a great job, we can offer that to others and grow our partnerships.
Q: How does the hospital and health plan currently work together to advance our pharmacy strategy? How do you see this evolving?
A: The first step towards collaboration is that the BMC specialty pharmacy, Cornerstone, became the preferred specialty pharmacy provider for BMCHP. That was a very big step that went live in February 2018.
Another collaboration that I'd like to build on is that we currently have a BMC pharmacist on the formulary committee for BMCHP. Phuong, the director of pharmacy at BMCHP, was looking for a strong generalist to provide insight into formulary decisions they were making at the plan. They had traditionally gone out into the community and found pharmacists. But she came up with the idea of having one of our pharmacists fill that role. It's a great first step and we will find more areas where we can use each other as resources.
How does Pharmacy work to help patients?
Each type of pharmacist plays a unique role.
Retail pharmacists
Make sure the drugs that patients are prescribed are safe and effective
Clarify the provider's intent and directions
Specialty pharmacists
Like a retail setting, with much lower volume of prescriptions
Spend most of their time talking directly to patients and providing support for expensive and complex medication regimes
Ambulatory pharmacists
Embedded in clinics, where they see a schedule of patients
Largely responsible for medication management and education
Have prescribing authority under collaborative practice agreements
Offer medication consults for providers
Inpatient pharmacists
Coupled with medical teams and round on inpatients
Help with medical decision-making
Includes a residency and training program
Health plan pharmacists
Develops policies and guidelines around medication use
Ensure safe, cost effective access to medication for all our members
Q: How can Pharmacy help our ACO partners?
A: One piece is complex care management, where we have a pharmacists embedded in teams that care for our highest-risk ACO patients.
Another is that we have embedded employees in many of our ACO partner sites. This allows us access to the patients – meaning we have a constant, regular way to check in with them.
For example, we had a case manager who was checking with an external pharmacy each month to see if a patient was getting their medication. The pharmacy always said yes. When the patient started using our internal pharmacy, they had a conversation with a pharmacist. It turned out that the patient stopped taking their medication six months ago but was still filling the prescription to save it up in case he went back on it. The physician had no idea the patient wasn't taking the medication.
Being able to have that type of regular connection with them and build trust means that we can be aware of issues much more quickly. It's very valuable to have another regular touchpoint with the patient, where we have another opportunity to make sure they're doing well and intervene if they're not.
Go to Top
How BMC is Working to Address Disparities in Pre-and-Postnatal Health Outcomes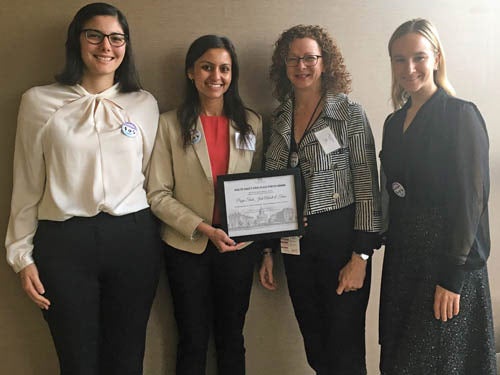 The increased health risks for black mothers and babies in the United States has reached a crisis point, as the New York Times and others have reported. This has been a problem since the mid-1980s, when infant mortality was rising in the U.S. even as it decreased worldwide. In Boston, from 1984 to 1985, black infant mortality rose 32 percent. Since that time, medical professionals, community organizations, and policymakers have been able to make changes in recent decades to bring the rate of black infant deaths and the comparative rates of black to white infant deaths to the lowest in the country.
This coalition has been particularly important and successful at Boston Medical Center, which provides care for 70 percent of the city's black and Latina mothers. The hospital's unique, patient-centered programs in what were previously the most at-risk neighborhoods of Roxbury, Mattapan, and Dorchester have made a significant difference in reducing mortality and morbidity among the patients we serve.
One provider leading a team working on reducing disparities in prenatal morbidity and mortality and improving outcomes for both new mothers and their babies is Jodi Abbott, MD, MHCM, a Maternal Fetal Medicine clinician researcher. Their work is part of national and international research around hypertension and preeclampsia (a type of high blood pressure that can develop during pregnancy) as major causes of preterm birth. This is particularly true at BMC, where the rate of preeclampsia is 30 percent, compared with 2-5 percent nationally.
One intervention that has been shown to help prevent preterm birth and reduce morbidity and mortality in expectant mothers is low-dose (81 milligram) aspirin, which can decrease high blood pressure. Although the U.S. Preventive Task Force recommends that high-risk pregnant mothers take low-dose aspirin, there's still a lack of awareness from both the general public and those in the medical community.
"A high dose of aspirin, like for a headache, is not recommended for pregnant women," says Abbott. "That leads many people to think a low dose isn't safe either. It can be hard for pregnant women to figure out what to do, because they hear lots of advice, from family, friends, and sometimes providers and pharmacists, that aspirin isn't safe."
Because of this misconception, Abbott and a team of researchers, physicians, and a project manager, put together an education program and public health campaign to help people understand how important it is to prevent harm for both mother and baby and what's safe to take. The campaign includes posters, fact sheets, videos, and other resources available for patients and providers.
One component of the campaign is direct patient education. This involves making sure pregnant women know what's safe for them to take, but also making sure that women know the risk factors and symptoms of high blood pressure in pregnancy. The team has also trained patient ambassadors for peer-to-peer education about aspirin in pregnancy.
Another component is an education program and resources aimed at providers, including nurses, midwives, and physicians, mainly in family medicine and obstetrics and gynecology. These educational programs and resources have been rolled out at BMC and affiliated community health centers.
In addition, the campaign includes educational programs for pharmacists – locally and nationally – to help them understand their role in addressing the public health crisis of maternal mortality. Because pharmacists often fill prescriptions for aspirin (or see women buying it over-the-counter), they play an important part in ensuring at-risk mothers get the care and medications they need. To this end, Abbott and her team have presented at pharmacy industry meetings and have partnered with CVS, Walgreens, Rite Aid, and Walmart pharmacies to educate pharmacists around the country.
Abbott and her team have also partnered with organizations such as the March of Dimes, Boston Public Health Commission, Community Action Network, and Head Start to disseminate their materials more widely. These community partners help ensure that pregnant women will hear the correct recommendations no matter where they go for advice.
"When we first started, we found that patients who were getting prescriptions were wary of taking it," says Abbott. "And because pharmacists and providers were often not aware of the recommendations, or were skeptical of them, patients weren't getting the support and education they needed. Now, we have increased awareness that providers will give the proper recommendations and support to patients. Our staff members have taken a great opportunity to be educators and champions for improving the health of the patients we serve."
Now, 90 percent of the highest-risk patients at BMC are prescribed low-dose aspirin, as are 40 percent of high-risk patients. While patient adherence to the regimen is not as high as they want it to be, says Abbott, it is improving across the board.
In addition, the team was awarded the first prize poster award at the recent Boston University Medical Campus Health Equity Symposium. The award, determined by a group of judges that included the World Health Organization chair of the Social Determinants of Health, was given based on the project's impact and innovation.
"When preventive health works, it often doesn't make the news," says Abbott. "Happy normal outcomes aren't necessarily perceived as 'rescues' of babies, but in some cases, they are. We are proud of what we're doing at BMC to reduce harm to Black mothers and babies and our role as national leaders in improving care for black mothers."
Go to Top
Director of NIDA Provides History Lesson and Ways Forward for Substance Use Disorders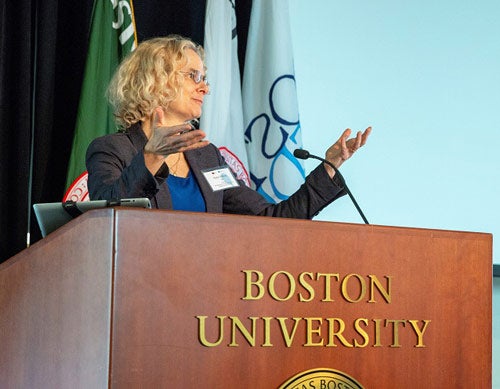 How do researchers and doctors create sustainable interventions for addictions? That question framed a recent talk by Nora Volkow, MD, director of the National Institute on Drug Abuse (NIDA), during the 7th Annual Translational Science Symposium held at Boston University School of Medicine.
Volkow began by giving a history of the current opioid epidemic, beginning in the 1990s when a new medical focus on treating pain first appeared.
"Doctors had good intentions, but the system didn't provide much guidance or education," said Volkow.
Because of this lack of guidance, many doctors were influenced by pharmaceutical companies on how to use the products, beholden to reimbursement models that encouraged prescribing, and taking care of patients who expected complete relief from their pain. This was the beginning of the epidemic, with opioid prescriptions rising from 1999 to 2010.
At the time, the prevailing thinking was that opioids were not addictive, but now, research shows that giving opioids for more than one week can have significant consequences. Volkow gave an overview of the science of addiction and how opioids activate our rewards systems, making it harder for people to make decisions based on long-term rewards. She also noted other ways the rewards system is disrupted, such as growing up in an environment with lots of stressors. These other disruptors have the same effect on decision-making, so it's important for the health care system to keep them in mind when discussing how addition starts.
Since the beginnings in the 1990s, the crisis has transformed. While prescription pills were an initial driver in the beginning, and remain a major factor, prescribing began to drop in 2010. Now, heroin use has increased, and fentanyl, which is 50 times more potent than heroin, has become a major problem.
"We need to address issues with prescriptions, but that will no longer be sufficient," said Volkow. "The dynamics of the epidemic have changed rapidly, and people are now starting with heroin. We can't just keep doing what we've been doing."
Volkow also addressed the changing dynamics of who the epidemic is affecting, noting, for example, that women are more likely to overdose in their 40s. There have also been significant increases for African Americans, Hispanics, and young adults
We're seeing more diversity in who's affected," said Volkow. "This makes it a more challenging problem. We need to understand the different natures of the problem and tailor our interventions."
Volkow then outlined the approach taken by the National Institutes of Health (NIH) as a whole, and NIDA specifically. She noted NIDA's importance in facilitating resources and helping to integrate the work scientists across the country are doing to help find new ways to prevent and treat substance use disorders.
NIH's research and resources focus on three areas: pain management, treatment for substance use disorders, and overdose reversal.
In terms of pain management, Volkow stressed the importance of recognizing that we still need to help people with chronic pain, and maximize the benefits of medication for them while minimizing risk. To that end, NIH is looking for safe, effective therapies for pain, including non-opioid pain relievers, non-addictive opioids, and non-pharmaceutical treatment.
Regarding treatment, Volkow discussed medication-assisted treatment (often referred to as MAT) and how both the stigma around it and lack of infrastructure keep patients from getting this important treatment. While there are currently three types of MAT, Volkow hopes that more will be discovered. She also discussed the importance of utilizing natural intervention points, including emergency departments and prisons.
However, Volkow also acknowledged the difficulties of getting people into treatment.
"Many people don't think they need treatment, so we can't engage them," she said. "It doesn't matter how many medications we have if people won't use them. We need better metrics to understand what the landscape is. We need to follow up on interventions to see what works and what's most cost-effective. Addiction needs to be treated in ways that optimize success."
Even with the push for more effective treatments, Volkow recognized that prevention is the most important intervention. It necessitates a cultural shift, to work with communities and other systems to provide people with the supports they need. Mental health treatment also needs to play a larger role in this area.
While the opioid epidemic is a challenge, Vollkow says that science is ready for it.
"If we weren't ambitious, we would never have reached the moon or done so many other things. We have the science to make a difference in this area."
The Annual Translational Science Symposium is hosted by the Boston University Clinical and Translational Science Institute and the BMC Grayken Center for Addiction.
Go to Top
BMC Showcases Leadership in Community Health Work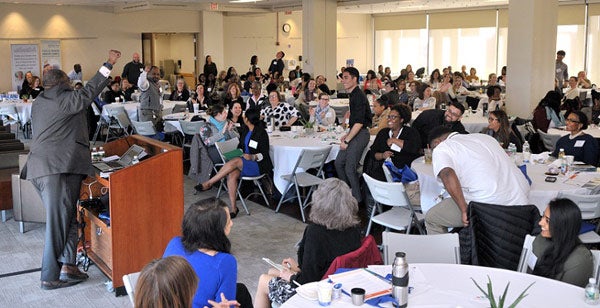 Community health workers are a diverse group. Working with a variety of ages and organizations, they are patient navigators, care coordinators, case managers, and a number of other roles that meet the needs of the community. But what they all have in common is their work to support patients through their health care journey and their unique understanding of the culture in which they work. With the expansion of accountable care organizations creating even more roles for community health workers at hospitals, a group of nearly 200 gathered in the Hiebert Lounge to discuss their role in health care and learn from BMC's expertise in this area.
The Community Health Workers Symposium began in 2016 with the goal of leveraging the programs and resources at BMC and giving community health workers a space to network and share best practices. Because BMC has longstanding programs in this area, it was natural for the hospital to bring people together. One speaker, Linda Sprague Martinez, PhD, Assistant Professor, Boston University School of Social Work, corroborated this, noting that most of BMC's programs to address social determinants of health have been in place for more than a decade.
This year, the event focused on the ACO and how community health workers fit into the new health care landscape. Several speakers noted how BMC can leverage existing programs and break down the traditional silos in care to get patients healthy and keep them well. For example, BMC's new complex care management program brings together nurses and community wellness advocates to help address the needs of the highest-risk patients served by our ACO. BMC is also unique in how it involves community health workers in setting the strategy that they will then be a major part of. While community health workers have long been part of BMC, the complex care management teams are still evolving and learning best practices, says Thea James, MD, associate chief medical officer and vice president of mission.
"We know that only 12 percent of health care happens in the hospital, with the rest out in communities. While BMC has historically been responsive to addressing social determinants of health, there's now a hospital-wide acknowledgment that we need to do this more systematically," says Katie Finn, program manager, Cancer Center Patient Navigation, who helped plan the event. "That way, we can have more of an impact on health."
Community health workers have a unique ability to significantly affect people's lives. And because so much of health care takes place in the community, it's essential that the medical community can move between the hospital and where people live.
Though community health workers have played an essential role in public health and health care for a very long time, there's a lot of new attention on community health workers," says Madi Wachman, MSW, MPH, program manager at THE Boston University School of Social Work's Center for Innovation in Social Work and Health, who also helped plan the event. "But events like this help us share how to keep our work grounded in social justice and close to the community as we move forward."
Awards and Accolades
BMC Named a Top 100 Great Hospital
For the second year in a row, BMC was named one of Becker's Hospital Review's "100 Great Hospitals in America." Hospitals are chosen for this award based on their excellence in clinical care, patient outcomes, and staff and physician satisfaction. These institutions are industry leaders that have achieved advanced accreditation and certification in several specialties, as well as their innovation.
BMC Nurses Honored in Annual Salute to Nurses
Over 30 BMC nurses were nominated for The Boston Globe's 2018 Salute to Nurses. Nurses are nominated by patients, families, and colleagues for their dedication to and care for their patients.
In addition, the Office Based Addiction Treatment Program (OBAT)'s nursing team was featured on the cover of the Salute to Nurses feature. The team evaluates patients with substance use disorders and provides them with the support they need to make strides in their recovery.
Bob Biggio Wins National Visionary Leader Award
Bob Biggio, senior vice president of facilities and support services, received the 2018 Practice Greenhealth National Visionary Leader Award. The award recognizes his leadership and innovation in addressing the connections between human and environmental health and driving sustainability at BMC and in the general health care sector.
Thea James, MD, Wins AMA Foundation National Pride in Profession Award
Thea James, MD, associate chief medical officer and vice president of mission, has received the 2018 American Medical Association Foundation National Pride in Profession Award. The award recognizes James's representation of the highest values of altruism, compassion, and dedication to patient care throughout her career.
BMC Communications and Marketing Department Wins Seven Lamplighter Awards
The Communications and Marketing Department has received seven Lamplighter Awards from the New England Society for Healthcare Communications. The awards recognize excellence in communications, media relations, and marketing by New England healthcare institutions, health plans and agencies. BMC won an award for internal periodicals, two awards for media relations, two awards for videos, an award for the launch of the Grayken Center for Addiction, and an award for service line marketing.
BMC Named Plan Sponsor of the Year
BMC has been named Plan Sponsor of the Year by PlanSponsor, an organization that provides information and resources for retirement benefits decision makers. The award recognizes BMC commitment to providing employees with comprehensive retirement resources and education for every stage of retirement planning.  
ICOUGH Recovery App Wins ECRI Institute Health Device Achievement Award
BMC's ICOUGH Recovery smartphone app has won the ECRI Institute 2018 Health Device Achievement Award, which recognizes innovative and effective initiatives undertaken by ECRI member institutions to improve patient safety, reduce costs, or otherwise facilitate better strategic management of health technology.
The app, which was conceived, designed and implemented by Andrew Chu, MD and Samir Harron, MD, when they were medical students at Boston University School of Medicine, guides patients through the steps of the "ICOUGH" pulmonary care protocol.  It sends notifications to the patients' phones reminding them to perform certain activities, and incorporates social-support features to promote adherence to the protocol.
Boston Breastfeeding Coalition Honored with Community Connections Award
The Boston Breastfeeding Coalition, which is part of BMC's Vital Village Network, was awarded the Community Connections Award at the MIT "Make the Breast Pump, Not Suck" Hackathon. The award was given for their work in seeking to foster community and support around breastfeeding, as well as fostering connections in the breastfeeding community from providers to patients.
Scott Hadland Receives APA Young Investigator Award
Scott Hadland, MD, MPH, MS, a BMC pediatrician, was one of 10 recipients of the 2018 Young Investigator Award from the Academic Pediatric Association. The award honors Hadland's work in developing a collaborative care model of office-based opioid treatment for adolescents.
Ali Guermazi, MD, PhD, Receives Osteoarthritis Research Society International Clinical Research Award
Ali Guermazi, MD, PhD, vice chairman of academic affairs in the department of radiology at Boston Medical Center and assistant dean of diversity and professor of radiology at Boston University School of Medicine, is the recipient of the Osteoarthritis Research Society International Clinical Research Award for his outstanding work in the field of imaging. The OARSI Clinical Research Award recognizes excellence in clinical research related to osteoarthritis in areas all phases of research that have clinical implications. Guermazi is the first radiologist to receive this honor.
Boston University Honors Faculty with Educator of the Year Awards
Nine Boston University School of Medicine faculty members have been honored as Educators of the Year by the Committee on Faculty Affairs. The awards recognize BUSM educators who provide excellence in teaching and mentoring. Awards are given annually in the areas of pre-clinical sciences, clinical sciences, and graduate medical sciences. The nine honorees are:
Karen Harnett, PhD, Educator of the Year in Pre-Clinical Medical Sciences
Cullen Carter, MD, and Rachel Thompson, MD, Educators of the Year in Clinical Sciences at Boston Medical Center
Katie Lemieux, MD, Educator of the Year in Clinical Sciences at Kaiser Permanente (California)
R. James Koness, MD, Educator of the Year in Clinical Affiliates at Roger Williams Medical Center
Jude Deeney, PhD, Educator of the Year in Graduate Medical Sciences, Master's Program
Tarik Haydar, PhD, Educator of the Year in Graduate Medical Sciences, Doctoral Program
Darrell Kotton, MD, and Neil Ganem, PhD, Educators of the Year in Graduate Medical Sciences, Dissertation Advisors.
Return to BMC News