How to Have a Happy and Healthy 2018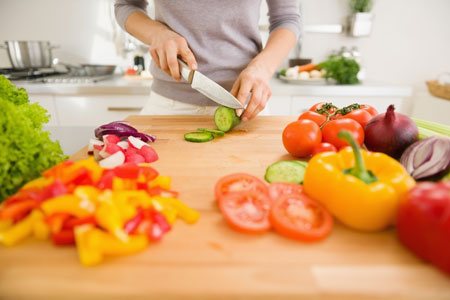 You hear the same question every year around January 1: what are your new year's resolutions? Whether you make specific resolutions, there are things we can all do to improve in the new year. Here are some tips from experts around the hospital on how to have a happier, healthier, and safer 2018.
Keep a consistent schedule of bedtime and wake-up time from day to day, on both weekdays and weekends. Aim for seven to eight hours of sleep a night. – Yelena Gorfinkel Pyatkevich, MD, neurologist
Stay active throughout the week. Sit less and walk more when possible at work and on your days off. You can use your smart phone activity app to count daily steps. Look at your step count for the week and aim to increase the weekly average by 10 percent in the coming year. – Gary Balady, MD, director of the Non-Invasive Cardiovascular Labs
To protect yourself and others from flu, first get yourself and your family vaccinated. Sanitize your hands frequently, including before and after patient content. You should also disinfect surfaces and objects – whether at home or at work – that could be contaminated with the flu virus. And stay home if you're sick. – Carol Sulis, MD, hospital epidemiologist
To eat healthier this year, take it slow. Set small goals that you can reach, like cooking dinner at home at least three times per week, then build it up along the way – you'll probably save money too! Don't forget to enjoy the food you eat. Taste the food before you swallow it, enjoying the flavors, smells, and textures. Not only will you appreciate your food more, but you'll also end up eating less of it, because it can take around 20 minutes for your brain to realize your stomach is full. – Tracey Burg, RD, LDN, Teaching Kitchen
Use strong, unique passwords for your accounts, even if it takes an app like PasswordSafe or LastPass to keep track of them all. Reusing passwords for important accounts is a recipe for identify theft. If your Twitter password is also your Facebook, email, and banking password, then when one gets hacked, they can all get hacked. – Christian Broughton, senior director of ITS operations
A major component of living an all-around healthier lifestyle is improving self-awareness. We have to do the things necessary and restorative after being immersed in the work we do. It is important to have a self-care plan, to spend time with yourself recognizing when you need time to rejuvenate, when you need time for a break and be sure to schedule it in. If necessary, seek outside help to develop a plan that makes sense for you. Additionally, when negative thoughts come rushing in don't give them space. Take charge by knowing that you are in control of you.  – Lovern Moseley, PhD, psychologist
Stay positive and choose kindness when difficult interactions happen. We can all help create an inclusive and respectful community for our patients, visitors, and most of all, for each other. – Laura Cocca, Benefits specialist
Medical Miracles on Harrison Ave: 578 Miles to a New Kidney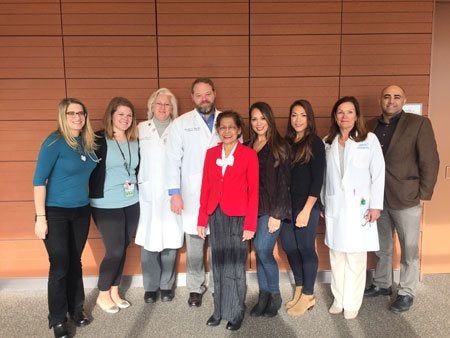 In the fall of 2016, Teresa rushed out of her house into her daughter's car and set out toward Interstate 95. Moments earlier she had received a call that a kidney was available for her at Boston Medical Center. For Teresa and her family, a new kidney would be the miracle she needed to get her life back after a decade on hemodialysis. The only thing that stood between her and her new life was 578 miles of highway. Teresa lives in Virginia.
"After the call, I said to my daughter, 'let's go!' We took a handful of clothes and jumped in the car. We had a short timeline. We had to be there in nine hours," remembers 64-year-old Teresa.
Thirteen years ago Teresa's life changed forever. It all started innocently enough with a case of swollen feet. Teresa didn't think much of it at first. She had just returned to the United States after a visit to the Philippines, a grueling 21-hour plane ride across the Pacific. But when the swelling persisted, she sought medical advice. Teresa was diagnosed with AL amyloidosis, a rare and life-threatening condition where abnormal proteins damage organs, tissues and nerves in the body. She needed specialized medical care immediately.
Although she has been a long-time resident of Virginia Beach, Virginia, Teresa chose Boston Medical Center for her treatment. BMC's Amyloidosis Center is the leading authority on amyloidosis in the world. Physicians at the medical center pioneered a life-saving stem cell transplantation procedure that has become the standard first-line therapy for the condition.
Teresa traveled with her grown daughters to Boston for the one-month treatment.
Despite the risks and hardship, Teresa maintained a good attitude with the help of her supportive family. "Life is not easy but you have to enjoy your life and embrace the good with the bad. I believe that God knows what's in store for us. You have to think positive," she says.
Thankfully, Teresa's treatment was a success. Her body no longer produced damaging amyloid proteins; however, her kidneys were left badly damaged from the disease and continued to fail. Without functioning kidneys she would need to rely on a hemodialysis machine to remove excess fluid and waste from her blood.
"Let me explain dialysis. It means getting to the clinic two hours before your appointment and waiting for a chair. The treatment itself is three hours long, and then you feel terrible for hours afterward. Imagine that for three days a week, every month, every year, for 10 years," explains Jean Francis, MD, director of the Kidney Transplant Program at BMC.
Work, hobbies and travel take a back seat to the treatments required to maintain health. The best option for end stage renal disease is a kidney transplant. Unfortunately, medical centers often refuse to consider amyloidosis patients for transplants. They worry about the risk of reoccurrence of the disease and the extent to which the disease has damaged other organs, especially the heart.
"Because BMC is the leading treatment center for amyloidosis, we are specially positioned to offer these patients hope. Working in coordination with our amyloid specialists, we have done many transplants for these patients and in my experience they do very, very well," explains Francis.
The BMC transplant team thought Teresa was a good candidate for a new kidney because she had been in remission for more than 10 years and her other organs were healthy. They put her name on the regional organ waiting list. Depending on blood type the usual wait for a kidney can be anywhere between four and seven years, but Francis warned Teresa it could only be a matter of weeks until she received the call. For kidneys, recipients' wait times begin when they start hemodialysis. So essentially, Teresa had already been on the waiting list for 10 years.
It was, in fact, just weeks when Teresa found herself racing up the interstate to BMC with her daughter.
"She is a miracle, honestly," remarks Francis. "Everything came together. Her new kidney started making urine while we were in surgery. Within five days she was released from the hospital."
Teresa and her daughters stayed in Boston for one month after the transplant to make sure no medical complications cropped up. A year later Teresa is flourishing. She has replaced hemodialysis with early morning walks in her neighborhood courtyard and is looking for part-time work.
"I am so grateful to all the doctors and nurses that took care of me at BMC. Today I feel great," she beams.
To read more stories like this, check out Inspire, the Development Office's newsletter. 
Reflecting on Martin Luther King Jr.'s Legacy, From the Soul
How much are we willing to suffer and sacrifice for justice? That was the question posed by Jonathan Woodson, MD, Director of the Institute for Health System Innovation and Policy at Boston University and speaker at this year's Martin Luther King Jr. event. Woodson closed his speech by challenging those in the room to live up to the values that King espoused, even if it creates potential for personal loss.
When speaking about the legacy of Dr. King, Woodson started with a deeply personal approach, describing his life during the days of MLK. From facing violence during the desegregation and busing crisis in New York City, to seeing his sister come home from protests after school, Woodson found his life deeply entwined in the narrative of the civil rights movement. King was a hero to his family, and they kept his portrait hung up in their home.
After medical school, Woodson served as a vascular surgeon at Boston Medical Center, and professor of surgery at BU School of Medicine. He rose through the ranks of the armed services, holding the rank of brigadier general in the US Army Reserves, and served as assistant secretary of defense for health affairs in the U.S. Department of Defense from 2010 to 2016. He recalled the moment his father and uncle, who both served in the military when troops were segregated, got to see him earn the rank of captain, and how emotional it made them.
When Woodson thinks about the success he's seen in comparison to the struggles of his parents and grandparents, he's grateful for the progress that has been made, but recognizes the need for change now. He suggested looking at the challenges of today through the lens of King, and asking "what would MLK do?" He noted how young King was when he began leading boycotts and marches, and points to youth activism as a way to create energy and speed up the pace of change today.                                 
Woodson also touched on King's legacy of supporting all oppressed groups, not just those working towards African American civil rights. He pointed to King's letter from a Birmingham jail to argue for having mutual responsibility for others, helping even when it is inconvenient, and the power of making people uncomfortable with the status quo.
Woodson often came back to the theme of how we should think about the legacy of King, and other civil rights leaders. Woodson argued that their legacies can't fully be understood by someone logically or without passion, but must be done through the soul. By looking at MLK's legacy through his soul, Woodson gave the crowd insight about how the struggles and successes of the past can be used to find strength and optimism for the future.
What do you do, Jennifer Plummer?
Name:Jennifer Plummer, BSN, RN
Title: Nurse manager, 3-West Intermediate Care Unit (IMCU)
Time at BMC: Two years
Q: What do you do at BMC?
A: Nurse managers wear a lot of hats. I'm in charge of the daily operations of the IMCU, which means I manage other nurses and oversee patient care. I do scheduling for the unit, audit charts, and assist with any issues that arise. I also hire staff and deal with logistics around moving patients. There are a lot of administrative duties, but I like being on the unit, rounding on patients and talking to staff.
The most important and fun part of my job is working with my team to help them utilize their strengths to perform to the best of their abilities. I do a lot of motivating, coaching, and guiding staff to help with this.
Q: What brought you to BMC?
A: I worked in the Emergency Department at Partners hospitals for a long time. Then I moved to a small community hospital, but that wasn't a good fit. I realized that I really like working at an academic medical center and being part of the teaching aspect. I was drawn to BMC in particular because of the mission and the patients the hospital serves.
Q: You recently won a DAISY Award – the first Nurse Leader DAISY given at BMC. What is the award and what does it mean to you?
A: The DAISY Award was established in honor of a man who died of an autoimmune disease at age 33 – his family set up the award to recognize extraordinary nurses. I was the first nurse leader winner, but we've had many staff nurses win DAISY Awards as well.
Having my staff nominate me was really moving. They wrote a beautiful letter that meant a lot to me.
After being on the floor providing direct care for so many years, I was able to figure out what I wanted in a leader and I try to be that leader every day. I want to help my staff reach their full potential, and for them to feel valued, heard, and appreciated.
Q: What was one of your most rewarding days at BMC?
A: One of the best things I've done here is when we had a woman on our unit who was near the end of her life. Her sister was also nearing the end of her life, on the Newton campus. I got a wheelchair and took the woman from our unit over to see her sister, so they didn't die without seeing each other one last time. They were so happy and their daughters were really happy as well.
Q: What do you like most about working at BMC?
A: I love BMC's diversity. I learn so much from my patients and everything they've gone through.
I also love the nurses I work with. They work so closely together and are so supportive of each other.
Q: What do you do for fun outside of work?
A: I go to SoulCycle and do hot yoga. I also spend time with my family. My two daughters, my husband, and I like to take big trips a few times a year. We went to Sweden, Norway, and Denmark last year and are going to Costa Rica in April.
To learn more about Jennifer and watch a video of her receiving her award, check out the Nursing newsletter.
Awards and Accolades
Two Articles by BMC Employees Are JAMA "Most Talked About in 2017"
An article co-authored by Neelam Vashi, MD, Department of Dermatology, entitled "The Most Beautiful People: Evolving Standards of Beauty" was named to JAMA Dermatology's list of most talked about articles in 2017. The research letter, which was published in December, used People Magazine to compare standards of beauty in 1990 to current standards.
In addition, a study by Scott Hadland, MD, pediatrician who treats patients with addiction, entitled "Trends in Receipt of Buprenorphine and Naltrexone for Opioid Use Disorder Among Adolescents and Young Adults, 2001-2014," was one of JAMA Pediatrics' most talked about articles in 2017. The article, which was published in the August issue, looked at how often youth with opioid use disorder receive buprenorphine or naltrexone and how has this changed over time.
BMC Project Wins Best Instructional Exhibit Award
A group of Boston Medical Center employees won the Best Instructional Exhibit award at the 2017 Post-Graduate Assembly in Anesthesiology for their exhibit "Lessons in Patient Safety: Stories, Analogies, and the Multimedia Effect." The exhibit showcased their novel approach to teaching complex concepts in patient safety using illustrated and narrated stories.
The stories will be part of a multimedia-enhanced patient safety book authored by Boston Medical Center and BU School of Medicine employees and students. Keith Lewis, MD, chief of the Department of Anesthesiology, Robert Canelli, MD, an intensivist, and Rafael Ortega, MD, an anesthesiologist, are co-editing the book. Howard Bauchner, MD, editor-in-chief of JAMA, is writing the foreword.
IRB Receives Accreditation with Distinction from the AAHRPP
Boston Medical Center's Institutional Review Board (IRB), which is shared with Boston University School of Medicine, BU School of Public Health, and the Goldman School of Dental Medicine, has been awarded accreditation with distinction from the Association for the Accreditation of Human Research Protection Programs. The distinction recognizes researchers' and IRB board members' sensitivity to and understanding of the vulnerable populations BMC serves, the extensive efforts researchers make to protect research participants, and the consideration researchers give to community context when designing and choosing studies.
News of Note
85 E. Concord St. Competes for No Elevator December
In December, employees in 85 E. Concord St. took steps – literally – to help BMC meet its vision of making Boston the healthiest urban population in the world by 2030 with "No Elevator December." Throughout the month, employees competed to see who could climb the most flights of stairs. Altogether, the building climbed 16,090 flights of stairs. The floor that climbed the most stairs was the 5th floor, with 5203 flights of stairs. The individual winner was Iesha Josma, a manager in Patient Financial Services, who climbed 727 flights of stairs.
Josh Safer, MD, Named President of USPATH
Josh Safer, MD, an endocrinologist and medical director of the Center for Transgender Medicine and Surgery, was elected the first president of USPATH, the newly formed United States transgender medical professional organization. USPATH is part of the World Professional Association for Transgender Health (WPATH).
Return to BMC News