The BMC Brief Volume 6, Issue 8
Boston Medical Center is known for the many programs and services it provides to people who have immigrated to the United States. But the hospital's diverse patient population inspires more than programs here – it has inspired many staff members to pursue work around the world. From Zambia to South America to Haiti, from surgery to neurology, these are a few of the stories of employees who have created connections and cared for patients internationally.
Welcome to the Second Annual International Issue!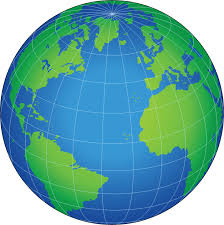 Boston Medical Center is known for the many programs and services it provides to people who have immigrated to the United States. But the hospital's diverse patient population inspires more than programs here – it has inspired many staff members to pursue work around the world. From Zambia to South America to Haiti, from surgery to neurology, these are a few of the stories of employees who have created connections and cared for patients internationally. 
In Country with Few Neurologists, BMC Provides Education and Resources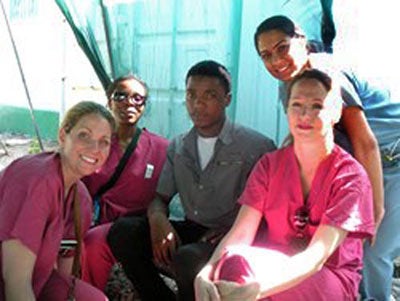 After a 7.0 magnitude earthquake rocked Haiti in 2010, BMC employees kept hearing from patients with ties to the country about the gravity of the situation. The American Association of Neurology had begun sending neurologists to Haiti post-earthquake to help, but these doctors were only in private practices, not in hospitals. Employees in the Department of Neurology at BMC were inspired by their patients' stories and felt like they could do more to help – especially because the entire country of Haiti had only two neurologists.
Beginning four years ago, they partnered with the AAN to send BMC neurologists, nurses, and residents to Port-au-Prince, the capital of Haiti. The goal of the visits is not only to provide clinical care but to teach Haitian providers how to manage neurology cases, such as seizures and strokes.
"Doctors and nurses were trying to perform intensive care unit-level care, but there was no ICU," says Anna Hohler, MD, who went on that first trip as an attending physician. "They didn't always have basic equipment and supplies like blood pressure machines or IV fluids and medications. But year after year, things got a little better."
"The first year, it was hard for people to trust us," says Marie Auguste, RN, a nurse who also went on the trip. "They thought we would only come once, but we gained their trust when we kept coming back. Every year, we see that the doctors in Haiti are able to do more for the patients and the parents learning to do more for their children."
For the last four years, a group from BMC has spent a week in Haiti at a pediatric hospital and an adult hospital in Port-au-Prince. They provide care to patients in both hospitals, and also educational courses to doctors and nurses. Most of their work in the pediatric hospital focuses on seizure disorders, while work at the adult hospital is largely with patients who have had strokes. Two years ago, they also began working at a rehabilitation hospital to help expand services for stroke victims and set up a pediatric and adult outpatient clinics to allow for better continuity of care.
"Our goal is to help ensure that patients in Haiti get the same level of care as patients get here," says Hohler. "There are limited resources, but we can provide a lot of education on how providers who are not neurologists can best care for patients with neurological issues. Everyone is very eager to learn."
Two years ago the neurology group partnered with the BMC physical therapists to expand the care that they provide in Haiti.  Eventually, the group hopes to be able to go to Haiti more than once a year, so they can provide even more education at nursing and medical schools. They also would like to bring additional therapists and other specialists. Last year, a neurologist from Haiti came to BMC for a month, and they hope to bring more doctors from Haiti to BMC to learn. Auguste and Hohler say there is great interest among the doctors they work with in Haiti, but little money for them to make the trip.
The trips to Haiti are educational not just for the doctors there, but also for BMC providers.
"These trips are informative for all of us," says Hohler. It gives us a better perspective about the health care systems. We practice more efficiently and effectively now, because we have a greater awareness of how to practice with limited resources."
"It's good for the residents to see how other places do things differently," adds Auguste. "It also teaches them how to recognize and get out of a situation where something has been done wrong. For example, when we first went to Haiti, we saw patients with seizures who were being given muscle relaxers. We knew that wasn't what the patients needed, and residents could help wean them off the medicines and get them on the correct seizure medications."
The trips also expand BMC beyond Boston. For example, one patient the team treated in Haiti had previously been treated for a stroke by a BMC resident in Boston. In Haiti, he was able to recognize the former resident who had treated him in Boston. That resident is now a faculty physician at Stanford who brings some of her own residents to work in Haiti, expanding BMC's mission and values across the country and world.
The Department of Neurology's trips to Haiti are funded by donations. For more information and to donate, visit the Neurology Global Health Initiative website. 
Residents Practice Global Health at Home and Abroad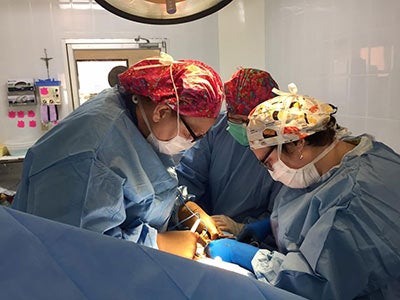 It can be hard to get a good cancer diagnosis in many parts of Guatemala. The tests to diagnose cancer most effectively and efficiently are expensive and there aren't enough trained pathologists to interpret the tests. People can go a long time without receiving a proper diagnosis.
Edward Briercheck, MD, PhD, hopes to help solve this problem by working with a team at the INCAN Cancer Hospital in Guatemala City to develop a cheaper, easier-to-use genetic test that can sequence tumors and help diagnosis different types of cancer.
But Briercheck is not a full-time cancer researcher, nor does he live in Guatemala. Rather, he is a third year resident in the Internal Medicine global health pathway who is using his experience in the program and his PhD to help solve medical problems across the globe. When he finishes his residency next year, he will be headed back to Guatemala to continue his work on this crucial problem.
Briercheck is one of many residents over the last five years who have gone through the pathway and learned to incorporate a global perspective into the care they provide.
"Global health fits with BMC's mission to improve health equity," says James Hudspeth, the director of the global health pathway. "There is a lot of inequity within our society and even more across societies. Equity-minded people are more likely to want to tackle inequity abroad as well. A global health focus allows us to work on all angles of health inequity and create small shifts that have big impacts."
Any internal medicine resident can apply for the pathway during their intern (first) year as a resident; two to four residents are selected every year. The first part of the pathway is a three-week immersion course in India, where residents observe a variety of health care sites as a springboard for a larger discussion of different health care systems and an examination of the components of global health. This discussion serves as a framework for the entire two-year pathway. Throughout the next two years of their residencies, the residents in the global health pathway have monthly discussion groups, help run a blog on global health, and conduct an academic project in global health.
The required academic project sends residents all over the global for research, education, or clinical work. They have gone to places as varied as Mexico, Botswana, Guatemala, India, and Liberia. One resident even worked on Native American reservations with the Indian Health Service, an example of practicing global health in the United States.
Over half of BMC's patient population was born in other countries, and many patients come to the United States specifically for care at BMC. Therefore, practicing global health for our residents can mean practicing here in Boston. Most global health residents also work at the refugee clinic in primary care at the hospital as a way of making global health local.
"The pathway gives you more insight into where patients are coming from," says Briercheck. "You definitely have more awareness of diseases that you don't see as much in the United States, which helps you diagnose patients who have recently arrived from other countries. You also think more about what patients might be going back to if they go back to their home country. They won't always continue to get good care, so you need to think about tailoring treatment to that. You're constantly reminded of the barriers people face, but it's energizing."
Another goal of the global health pathway is to help bring together different groups working on global health in the BMC and Boston University communities. One way they're achieving this is with global health grand rounds, which will begin in September and be held every four to six weeks. The grand rounds are a collaboration between the global health pathway, BU Schools of Public Health, Medicine, and Dental Medicine.
"There was a desire to provide opportunities for faculty and residents to show others their ongoing projects and find collaborators," says Hudspeth. "The different schools and hospital have historically been separated, and our global health grand rounds are a way to bridge that gap."
Ideally, says Hudspeth, collaboration in Boston will lead to multidisciplinary international sites where BMC and BUSM can send different groups to provide education and clinical care. While this is still far in the future, it would be a natural outgrowth of the vibrant global health community at BMC.
You can learn more about the global health pathway on the program's blog.
A Valuable Lesson in Learning to Work with Less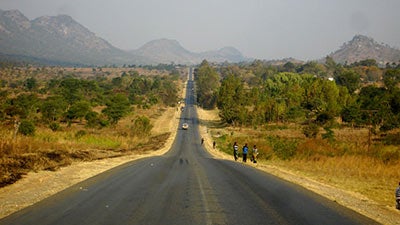 For many people, thinking about surgery conjures up visions of clean white walls and doctors calling out for another shiny instrument. But in many places across the world, surgery is much more difficult. Having fewer resources for surgery means that patients often have to travel further, wait longer, and may not have exactly what they need for optimal recovery. While surgeons in these locations learn to work with less, hospitals in Honduras and Zambia are also getting assistance from BMC's Department of Surgery.
"The opportunity to spend time abroad in settings with fewer resources is enriching and educational," says Thurston Drake, MD, an attending surgeon. "We get used to having it all here, and seeing how surgeons in other countries can work with a lot less is a great experience. It inspires motivation and teamwork. It's awe-inspiring to see some of the things patients go through and how they recover."
Drake and other colleagues in the Department of Surgery have partnered with the Boston University Center for Global Health and Development to set up trauma surgery training in two provinces in Zambia. The program they're developing builds on BMC's existing partnerships in maternal child health and infectious disease in Zambia and will ultimately give both residents and attending surgeons opportunities to go abroad.
The group is currently applying for a grant to start the program in Zambia; if all goes well, they plan to start performing surgery and training local surgeons in early 2018. While they plan to start with surgeons, the ultimate goal is to be able to bring nurses, anesthesiologists, physical therapists, and anyone else who makes surgeries and recovery happen.
While Drake and others are working to set up a trauma training program in Zambia, some of their colleagues are already working abroad.
Sabrina Sanchez, MD, spent a week in May in Honduras, performing surgery with a nonprofit that has a relationship with a local hospital. The group spends several weeks a year performing general, OB/GYN, and orthopedic surgery at a regional surgery center in Comayagua, working with hospital staff and volunteer interpreters from a local high school.
While this was Sanchez's first trip to Honduras as a surgeon, she has already signed up for next year's trip. This time, she plans to take residents and medical students with her, so that they can have an international experience while the Zambia program is being set up.
"We've seen that residents and medical students are interested in finding ways to give back," says Sanchez, an attending surgeon. "With these programs, we're able to create an opportunity for them to do so."
Drake and Sanchez see working abroad as a natural extension of the work being done at BMC.
"People come to work at BMC because they're interested in serving the underserved and addressing inequalities," says Sanchez. "Working abroad allows us to do that work on a larger scale, in countries with even greater inequity and fewer resources to serve medical needs."
According to Drake and Sanchez, international surgery experiences go beyond giving surgeons from the United States new experiences. True partnerships with hospitals in other countries would also involve bringing surgeons from those countries to the United States to learn.
"The more we can create bidirectional exchange the better," says Drake. "It's harder in surgery because it's hands-on, and obtaining the necessary credentialing for foreign trainees to participate in operations here in the U.S. is an extremely high hurdle, but creative solutions are necessary for long-lasting relationships. Everyone can benefit from seeing how medicine is practiced in a different culture."
What do you do, Kaissa Oulhadj?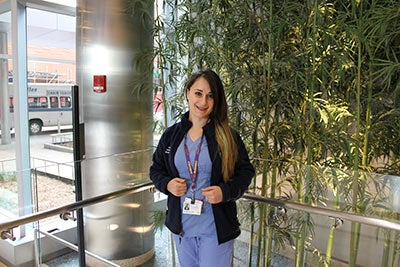 Kaissa Oulhadj can speak with patients in six languages. Kaissa is a medical assistant or practice assistant in the Endocrinology Department. She works with many types of patients, from those with diabetes to patients struggling with weight management or thyroid conditions.
"It's always very exciting because there's always something different to do," she says.
Kaissa's job varies depending on the day, but most of the time she assists the doctors and ensures the utmost comfort for her patients.
"It gets really, really busy and some patients can't sit for that long, so we make sure they're comfortable, whether that means sitting and talking or getting them water or a magazine," says Kaissa.
Kaissa first came to BMC as a patient and immediately fell in love.
"When I first came to the United States from Algeria four years ago, I came to the Shapiro Building to see a doctor," says Kaissa. "The customer service was amazing. I loved how they treated me personally. The doctor was really nice, and so was the staff. They were very interested and very caring. I just thought that I would love to work in an environment like that. When I came out of the doctor's office I told my sister I would be working here soon."
Kaissa's sister doubted her at first, as she didn't speak a word of English, but she quickly added English to the long list of languages that she speaks, which includes Berber, Arabic, French, Spanish, and Farsi. She has now been working at BMC for almost a year.
"When I first moved here I wanted to learn the language so badly, I went out and talked to people that I didn't even know, just with the few words that I knew I tried to make conversation," says Kaissa.
She has found that knowing many languages has been very helpful in her role at BMC, as it makes patients feel much more comfortable and often relieved.
"The look on a patient's face when I speak their language says it all," she says.
"I've worked at other hospitals in Boston, and I can tell the difference," says Kaissa. "BMC gives the opportunity for everyone to be treated – everyone can get the care that they want. This made me love BMC even more."
Colleagues often come to Kaissa when they are struggling to communicate with a patient, and it is very exciting for her to be able to help them.
Medical assistants are one of the backbones of a practice, says Kaissa.
"Without us, I don't think anything would work as efficiently. We build strong relationships with our doctors. The doctors in the Endocrinology clinic are the best. At the end of the day when I go home I know that my role is extremely important. It makes me happy to make others happy. I love my job. I am happy every morning, I know that I make a difference, and I'm pretty sure that my coworkers feel the same way."
Awards and Accolades
BMC Dentists Named to Top Dentists List
Six full-time and eight part-time BMC dentists have been named as "tops" in their respective fields on Boston Magazine's first Top Dentists list. 
News of Note
Faster Paths to Treatment Celebrates One Year Anniversary
Faster Paths to Treatment, BMC's substance use disorder urgent care center, recently celebrated its first anniversary. The center has served 1,404 patients during that time.
Return to BMC News