The Neuromuscular Disorder Program at Boston Medical Center provides consultation for inpatients and outpatients as well as a full range of state-of-the-art diagnostic testing modalities. The expertise of our board certified neurologists encompasses the full range of neuromuscular disorders and electrophysiological testing.
Areas of Expertise 
Peripheral neuropathies (including hereditary and familial diseases)
Myopathy
Compression neuropathies such as carpal tunnel syndrome
Traumatic nerve injury
Amyotrophic lateral sclerosis (ALS) and other motor neuron diseases
Myasthenia gravis
Neuromuscular manifestations of systemic disease (sarcoidosis and amyloidosis)
Diagnostics
The EMG laboratory accommodates adults, children and infants. Studies include:
Nerve Conduction Studies and Electromyography (EMG)
Repetitive nerve stimulation
Single fiber EMG
Other procedures include:
Nerve ultrasound
Skin biopsies
Nerve and muscle biopsies
Sympathetic skin response (SSR)
Heart rate variability (HRV)
Selected Treatments
EMG-guided botulinum toxin injection
Carpal tunnel steroid injections
Special Programs
Dr. Lan Zhou is cross-appointed in neurology and pathology. She reads the skin, nerve, and muscle biopsies of our patients in her laboratory, which streamlines the care of our patients.
Contact Us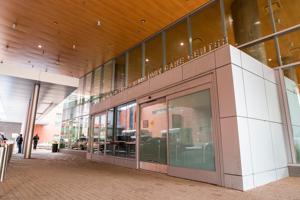 Our Team
Research Overview
Our faculty has published extensively on novel EMG and nerve conduction techniques, the development of special electrodes, peripheral neuropathies, myasthenia gravis, and quality improvement.
Residency and Fellowship Information
Education and Training
A one-year ACGME-accredited Neuromuscular Medicine Fellowship is offered for graduates of an ACGME-accredited neurology residency training program. In addition, the neuromuscular faculty participate in the education and training of residents who wish to gain experience in neurophysiological testing and other procedures. Medical students may apply for a two-week neuromuscular elective. Trainees are invited to participate in clinical neurophysiology conferences.