Boston's world-renowned medical community consists of three major medical schools and several teaching hospitals all within a short distance from each other.
Demographics
With over 53% of the city's population comprised with people of color, and 35% of Boston residents speaking a language other than English at home, Boston is truly a culturally and racially diverse city.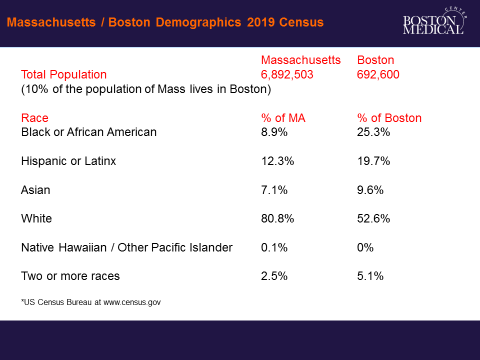 Things To Do & Places to Go
This vibrant and thriving city is known for its culture, historic neighborhoods, world-class educational institutions, champion sports franchises, and restaurants. In the summer, you can enjoy the beaches and sights of nearby Cape Cod, Martha's Vineyard, and Newport, RI. In the fall, you can enjoy the stunning autumn foliage of Vermont and New Hampshire. If you are looking for a quick get-away, New York City is only four hours south.
Boston is a very commuter friendly city. Much of the downtown is walkable, and we have excellent public transportation to get you to areas throughout the Greater Boston area.