Request an appointment
Request an appointment
New Patients
We're glad you've chosen BMC for your care! Please call the department you wish to make an appointment with to get started. Learn more about coming to BMC.
If you are a new patient and need an appointment, please contact us at the phone number below.
617.638.1831
Refer a patient
Refer a patient
Call our department to schedule a referral appointment
617.638.1831
617.638.1831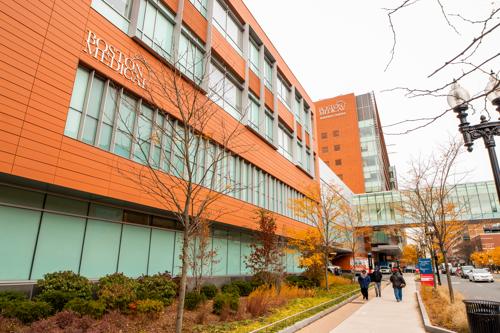 What is Lupus?
Lupus is a complex autoimmune disorder where the body's cells are attacked by one's own immune system. This leads to inflammation and damage to various body tissues. Lupus can affect many parts of the body including the joints, kidneys, skin, heart, lungs, blood vessels, and brain. The organs that are affected are different for every person.
There are several types of lupus
Systemic Lupus Erythematosus (SLE): lupus that affects multiple tissues and organs
Cutaneous (skin) lupus including Discoid Lupus Erythematosus (DLE) and subacute cutaneous lupus
Lupus kidney disease also known as Lupus Nephritis
At present, there is no cure for lupus. However, it can be effectively managed and most people with lupus can lead an active and healthy life.
The Lupus Clinic at Boston Medical Center
The Lupus Clinic at Boston Medical Center is a partnership between the Departments of Rheumatology, Dermatology, Nephrology, and Obstetrics/Gynecology. Our specialists in these departments have experience caring for hundreds of patients with chronic autoimmune diseases, including lupus.  In the Lupus Clinic, patients can be seen by multiple physicians on the same day for convenient and comprehensive care.  In addition, many of our physicians conduct research to better understand the development and treatment of lupus. This includes clinical trials and an autoimmune disease patient registry. 
We have a monthly lupus meeting where researchers, physicians, and patient care providers meet to discuss research breakthroughs, new therapies, and how to improve the patient experience.
BMC's lupus patient population is diverse. We strive to provide exceptional care to all patients - without exception.
Referring Providers
Please contact the patient navigator, Supraja Narasimhan at 617.638.1831 to refer a patient.
Referrals can also be faxed to 617.638.7454. On the cover letter, please specify "Lupus Clinic at BMC" and "Attention: Supraja Narasimhan."
Contact Us
Patient Resources
Lupus Foundation of New England: A local organization that hosts lupus educational events, fundraisers, and other activities.
Research Overview
Lupus Clinical Research
Our physician scientists work with a talented group of researchers to investigate the causes of immune system disorders. We collaborate with pharmaceutical companies in the Boston area to develop new treatments for lupus and other autoimmune diseases.
Our patients are vital partners in this research. We are currently enrolling patients with all forms of lupus, patients with autoimmune diseases other than lupus, and patients with chronic kidney disease in an Autoimmune Disease Registry and Repository. The goal of the registry and repository is to use patient samples collected for research purposes to advance our understanding of how the immune system attacks healthy cells and causes organ injury and to identify new targets for therapy.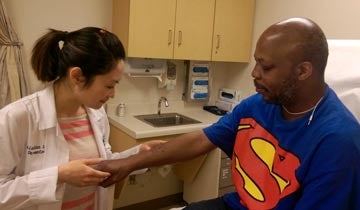 We are also enrolling patients in research studies that involve a single blood donation to compare immune cell function between diseased individuals and healthy volunteers and to investigate how variations in genes (inherited from your parents) may contribute to the development of lupus.
If you are interested in participating in one of our research studies, please contact Carlos Sian at 617.638.5965.
To learn more about lupus research at Boston Medical Center, please visit our team members' profiles.
Clinical Trials
Many of lupus patients, despite receiving the standard-of-care treatment for lupus or lupus nephritis, still do not achieve a complete remission. Some patients cannot tolerate the standard-of-care treatments because they develop significant side effects.
We offer patients the opportunity to participate in clinical trials and receive investigational treatments for lupus. Investigational treatments are medications that are not currently approved by the Food and Drug Administration to treat lupus. To learn more about what a clinical trial is, visit clinicaltrials.gov and select "About Clinical Studies."
We are currently enrolling patients in the following clinical trials:
I. Sponsor: Genentech
Study Drug: GDC-0853, a Btk inhibitor
Patient population: Systemic lupus erythematosus (SLE)
Title of study: A Phase II, randomized, double-blind, placebo-controlled study of the safety and efficacy of GDC-0853 in patients with moderate to severe active systemic lupus erythematosus
For more information about the outcome measures of the study and eligibility criteria, visit clinicaltrials.gov and type in the identifier NCT02908100
If you are interested in participating in one of our research studies, please contact Carlos Sian at 617.638.5965.
Residency and Fellowship Information