Jill Ross: A Friend, an Accountant, a Traveler, and a Survivor
In early 2014, Jill Ross moved to Boston from upstate New York, ready to start an exciting, new chapter in her life. She didn't know it at the time, but it was to become the most difficult and challenging chapter she'd ever faced. In March of that year, she was diagnosed with triple negative breast cancer, which is a form of breast cancer that can be more aggressive than other types and isn't a good candidate for treatments such as hormonal therapy. Devastated by the news, Jill remembers feeling at first like a "deer in the headlights." "It was overwhelming," she recalled. "Nobody plans for cancer. You just get stuck on that word, 'cancer,' and initially, your brain can't go beyond that."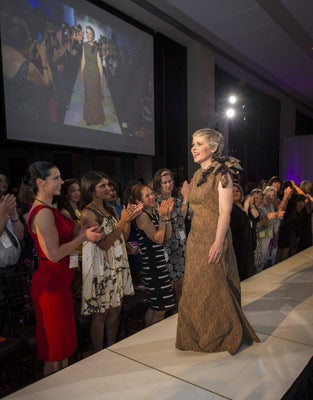 Jill walked the runway as a model at BMC's 4th annual Catwalk for Cancer in June 2015, wearing a custom gown by Drea Designs Couture.
Jill's doctors referred her to the Cancer Care Center at BMC, where she began a course of care with a multidisciplinary team led by her surgical oncologist, Jane Mendez, MD and medical oncologist Marjory Charlot, MD. "Dr. Mendez was straightforward with me, which I liked," Jill said. "She explained everything very well, including the procedures that I elected to undergo. She also helped reinforce the decisions I was making along the way. The same can be said for everyone on my team at BMC."
Just a few weeks following her initial diagnosis, Jill underwent a mastectomy at BMC. Her long and arduous journey to recovery included multiple surgeries (her reconstructive surgery was led by Jaromir Slama, MD), chemotherapy, and follow-up appointments. "I had about 70 appointments in all," she explained, "everything from blood tests, to cardiac function tests, to chemo."
Throughout it all, the Cancer Care Center's support services offered Jill a warm community that helped bolster her spirit and encourage healing. She attended the breast cancer support group, as well as activities such as arts and crafts, knitting, cooking demonstrations, and other special events for patients and survivors. The programs helped provide her with an opportunity to share her concerns or questions in a casual, informal setting with people who have had similar experiences, since friends or family had no similar experience to draw upon.
In June 2015, Jill participated in the annual Catwalk for BMC Cancer Care—the hospital's signature fundraising event to support cancer services and programs. Patient models strut their stuff down the runway, wearing local designer outfits, and celebrate cancer survivorship. Jill wore a beautiful dress created specifically for her by Drea Designs Couture, and looked radiant as she owned the stage.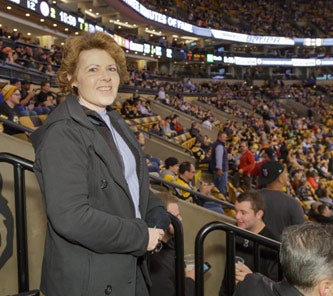 Jill was a special guest of the Boston Bruins at their "Hockey Fights Cancer" night in October 2015.
When asked if she has any words of advice for others, Jill emphasizes the importance of preparation and education about breast cancer – particularly for those who, like her, have a family history of the disease. "With cancer, there is no winning -- only varying degrees of loss.  Having a plan is so critical," she said. "It's like a fire drill!" Along with her own personal research about breast cancer, Jill also benefitted from the support of her team at BMC and a naturopathic oncologist to help strengthen and sustain her body both during and after her treatment.
Today, Jill is enjoying life with a clean bill of health. She's returned to her job as an accountant, spends free time with her friends, and loves to travel. She returns to BMC every so often for routine checkups with her specialists and for regular mammograms. With her life's toughest chapter behind her, she stands poised to write a new one, complete with fulfilling work, time spent with loved ones, and adventures – all set against a backdrop of good health and happiness.