Boston Medical Center's Clinical Research Network (CRN) has partnered with Boston University Medical Campus's Clinical Research Resources Office, (supported by the BU, CTSI program), and our community of research experts to develop Institutional Standard Operating Procedures (SOPs) for human subjects' research. They are now available and went into effect as of January 1, 2023. These SOPs, cover a wide range of topics and include guidance for everyday and overarching activities to keep the research community in compliance and up to date.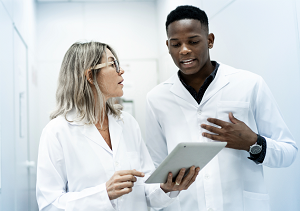 The SOPs will specifically guide clinical research studies that target BMC patients, use BMC patient data, or utilize BMC facilities and/or services.
BMC patient: Any individual with a clinical encounter generating a BMC-specific medical record
BMC patient data: Patient data that is derived from BMC medical records and/or systems
BMC facilities: Clinical or non-clinical space owned or operated by BMC
BMC services: A unit or group operated or managed primarily by BMC
If the research that you are doing does not fit into this scope, these SOPs are still highly recommended as a good foundation for anyone working with human subjects. If you are unsure if any of the SOPs apply to you, contact the BMC Clinical Research Network for guidance.
The SOPs are posted within INSPIR II, the electronic IRB research application system. To access the SOPs, you will need an INSPIR II account. Once logged in, click the Help Icon in the upper-right hand corner of your INSPIR home page. This will open a separate window that includes links to the SOPs.
We Welcome Your Feedback
Feedback on the SOPs are welcome, including identification of typos or errors and suggestions for additional SOPs. Anyone can submit suggestions or recommendations by completing the feedback intake form. All submissions are appreciated and will be reviewed but may not be implemented.
To contact the Clinical Research Network, please email CRN@bmc.org or Ryan Schroeder, director of the Clinical Research Network at ryan.schroeder@bmc.org.
Training
Training will be required. To complete the training, log into CITI using your Boston University Medical Campus/Boston Medical Center-affiliated account. After choosing View Courses for Boston University Medical Campus/Boston Medical Center, navigate to the bottom of the page under the Learner Tools heading and choose Add a Course. SOP training is listed under Question 10.
You must complete training according to the following timeframes:
January 1, 2024: All new studies targeting BMC patients, utilizing BMC facilities and/or services, or using BMC patient data will require completion of training prior to IRB approval
January 1, 2024: New BMC employees working on studies within scope are required to complete training within 90 days of employment start date
December 31, 2024: Existing clinical research investigators and staff are encouraged to complete training by this date
Training requirements have been designated into two tiers with specific SOPs required for each tier. Researchers should choose which training course to complete based on the tier that applies to their research, as described below. If you are unsure what categories apply to your research, the initial IRB outcome letter for each study will list the category or categories.
Abbreviated Training Level: Researchers who only work on studies within Exempt Categories 4, 9, 10 or Expedited Non-Exempt Category 5 will need to complete training on a smaller subset of SOPs. Abbreviated training is required if your research only involves use of data or biospecimen collection, with no human subject interaction.
Fundamental Training Level: Researchers working on any other type of study other than listed above will need to complete training on the full set of SOPs. Fundamental training is required if you work on any studies that involve interaction with human subjects.
If you have questions about which level of training to complete, email the BMC Clinical Research Network (CRN) for guidance. Individual research teams, departments, or other groups wishing to receive customized-SOP training should contact the Clinical Research Resources Office (CRRO) for information.
More information on the SOPs can be found at the following places:
If you have questions or would like more information, please contact the Clinical Research Network at CRN@bmc.org.