Health Equity Rounds is a longitudinal, case-based conference series and curriculum, built on the belief that medical education has the power to improve health equity. Based in the Department of Pediatrics at Boston Medical Center, we have disseminated the HER curriculum to Children's National, Duke University, Massachusetts General Hospital for Children and Boston Children's Hospital.
HER has a mission to
Educate an interdisciplinary clinical audience to recognize the role of implicit bias and structural racism in patient care
Inspire participants to examine and adjust their own practices
Empower participants to be change agents in their communities
Why?
In order to achieve health equity, we believe that the medical community must explicitly acknowledge and address how implicit bias, race and racism factor into healthcare. The Health Equity Rounds conference series and curriculum was developed by pediatric trainees to provide our community with an opportunity to explore these issues together.
What We Do
At Boston Medical Center we hold quarterly case-conferences in the Department of Pediatrics grounded in the learning objectives and conference outline below. Our partner institutions also utilize the framework below and adapt the curriculum to meet their individual environment and needs.
HER Curriculum Objectives
Analyze the effects of implicit bias and structural racism in clinical scenarios
Describe the historical context and present-day role of structural racism and its impact on the healthcare system
Employ evidence-based tools to recognize and mitigate personally held implicit biases
Use newly learned strategies to reduce the impact of implicit bias on patient care and combat structural racism at an institutional level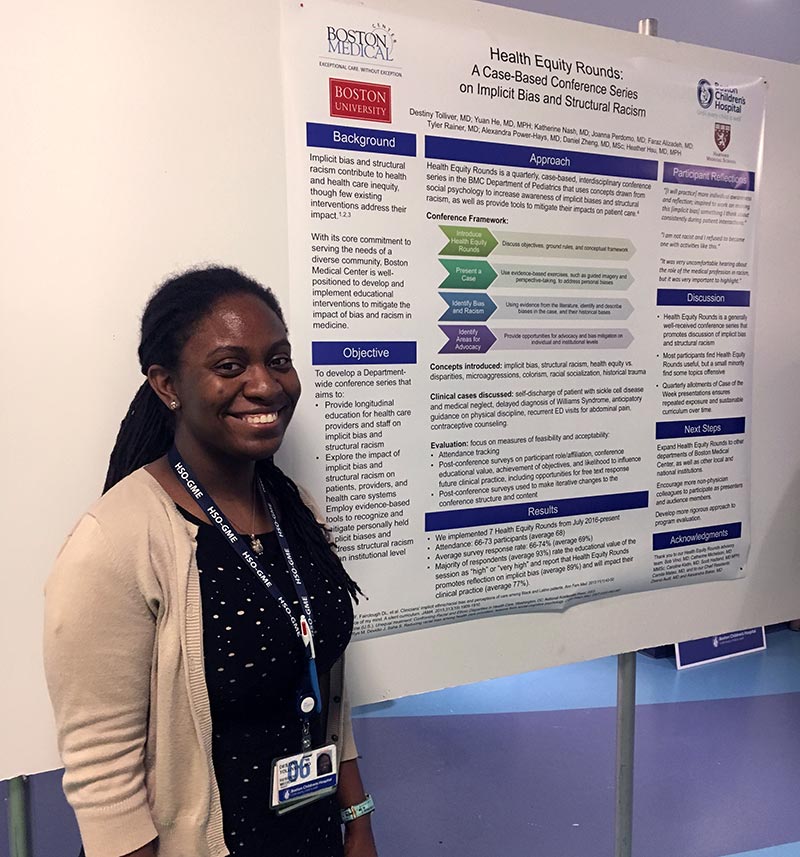 Case - Conference Outline
Review key concepts and definitions; clinical case begins
Review historical context and present-day data that demonstrate how implicit bias and structural racism influence the case
Discuss evidence-based tools and next steps
Evidence-Based Tools
In each conference, we utilize evidence-based tools from social psychology – including individuation, personal reflection, and perspective-taking – to combat the impact of implicit bias on clinical practice.
Participants
Healthcare providers from various disciplines, roles and levels of training may participate in Health Equity Rounds. We educate students and trainees, the providers of the future, but also faculty and hospital leadership who model behavior and dictate culture and policy in the present.
Contact Us
If you would like to learn more about Health Equity Rounds at Boston Medical Center or how to start a Health Equity Rounds at your own institution please send us an email at HealthEquityRounds@bmc.org.
You may also learn more about Health Equity Rounds implementation and evaluation in MedEdPORTAL.