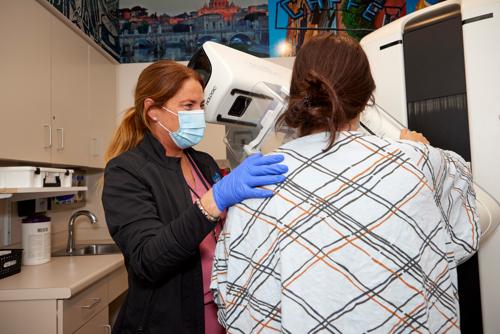 Existing Patients
Make an appointment by phone
617.414.9729
Make an appointment with MyChart
Book with MyChart
Hours of Operation: Monday-Friday 7am-7pm Saturday 7:30am-5:30pm
Refer a Patient
Refer a patient
Call for assistance with the referral process
617.414.9729
Hours of Operation: Monday-Friday 7am-7pm Saturday 7:30am-5:30pm
617.414.9729
Experience Convenient Access to State-of-the-art Digital Mammography at Boston Medical Center
If you are a woman over 40, yearly breast health screenings are an important part of a healthy routine. Mammography is the single most effective method to detect breast changes, long before physical symptoms can be seen or felt. Yearly mammograms can detect cancer early, providing you with more treatment options and a chance for a full recovery.
Designated as a Breast Imaging Center of Excellence by the American College of Radiology, BMC's Belkin Breast Imaging Center offers state-of-the-art full field digital mammography. Our expert radiologic technologists are fully trained, licensed and nationally certified in mammography and are committed to your exceptional care. Walk-ins are welcome. Please schedule your yearly mammogram by calling 617.414.9729 today.
Contact Us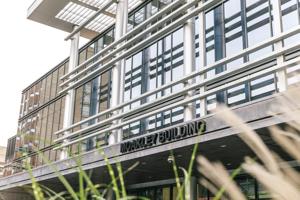 Specialty Clinics
Our Breast Health Program incorporates a coordinated multi-specialty approach to care, linking internal medicine, surgical oncology, radiology/mammography, medical oncology, radiation oncology, pathology and other breast health specialists together as one connected team.
The Department of Radiology at Boston Medical Center is a full-service, academic medical imaging department that performs over 350,000 screening, diagnostic, and interventional procedures annually for Boston Medical Center, their affiliated health centers, and the community. The goal of the department is to provide every patient with timely access to the most sophisticated medical imaging technology in a compassionate setting and to quickly deliver accurate electronic medical reports to referring physicians.
Diagnostics and Tests
Mammogram
A mammogram is an x-ray of the breast that uses a small amount of radiation. A technologist will position your breast for the test. The breast will be compressed between two plates, and a picture will be taken.
Breast MRI
Magnetic resonance imaging, or MRI, uses magnets and radio waves to make very precise cross-sectional pictures of the body. For breast MRI, you will lay face-down in a narrow tube with openings for your breasts.
Breast Ultrasound
Ultrasound uses sound waves to produce an outline of part of the body. A computer picks up the echoes from the sound waves and uses them to generate a picture on the computer screen.
Additional Information
Belkin Breast Imaging Center offers a full range of services including:
Screening Mammography
Diagnostic Mammography
Breast Ultrasound
Breast MRI
Breast Needle Localization
Stereotactic Breast Biopsy
Ultrasound Guided Breast Biopsy
MRI Guided Breast Biopsy
Ultrasound Guided Cyst Aspirations
Ultrasound Guided Fine Needle Aspirations
The Importance of a Yearly Mammogram
We are conveniently located next door to the Belkin Breast Health Center.
For more information about breast health and the importance of annual screenings, please visit the American Cancer Society's website.
Boston Medical Center's Belkin Breast Imaging Department possesses a valid license and certificate of inspection issued by the Massachusetts Department of Public Health to offer mammography services.
Residency and Fellowship Information
With a long, proud history whose roots reach back more than 120 years, the Department of Radiology is a full-service academic medical imaging department that annually performs over 300,000 screening, diagnostic, and interventional procedures for Boston Medical Center and its affiliated health centers. Learn more.
Latest from HealthCity
Historically marginalized communities are subject to delays across the spectrum of cancer care.
HealthCity is Boston Medical Center's online publication that explores the most pressing issues in healthcare. At HealthCity, we believe that healthcare must transform itself to become more equitable, sustainable, and open source.