Breast Imaging
As of June 15th, 2020 Boston Medical Center Belkin Breast Imaging is now re-open for routine screening mammograms. Safety precautions and social distancing is in place to ensure your safety during your visit. Please call us to schedule at 617-414-9729 #1.
Experience Convenient Access to State-of-the-art Digital Mammography at Boston Medical Center
If you are a woman over 40, yearly breast health screenings are an important part of a healthy routine. Mammography is the single most effective method to detect breast changes, long before physical symptoms can be seen or felt. Yearly mammograms can detect cancer early, providing you with more treatment options and a chance for a full recovery.
Belkin Breast Imaging Center offers a full range of services including:
Screening Mammography
Diagnostic Mammography
Breast Ultrasound
Breast MRI
Breast Needle Localization
Stereotactic Breast Biopsy
Ultrasound Guided Breast Biopsy
MRI Guided Breast Biopsy
Ultrasound Guided Cyst Aspirations
Ultrasound Guided Fine Needle Aspirations
Designated as a Breast Imaging Center of Excellence by the American College of Radiology, BMC's Belkin Breast Imaging Center offers state-of-the-art full field digital mammography. Our expert radiologic technologists are fully trained, licensed and nationally certified in mammography and are committed to your exceptional care. Walk-ins are welcome. Please schedule your yearly mammogram by calling 617.414.9729 today.
The Importance of a Yearly Mammogram
We are conveniently located next door to the Belkin Breast Health Center.
For more information about breast health and the importance of annual screenings, please visit the American Cancer Society's website.
Boston Medical Center's Belkin Breast Imaging Department possesses a valid license and certificate of inspection issued by the Massachusetts Department of Public Health to offer mammography services.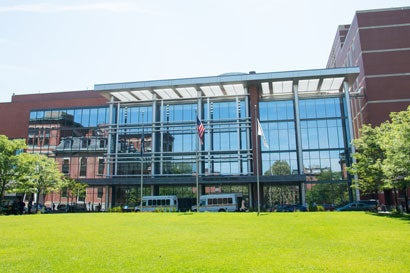 Address
830 Harrison Avenue
Boston, MA 02118
Moakley Building
1st Floor, Suite 1300
Hours
Monday-Friday 7am-7pm
Saturday 7:30am-5:30pm
Sunday Closed