August 19, 2016 Volume 5, Issue 8
Welcome to the International Issue
Boston Medical Center is known for the many programs and services it provides to people who have immigrated to the United States. But the hospital's diverse patient population inspires more than programs here – it has inspired many staff members to pursue work around the world. From Africa to Asia to Haiti, from psychiatry to hospital operations, these are a few of the stories of employees who have created connections and cared for patients internationally.
Sustainable Services in Haiti
Thea James, MD, attending physician in the Emergency Department, Vice President of Mission, and Associate Chief Medical Officer has her hands full at BMC, but has been making time to work internationally since she was a resident at the hospital. Initially, she wanted to better understand the cultural backgrounds that many of her patients brought with them to BMC, including the deep stigma of HIV in Haiti at the dawn of the AIDS epidemic.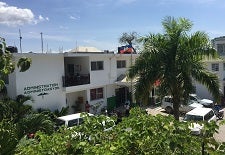 A hospital in Haiti where BMC
employees worked
"When I was a resident, I had a patient from Haiti who had HIV," explains James. "But when I told him the diagnosis, he insisted that he didn't have HIV and that if he did, I gave it to him. I was shocked by this, but I realized that it was me, not him, that was causing this disconnect and decided that I wanted to go to Haiti. While I was there, I learned how much I didn't know – if I had known the history of HIV and Haiti, I would have approached that patient very differently. But what I really learned was that everyone interprets the world based on their life experiences, and this is the approach I've used for medicine ever since."
James fell in love with Haiti on that first trip and went back several times to do clinical work. Eventually, when she became an attending physician at BMC, she started bringing residents to work alongside her and local providers. She helped form a nonprofit, Unified for Global Healing, that now works in Haiti, Africa, and India. James is also part of the Massachusetts Disaster Medical Assistance Team, with which she has deployed throughout the United States and the world.
After several more trips to Haiti, James joined EqualHealth, a nonprofit focused on building health infrastructure in Haiti. EqualHealth works in multiple hospitals across Haiti, mainly educating students and training doctors, nurses, and other health care leaders to ensure that the next generation of Haitian medical professionals has the skills and tools they need to provide quality care. As part of this program, EqualHealth established a Marshall Wolfe Fellowship for physicians in Haiti. One of the first fellows spent time at BMC to learn ED operations.
While the fellow was at BMC, she worked with Sarah Carignan, Administrative Director of Emergency Services, and Evan Berg, MD, Medical Director of the Emergency Department, both of whom had previous experience working in Haiti. After the fellow went back to Haiti, James and Berg went to her hospital to partner with her to help develop emergency medicine and disaster management strategies.
Carignan was involved in global health at her previous job at MGH and when she was first at BMC and heard that James's nonprofit needed an administrator to handle logistics. Carignan signed on for that role and went to Haiti for the first time with James. She too fell in love with the country and has now been back several times with other groups and with James.
"I'm proof that even an administrator can get involved in global work," says Carignan. "Beyond clinical work, there's strategy and teaching and program development, all of which I was able to help with. In order to make your work sustainable, you need those processes in place to help the work continue. In addition, you learn a lot from being in another country and seeing how they run their health care processes. For example, after the earthquake in Haiti, I saw medical information being written on casts, as there were many orthopedic injuries and record-keeping was difficult. We might not need that here, but those sorts of ingenious logistics can really open your eyes."
Berg had previously done clinical work in Haiti, and went back with James in spring 2016 to work on ED clinical operations. He notes that many of the operations issues in Haiti are similar to issues in the United States, such as staffing mix, care utilization, and resource management.
"I had gone to Haiti originally because I felt like my professional experience was shrinking and I wanted it to expand," says Berg. "It was rewarding, but it felt like medical tourism. Going back to Haiti with Thea and others was very different, and one of the most profound professional experiences I've had. It changes you, and gives you perspective you never would have had otherwise."
Carignan and Berg plan to continue their ED work in Haiti, working with the fellow in Haiti in her emergency department administrative role and to arrange for more health care professionals from Haiti to visit BMC. Meanwhile, James is continuing her active membership with EqualHealth and Unified for Global Healing and also plans on returning to Haiti as she has for more than twenty years.
"When working internationally, you always want to make sure you do something sustainable," says James. "Make sure that what you're doing can survive and evolve without you. Ask people want they need and want, so you can ensure that you are being impactful, sustainable, and culturally sensitive in your work."
"Being sustainable doesn't necessarily mean being there for a long time," adds Berg. "Spending any time internationally can be important and can bring value to you and the people you're working with. You can leave a sustainable model, even in a week, by teaching tools, whether that is equipment or techniques or strategies, such as how you triage. That short time can shape a lot."
Building Psychiatry Capability Around the World
David Henderson, MD, Chief of Psychiatry at BMC, has worked to build psychiatric services in war-torn and impoverished countries around the world, a career-long devotion that was sparked by a trip to Rwanda early in his career.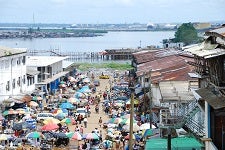 Liberia, one of the global psychiatry
fellowship sites
Rwanda was just beginning to recover from its civil war. In an experience he calls "eye-opening," Henderson helped write policy that the country used to address the trauma that many residents suffered from the war, in which nearly 20 percent of the country's population was killed in just several months. After Rwanda, Henderson went to Cambodia and Bosnia, both of which were also suffering in the aftermath of conflict, to help those countries build their own health system capacity, and since then has focused his global work on post-conflict and developing countries.
Henderson was also involved in the planning of the first African Diaspora Global Mental Health Conference, which was held in 2002; the second will be held in November 2016. The conference provides a forum for African mental health professionals and those of African descent to come together to address global mental health challenges and develop solutions for African countries. The goal of the second conference is to develop the Africa Global Mental Health Institute, which will provide leadership and programs to address these challenges.
"Working in these countries is very meaningful," says Henderson. "People are so appreciative of anything you can give them, but it also challenges you and helps make better doctors. Lessons learned from other countries can benefit the care we provide at BMC."
Henderson began working globally 20 years ago at Massachusetts General Hospital and Massachusetts Institute of Technology; he went to Rwanda on the advice of his mentor from MGH. He worked with large international populations at MIT and MGH, but found that the strategies of care that worked at one institution didn't necessarily fit the other.
"I needed to be able to put people into context," says Henderson. "Not everyone follows the cookbook of the DSM (Diagnostic and Statistical Manual of Mental Disorders) – different cultures and different countries have different ways of thinking about mental illness, and I wanted to learn how to incorporate that into my work."
"While at MGH, Henderson led the global psychiatry program for residents, which he founded in 2009. When Henderson came to BMC in December 2015, he expanded the program to become a joint MGH/BU global psychiatry fellowship.
"Young people are interested in global work," says Henderson. "The world is at their fingertips with the internet, and you have to provide opportunities for that work."
The mission of the program is to strengthen the global delivery of quality psychiatric care through bi-directional research, training, technical assistance, and service delivery with international global partners. To this end, residents undertake global work in 11 countries in Africa, South America, and the Middle East with the intention of creating lasting programs and contributions to each place. Their work focuses on reducing stigma, capacity building for health professionals, setting up and undertaking research programs, and advising on policy and clinical work, all based on the needs of each country.
While Henderson notes that success comes in many different forms, two examples of successes he's seen are in Ethiopia and Somaliland, an autonomous region of Somalia. In Ethiopia, Henderson has been involved in developing research capacity at universities. The infrastructure that he and others have built has led to a World Bank grant to develop a clinical trials unit and do biological research studies.
Henderson started working in Somaliland approximately a year and a half ago. "We saw really horrible conditions in mental health care, such as people in chains, but we were able to help fill a tremendous need for better care," says Henderson. To this end, he met with the president, deans of universities in Somaliland, and other leaders and helped developed a residency training program in neurology and psychiatry, which will be launching soon. The goal of the residency program is to produce doctors from the residents of Somaliland, and eventually start a research program. Henderson and his collaborators are also about to launch a national health survey to determine needs.
"The goal is for my work and the work of others going to other countries is that it develops into sustainable collaborations," says Henderson. "It's not necessarily effective to be there for a short time. But I've seen a lot of change in many places I've worked, such as reduction in stigma and more humane care for people with mental health issues. The global health community is finally realizing that mental health is a huge determinant of health more generally. Funding has still lagged, but the tide is turning and more governments are committing to addressing mental health."
Bringing Family Medicine Residents Home to Lesotho
Fifteen years ago, William Bicknell, MD, who was the founder of the Department of International Health at the BU School of Public Health and director of international health programs in the BMC Department of Family Medicine, and Brian Jack, MD, now the chair of the Department of Family Medicine, decided it was time for them to extend their international work beyond the typical three-year grants. The result of this was the Lesotho Boston Health Alliance, a physician training program in Lesotho.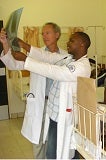 BU physicians
examine X-rays
Lesotho is a small country of 2 million people that is completely surrounded by South Africa. While it has a stable government and high literacy rate, it is very poor and has a high HIV prevalence and low life expectancy. At least one fourth of the adult population has HIV, but there are only 150 physicians in the country. There is no medical school in Lesotho and limited opportunity for continuing education, so people who go away to medical school often stay in the country they went to school in for further training and for the rest of their medical careers.
Recognizing this, Bicknell and Jack, along with other providers, professors, and students from BMC, Boston University School of Medicine, and the BU School of Public Health, set up the Lesotho Boston Health Alliance (LeBoHA) to provide specialty training in family medicine. The program works to entice medical students back to Lesotho by providing training, opportunities to move along a career track, and helping to improve hospitals throughout the country.
"Our goal is to teach trainees in a way that's respectful of what's possible," says Jack. "Often, programs work in other countries and talk about the things they could do if they had the resources. But we really want to understand where the country is and how we can improve health care using the resources they have available. If you understand cultural issues and a country's needs, and do sustainable work, you'll often find that monetary and administrative support will come to you. And when you improve the system of care, you'll be able to improve outcomes."
The Boston Lesotho Health Alliance is the first accredited physician training program in the country. Medical residents in the program are placed at hospitals around the country and come to Maseru, the capital, once a month for training on everything from tools to techniques to practice management and leadership development. LeBoHA also runs a nursing training program and a program to improve the role of civil society and equity in health delivery, but the physician training program is the core of their work. The program has had two graduates and currently, ten doctors are in training.
The residents are trained mostly by physicians from BMC, led by Family Medicine; three doctors have been part of the program since its start, while others have rotated through. Faculty and students from BUSM and the BU School of Public Health also work with the Alliance to train doctors and undertake quality improvement projects in Lesotho. In recent years, the Alliance has built a dormitory and academic center – known as the Bill Bicknell House – where BMC doctors, nurses, and residents and BU students can stay when they work in Lesotho. So far, the programs have led to improvements such as better emergency preparedness, a reduction in outpatient wait times, and better outcomes in maternal and child health.
"Everything we do is geared towards sustainability of the program," says Jack. "For example, we're working with the government in Lesotho to put non-U.S. employees on the Ministry of Health payroll. The first graduate of the program also recently became the deputy director. We want to change our role to advisors and have more graduates take over, and are on track to have this happen over the next five years."
Collaborative Research in Russia
In the 1990s, Jeffrey Samet, MD, MA, MPH, Chief of General Internal Medicine at BMC, was conducting HIV and addiction research in the United States when his National Institutes of Health project officer suggested he join an NIH group exploring research opportunities in Russia, where HIV was just starting to spread. Samet has been working in Russia ever since and over the past fifteen years, has inspired more than 10 BMC collaborators to join him in conducting HIV research in the country.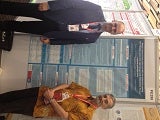 Jeffrey Samet and
Karsten Lunze
present their research
"When I first started working in Russia, we found that HIV was less prevalent there among substance users than in the United States, when you compared similar, high-risk populations," says Samet. "But in the early 2000s, not long after we got there, the rate skyrocketed in that population, from zero percent to 33 percent over three years. In addition, the mortality rate from HIV exceeds what we've seen elsewhere in this day and age. This all makes Russia a very important and interesting place to carry out HIV research."
The research activities of the team that Samet leads are carried out St. Petersburg, where he focuses on how alcohol and drugs impact the spread of HIV and the health of HIV-positive patients, and how to mitigate that impact. His studies have looked at topics ranging from HIV prevention for substance using populations to whether giving zinc to HIV-positive patients who drink alcohol can slow the progress of the disease. Soon, Samet hopes to start a trial that will look at whether a medication approved for smoking cessation can help curb both smoking addiction and alcohol abuse in HIV patients struggling with those issues.
"In an early study, we showed that prevention through condom use was possible when safer sex was promoted among people in treatment for substance use disorders," says Samet. "At the time, that research hadn't really been done anywhere among people in addiction treatment. Implementing positive results such as these in Russia can be challenging, but it's still important to yield insights about what works, share those insights, and advocate for them."
Samet collaborates with addiction and infectious disease physicians in St. Petersburg, who work to recruit patients and run the studies. In addition, two Russian and one Ukrainian researcher have come to BMC for one year on a fellowship to advance their research skills.
"If you want to work abroad, find terrific collaborators," says Samet. "Your ability to get things done depends on your team, so build relationships based on trust and mutual benefit. Working abroad can be difficult, but it's worth it, and top-notch collaborators make things possible."
One of Samet's BMC collaborators is Karsten Lunze, MD, DrPH, MPH, FACPM, FAAP, a preventive medicine physician at BMC, who had already been doing humanitarian work in Russia before coming to BMC. While Samet and the rest of the team focus on substance abuse and HIV, Lunze focuses specifically on the links between human rights and public health.
Lunze conducts both qualitative and quantitative research in Russia, working with Russian health systems and civil society organizations to collect data and interview people with HIV and/or substance use disorders. His research has found that human rights violations directly impact substance use and HIV risk behaviors, and that there are consistent issues with stigma for vulnerable people, such as sex workers or drug users. Recently, Lunze received a five-year grant from the National Institute on Drug Abuse to quantify the double stigma related to people living with HIV and to addictions, and will be looking at the magnitude of the problem, the determinants of stigma, and the health consequences of it in Russia.
"Once we have a better understanding of the problem of stigma, we can look at what can be done about it," says Lunze. "We'll try to figure out what we can give people to empower them to deal with stigma, so that their health issues can be addressed."
Lunze, along with his wife, a pediatrician at Boston Children's Hospital, won a United Nations Humanitarian Medal for delivering advanced health services and provider training for those treating victims of war and terrorism in the North Caucasus, Russia. In 2004, after 330 hostages were killed in Beslan, Russia in a school siege, the Lunzes founded "Health for the Caucasus," a non-profit that provides humanitarian assistance to refugees and victims of war and terror. The UN Humanitarian Medal honors the couple for leading international capacity building to strengthen local health systems and for serving the people of the North Caucasus region.
"Our research and our work ask the question of what human rights violations, such as police violence and terrorism, have to do with health," says Lunze. "What does it mean that one in five women in our research report sexual violence from police? There are so many determinants of health that we don't get to address in clinics, because they are political in nature. Health and human rights are inseparable."
Fighting Ebola in Sierra Leone
Nahid Bhadelia, MD, Director of Infection Control at the National and Emerging Infectious Disease Laboratory (NIEDL) at Boston University and the medical director of the Special Pathogens Patient Care Unit at BMC, is known across the hospital for her work in Sierra Leone during the Ebola epidemic. However, her interest in working internationally goes back to her college days.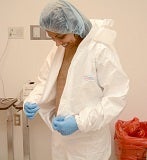 Nahid Bhadelia
demonstrates using PPE
"After college, I volunteered on an HIV prevention program in India, which was my first time really seeing abject poverty and the impact of lack of health care," says Bhadelia. "In medical school and my residency, I worked with emerging pathogens, and this interest in infectious diseases sparked my interest in international work. Even if you're working locally, you have to be global, because you never know what will come up or who will walk into your emergency department."
To consolidate all these interests, Bhadelia received a dual degree from Tufts School of Medicine and the Fletcher School of Law and Diplomacy at Tufts. While in graduate school, she worked with the United Nations International Strategy for Disaster Coordination, focusing on disaster prevention, and provided care in Nicaragua and Cuba. This led Bhadelia, to focus on how to extend disaster prevention strategies to public health.
Eventually, Bhadelia was hired to create the infection control program at the NIEDL, which allowed her to continue her interest in international work, as it requires looking at how pathogens move. While networking with professionals who were doing similar work, she heard that the World Health Organization (WHO) was looking for people to help with the Ebola outbreak in West Africa. Bhadelia had been planning on going to Sierra Leone to study Lhasa fever, but quickly switched her focus to Ebola. She traveled to Sierra Leone four times between August 2014 and June 2015, where she cared directly for patients with Ebola, trained national and international staff and aided in rebuilding health systems.
"A major part of what drove me to help further was seeing the preventable things people died of," says Bhadelia. "For example, it was difficult to put IVs in people, but we didn't always have water cups, so people were dying of thirst. We often ran out of personal protective equipment (PPE) and once had to use tarps instead of aprons. In general, there were a lot of basic supplies missing because people stopped flying to West Africa."
When Bhadelia returned from that first trip, she found that there was an urgent need to train people who wanted to go to West Africa – volunteers had been contracting Ebola, which hurt the health care response. Bhadelia helped design and taught a health care worker course through the Centers for Disease Control, where she trained anyone who wanted to volunteer. This work introduced her to Partners In Health, which brought her back to Sierra Leone as the lead clinician in their Ebola treatment unit in November 2014.
During her November trip, Bhadelia saw that conditions on the ground were only mildly improving. She went to Sierra Leone again in January and February 2015, after receiving a small grant to train Ebola survivors who wanted to help treat others. While there, she taught approximately 100 survivors around Sierra Leone about basic PPE and equipment control, and helped develop Ebola-related policy.
"It was an interesting experience for both us and the patients," says Bhadelia. "We had been behind the PPE and they were on the other side of it, but now they were the ones in PPE. It helped them understand the limitations of our treatment and helped us doctors understand what it's like to be treated."
Back in the United States, Bhadelia and the NIEDL are setting up partnerships with universities in Nigeria, and the Public Health Institute and universities in Liberia. The partnerships involve training programs at the Boston University School of Public Health to help people in Nigeria and Liberia learn advanced skills in emerging pathogen-related disciplines, such as virology and epidemiology, helping meet the need for countries to have their own in-country expertise in these areas. They are also working on creating a master's degree program. The program involves both BU-affiliated staff going to Nigeria and Liberia and students from those countries coming to Boston.
For those who want to work internationally but don't know where to start, Bhadelia says "If you have no experience, seek out an organization that has a good background and reputation and see if you can get involved. Figure out what interests you – not just global health generally, but what discipline in particular. Then decide how you want to approach global health, whether through technology or public health or medical anthropology or any of a wide array of areas and disciplines."
Collaboration in China
In April, Kate Walsh, President and CEO and Ravin Davidoff, MD, Senior Vice President and Chief Medical Officer visited Northern Jiangsu People's Hospital in China to sign a Memorandum of Understanding to collaborate. The MOU builds on the relationship that BMC has had with the hospital since 2013; in that time, three Chinese clinicians have come to BMC and Stanley Hochberg, MD, Senior Vice President for Quality, Safety and Technology and Chief Quality Officer and Alastair Bell, MD, MBA, Chief Operating Officer have visited Northern Jiangsu People's Hospital.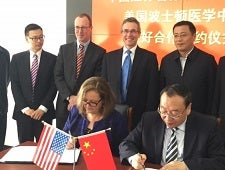 BMC leadership at the MOU signing
Northern Jiangsu People's Hospital is located in Yangzhou and has 2,200 beds, 1.6 million annual outpatient visits, 93,110 annual inpatient visits, and 2,277 staff members. In China, they are considered a small hospital, but Davidoff says they care deeply about international relationships and have exchange programs with many countries, including Germany, Korea, Japan, Australia, Israel, and Italy. They are also very interested in incorporating new technology and best practices from around the world.
The collaboration between BMC and Northern Jiangsu People's Hospital will allow physicians and other leaders in both systems to exchange learning and experience about patient quality and safety, as well as models of care for similar patient populations in different cultures. The goal is to have more BMC staff members visit China – they are particularly interested in having surgeons visit – and to have more physicians from their hospital visit BMC, so that the hospitals can continue to learn from each other.
"Our relationship with Northern Jiangsu People's Hospital has already increased our understanding of health care abroad," says Walsh. "Expanding the relationship and the exchange of culture and ideas gives us an opportunity to continue to deepen that understanding for years to come."
What do you do, Michael Mecenas?
Name: Michael Mecenas
Title: Trilingual medical interpreter – Portuguese and Spanish
Time at BMC: Three years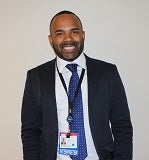 Michael Mecenas
What do you do here?
My job here consists of helping to alleviate stressful situations and improve communication between patients, providers, and medical staff to ensure that everyone understands what is being talked about during care.
Every day, I get a schedule of which departments I'll work in that day, but we don't know exactly what's coming. I can also get paged if a need for an interpreter comes up. Interpreters cover the whole hospital, so days can be very busy.
When I first see the patient, I introduce myself and figure out if they've worked with an interpreter before. If they haven't, I explain what I do and make sure they know that everything is confidential. I interpret everything word by word, but I also have to make sure the patient understands. If they don't, I ask the provider if it's okay that I clarify or explain more to patients, and then clarify as much as possible.
What brought you to BMC?
My background is in nursing. I was working as a pediatric nurse and trilingual medical interpreter at Seaside Pediatric, which is part of Cape Cod Hospital. However, I wanted to challenge myself, so I decided to move to a bigger hospital. BMC is the right place for someone that enjoys learning new things every day. When I came to the United States in 1999, I couldn't speak a word of English. I've worked really hard to be where I am now, and BMC helps me keep learning.
What's something people might not guess about being an interpreter?
A lot of people believe that an interpreter is just someone who speaks another language. Many people don't realize that we actually have to go through years of training. Interpreters have to learn anatomy, physiology, a code of ethics, medications, special procedures, and a lot of other areas in both English and the other language you're interpreting for. We have to be ready to work with people from diverse cultural backgrounds and understand a variety of regional accents and linguistic styles. Being an interpreter can be emotionally challenging at times, and some of our visits can be highly stressful. You have to be prepared for whatever comes up in your work.
What do you like most about working at BMC?
BMC is a very welcoming place to work. It's very diverse, and I like that I can learn a lot from being exposed to a variety of cultures. The hospital provides exceptional care for all patients and gives back to its community, which I think makes people feel very welcomed and comfortable.
I also like that BMC is a teaching facility that enables employees like me to become familiar with different career paths while working here. I've learned so much from my coworkers and the rest of the medical staff, who are always willing to share their knowledge and wisdom with me.
BMC also takes really good care of their employees, and I feel very lucky to work here. I commute two hours a day to work, and I've met other wonderful people that commute just as far and also love it here. It shows how much people appreciate working here.
What do you do for fun outside of work?
I'm getting my master's degree in mental health counseling, but when I'm not in school, I enjoy outdoor activities, especially going to the beach – my favorite place in the world. I love music and dancing, and sing for the Gospel Pops, the gospel choir of the Boston Pops. I also like going to the movies, reading, cooking, and going to church, as well as spending time with my friends and family.
Do you know a staff member who should be profiled? Send your suggestions to communications@bmc.org .
News of Note
Robert Saper, MD, MPH Appointed Chair of the Academic Consortium for Integrative Medicine and Health
Robert Saper, MD, MPH, Director of Integrative Medicine at Boston Medical Center and Associate Professor of Family Medicine at the Boston University School of Medicine, has been appointed to a two-year term as Chair of the Academic Consortium for Integrative Medicine and Health. The mission of the Consortium is to advance integrative medicine and health through academic institutions and health systems.
Douglas Katz, MD, Elected President of American Congress of Rehabilitation Medicine
Douglas Katz, MD, a physician in the Neurology Department, has been elected President of the American Congress of Rehabilitation Medicine. The ACRM is an organization of rehabilitation professionals dedicated to serving people with disabling conditions by supporting research that promotes health, independence, productivity, and quality of life.