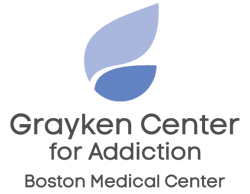 To schedule an appointment with an addiction specialist, please call 617.414.6926
New Resources for Massachusetts Parents
If you are a Massachusetts parent of an adolescent or young adult struggling with substance use, there is help available. Through a partnership between the Grayken Center for Addiction at Boston Medical Center (BMC) and the Partnership for Drug-Free Kids you can access free help from trained parent support specialists and from parent coaches whose own families have experienced addiction.
The support is either online or over the phone and provides you with in depth, proven strategies that increase the chances of recovery and lead to overall better outcomes for the person struggling with substance use and for the family. In addition, a new web resource provides a full inventory of Massachusetts support services and extensive additional information for parents.
These resources are free and available to anyone in Massachusetts who is concerned about their adolescent or young adult child. Parents and caregivers in Massachusetts can access services and support in the following ways:
Call 844-319-5999 or text HOPEMA to 55753
When you call, you will be connected to a parent specialist who can listen to your challenges and help you develop an action plan to work toward your child's recovery, including ongoing access to a parent coach. Interpreter phone services are available for those who do not speak English or Spanish as a first language.
Text Helpline
Text: HOPEMA to 55753