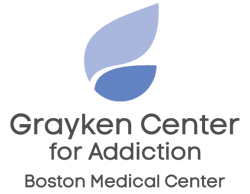 To schedule an appointment with an addiction specialist, please call 617.414.6926
Story 2 | Dr. Sarah Bagley Recognized as an Emerging Leader by the Boston Business Community | Thought Leaders | Addiction
Sarah Bagley, MD, was recently named one of the Greater Boston Chamber of Commerce's 2017 Ten Outstanding Young Leaders (TOYL). As the founder and director of BMC's CATALYST clinic, Dr. Bagley and her team focus on treating young adults and teens struggling with substance use disorder.
By the time Bagley sees many adolescent patients at the CATALYST Clinic, their lives have already started to unravel. She leads a team of physicians, nurses, and social workers who help these patients, and their parents, who are often at the breaking point. The CATALYST clinic provides access to a wide range of services, including addiction treatment, primary care, behavioral health, and support resources for patients up to age 25 and their families.
Bagley became interested in teen addiction when she started to notice that adults with substance use disorder would say that they started using when they were teens. Addiction and substance use disorder can be a pediatric illness, so she, and the other CATALYST clinic team members, stress the importance of early intervention and treatment.
"I care a great deal about our CATALYST program," said Bagley. "We are creating an innovative program for adolescents to get the treatment they need so that they can achieve their goals."
She also serves as an attending physician on the Inpatient Addiction Medicine Consult Service team at BMC and is an assistant professor of medicine and pediatrics at the Boston University School of Medicine. Bagley trained in a combined internal medicine-pediatrics program at Brown University, and her research focuses on the engagement of adolescent and young adults in substance use disorder treatment and involving family in addiction treatment.
The TOYL awards celebrate the contributions of current and emerging young leaders like Bagley who have demonstrated professional, personal and civic commitment to improving the quality of life within the Greater Boston region. Bagley will be honored on November 8 at Laugh Boston, where she and the other honorees are invited to discuss their work and share their visions for keeping Greater Boston a thriving region for businesses, families, and people far into the future.
Cadillac also recognized Bagley's transformative work through its "Dare Greatly" initiative. Cadillac celebrates people who are transforming the world around them, and selected Bagley as someone who "dares greatly." Watch Cadillac's Daring Origins video on her below.