Courtney Colombo is your typical 29-year-old. She enjoys traveling and has built a career at Talbots Distribution Center. Courtney's life took a scary turn, however, when she was diagnosed with osteosarcoma, bone cancer, in her lower jaw. This diagnosis called for swift action by her healthcare team to ensure she could get better.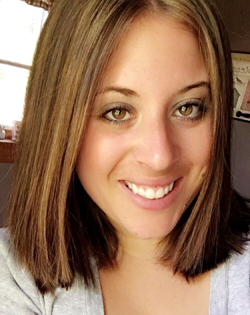 Osteosarcoma is a type of bone cancer that starts in the cells that form bones. It is a rare condition that most often occurs in the arms and legs, but can be present in any bone. Developing osteosarcoma in the jaw, like Courtney did, is particularly uncommon.
In fall 2017, Courtney started experiencing pain in her teeth. Naturally, she made an appointment with her dentist. They equated the teeth pain to be related to grinding her teeth. "I never grinded my teeth in the past, but figured it was probably a habit I started to do while I slept," says Courtney. They made her a mouth guard and instructed her to wear it at night.
Even though she carefully followed the dentist's instructions to wear the mouth guard, she was still experiencing pain along with some more troubling symptoms, her teeth began to loosen, she could feel a lump behind her bottom teeth, and her chin was appearing to grow larger. X-rays at the dentist's office did not show anything abnormal. "I knew something wasn't right so I sought out a second opinion with a local oral and maxillofacial surgeon (OMFS)," Courtney adds. The doctor ordered a CT scan. On Thanksgiving eve, Courtney heard something she never thought someone would say to her, "your CT scan suggests that you may have a cancer of your jaw."
Courtney was quickly referred to BMC OMFS surgeon, Andrew Salama, MD, DDS, FACS. On the day of her appointment, he biopsied (removed a piece of tissue so that it can be analyzed in a lab) her mandibular (lower jaw) mass and arranged for staging of her cancer with MRIs and a PET CT so his team could plan next steps. The biopsy confirmed a mandibular osteosarcoma, bone cancer of the lower jaw. Courtney would need chemotherapy, followed by surgery on her jaw.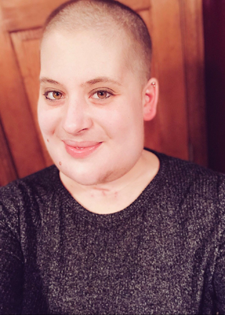 "I never thought this would happen to me," says Courtney, "my advice to others is, if something doesn't seem normal with your body, never be afraid to ask for a second opinion, it could save your life!"
Adam Lerner, MD, was Courtney's medical oncologist in charge of her chemotherapy treatment. This proved to be the right course of action. "Courtney underwent four cycles of neoadjuvant chemotherapy" says Dr. Lerner, (neoadjuvant chemotherapy are medicines that are given before surgery for the treatment of cancer) "with an encouraging clinical and radiologic response that included regaining sensation in her jaw that she had previously lost, as well as some shrinkage of her tumor mass."
As previously planned, Courtney then underwent surgery on her jaw. In March, Dr. Salama and Director of the Division of Facial Plastic and Reconstructive Surgery, Waleed Ezzat, MD, FACS, removed her lower jaw bone (mandible) "The impact of removing Courtney's aggressive cancer from her jaw would have left her disfigured, with difficulties speaking and swallowing. This is a very hard reality to face for a bright 29-year-old." says Dr. Ezzat. He constructed a new mandible from a bone in her leg.
After removing the affected part of her jaw, the tumor was sent to the pathology team for them to review. The results showed almost 100% necrosis (cell death) of the cancer, thanks to an excellent response to her chemotherapy treatment. After a 10-day stay in the hospital, it was time to go home to continue her recovery.
"Given all that Courtney has gone through, I remain inspired by how positive her attitude has been. I am happy to see that she is recovering well, has full speech, and is able to eat regularly," adds Dr. Ezzat.
Today, Courtney enjoys going for walks every day and recently booked a fall trip to Peru.
For more information on BMC's Cancer Center, visit www.BMC.org/cancer.