To make an appointment, or if you have any questions about weight loss surgery at Boston Medical Center, you can call us at 617.414.8052. 
Boston Medical Center is conveniently located in Boston's historic South End and located off Route 93 in Boston.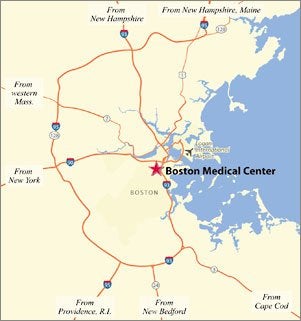 Boston Medical Center
Shapiro Ambulatory Care Center
3rd Floor, Suite 3A
725 Albany Street
Boston, MA 02118
Parking is conveniently located nearby at the 710 Albany Street Parking Garage. Metered street parking is also available in the neighborhood surrounding BMC. Valet parking is available in front of the Menino Pavilion at 840 Harrison Avenue for $15 per day. The Shapiro Center is a short walk from the Menino Pavilion.