Welcome to the Sarcoidosis Program at BMC
The Sarcoidosis Program is a multidisciplinary program providing diagnostic and therapeutic services for patients suffering with sarcoidosis: a multisystem disease of unknown origin. For more than 20 years, the clinic has worked to improve patients' lives by providing state-of-the-art clinical care, coupled with innovative research aimed at understanding the history and development of this disease. The Program's team of specialists also offers qualified patients the opportunity to participate in clinical trials as they seek breakthroughs in managing – and curing – sarcoidosis.
The clinic has approximately 1,000 visits annually from sarcoidosis patients who come from all over New England and beyond. Boston Medical Program's Sarcoidosis Program is one of the largest programs of its kind on the East Coast.
About Sarcoidosis
Sarcoidosis was identified in the late 1860s. It is an inflammatory disease that affects one or more organs but most commonly affects the lungs and lymph glands. This inflammation produces tiny lumps of cells in various organs in the body. The lumps are called granulomas because they look like grains of sugar or sand. They are the classic sign of sarcoidosis, and as they are very small, they can only be seen with a microscope.
These tiny granulomas can grow and clump together, making small and large groups of lumps. If many granulomas form in an organ, they can change its normal structure and possibly affect how the organ works. Sarcoidosis can affect many organs, but it usually starts in the lungs or the lymph nodes.
The exact cause of sarcoidosis is not known, but researchers believe that it is caused by an abnormal immune response. The disease can appear suddenly and then disappear, or it can develop gradually and produce symptoms that come and go for a lifetime.
Symptoms
While some patients with sarcoidosis may show no signs of the disease, there are many associated symptoms.
General

Dry mouth
Fever
Weight loss
Fatigue
Night sweats
Swollen and painful joints
Nasal stuffiness
Hoarse voice
Pain in the hands, feet, or other bony areas
General feeling of ill health

Skin

Reddish bumps or patches on the skin or under the skin

Lungs

Shortness of breath
Cough that won't go away
Chest pain

Eyes

Red or teary eyes
Blurred vision

Neurologic/Nervous System

Gait problems
Headache
Meningitis

Lymph glands

Enlarged lymph glands in the chest around the lungs and elsewhere in the body

Cardiac

Development of abnormal or missed beats (arrhythmias), inflammation of the covering of the heart (pericarditis), or heart failure

Kidney
Contact Us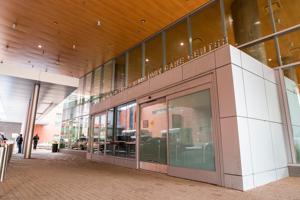 Treatments & Services
Sarcoidosis Treatment Options
There is no cure for sarcoidosis, but there are many different treatment options for patients. The focus of treatment is to improve symptoms and improve quality of life. While some achieve remission, the majority of patients learn management methods for what is a chronic condition.
Diagnostics and Tests
Diagnosing Sarcoidosis
Because the symptoms may occur in other diseases and there is no single lab test that can diagnose the disease, diagnosis of sarcoidosis may be difficult. Further, determining the presence of granulomas isn't enough, as they do not differ from granulomas that occur in other diseases.